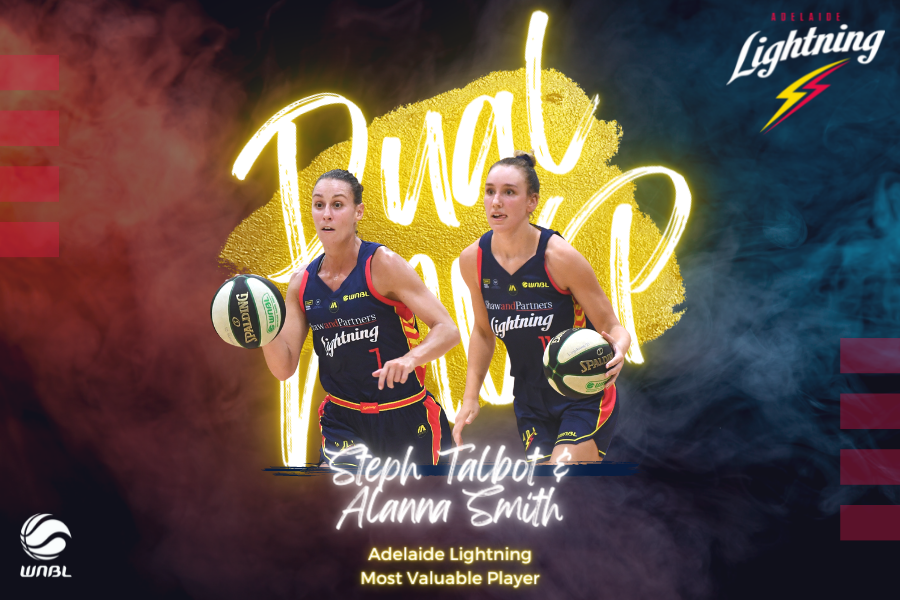 March 31, 2022 | Adelaide Lightning news
On Sunday, 27 March, Adelaide Lightning held its end-of-season awards after finishing fourth in the WNBL 2021-2022 season.
A familiar face took out the MVP and defensive player of the year in Captain Steph Talbot, with a host of other players taking out awards for the first time this season.
Joining Talbot as MVP was Alanna Smith with both posting some impressive numbers throughout the season. Talbot, in 18 games, averaged 13 points, 8.9 rebounds, 6.5 assists per game while Smith produced 17.7 points, 9.1 rebounds, 2.3 assists in 18 games, while also leading the club in scoring with 319 points. Smith also just beat Talbot on the rebounds with 164.
Adelaide Lightning, General Manager, Tim Brenton reflected on a successful season, "Both Alana and Steph had outstanding seasons averaging double-doubles and a near triple-double for Steph."
Marena Whittle joined the award winners being named player's player by her fellow teammates, and Tayla Brazel who at just 18-years-old received the Rachael Sporn award for encouragement in development as a younger member of the squad.
Overall despite the finish in the finals, Tim is extremely proud of the club and its progress this season, "It was quite a deflating experience anytime you get put out of the competition, you are going through a range of emotions, but outside of that we are all very proud of the group, it's a very inspirational group and there's a lot of admiration for the team. There was a lot to like this season, and while disappointed we didn't go to the next round, we are still proud pf the team's efforts."
Congratulations to all our award winners of the WNBL 2021-2022 season and make sure you keep following the Lightning website and socials for off-season content and features as we look to the WNBL 2022-2023 season.