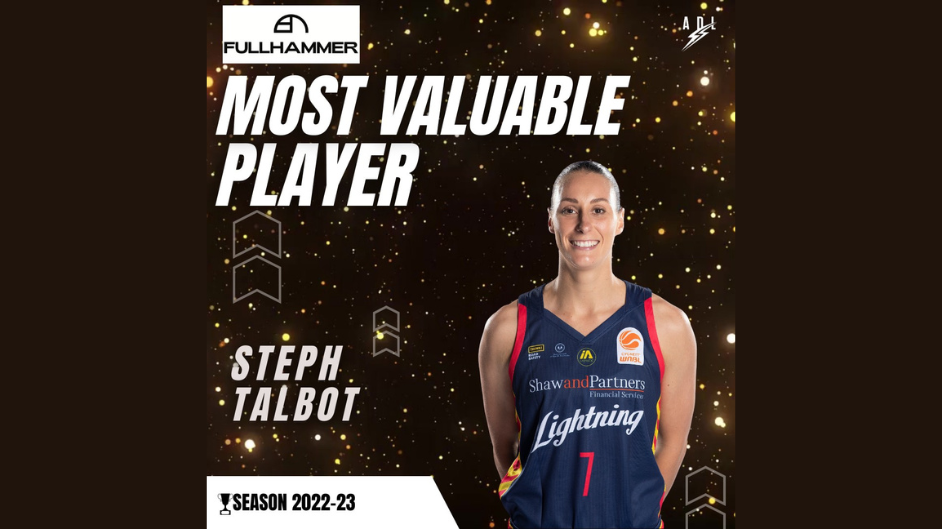 March 6, 2023 | Adelaide Lightning news
Steph Talbot has won her third MVP in consecutive seasons as the Lightning held their end of season awards for WNBL23.
On Saturday night the 4th of March – Talbot was crowned MVP for a third consecutive season and also took out the Defensive Player of the Year as well as the Members Choice MVP.
Talbot averaged 14.1 points, 7.4 rebounds, 4.6 assists and 1.83 steals in the season. She had six doubles and went perilously close to two triple doubles and had a season high 33 points and 17 rebounds against the UC Capitals in February. It was well deserved recognition once again for the all-star five FIBA Womens World Cup star.
"It's always a privilege to win this award. I feel like I'm a genuinely selfless player and go out there and do my best for my team and my coaches and every team-mate that we have. I want to thank and appreciate everyone in the room for this award." Talbot shared with the packed room at the Lightning Lounge.
The night also belonged to players Isobel Borlase who took out the Rachel Sporn Award and Brooke Basham who was voted the Player's player.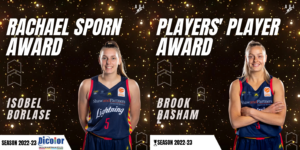 "Obviously it's a real privilege to receive an award from someone named Rachel Sporn. I look up to her, all the fellow Opals and my teammates as well – to be acknowledged with this award is a privilege." Borlase told the room on receiving the accolade.
Basham shared similar sentiments in receiving her acknowledgement of the evening.
"It literally means the world to me being respected by my teammates – I just want to thank them all for their support all season."
Nat Hurst also spoke about her inaugural season as a rookie head coach for the Lightning – a performance that as announced included a two-year extension to her current contract keeping her as the head coach at least till 2025.
"The season wins and losses probably didn't pan out the way we would like but for my first year as head coach I'm incredibly lucky to work with such a great bunch of people including the players, coaches, staff and owners."
"In 20 years, I'm not going to remember how many wins and losses – but about the people that I got to work with every single day." Hurst summarised her season to the room.
Two key awards were also presented with Volunteer of the Year going to Michael Coburn and David McKenzie receiving life membership for the Lightning. McKenzie started as a video operator in 1997 while sitting also on the scorebench – in 2010 after filling in for a couple of games he became the WNBL game commissioner. David is a familiar face around the South Australian basketball landscape and has always gone above and beyond in his role.
The night was a wonderful celebration of the historic club which will dive deeper into the historic roots of the last 30 years of the Lightning in the coming year – to acknowledge past, present and future Lightning people.