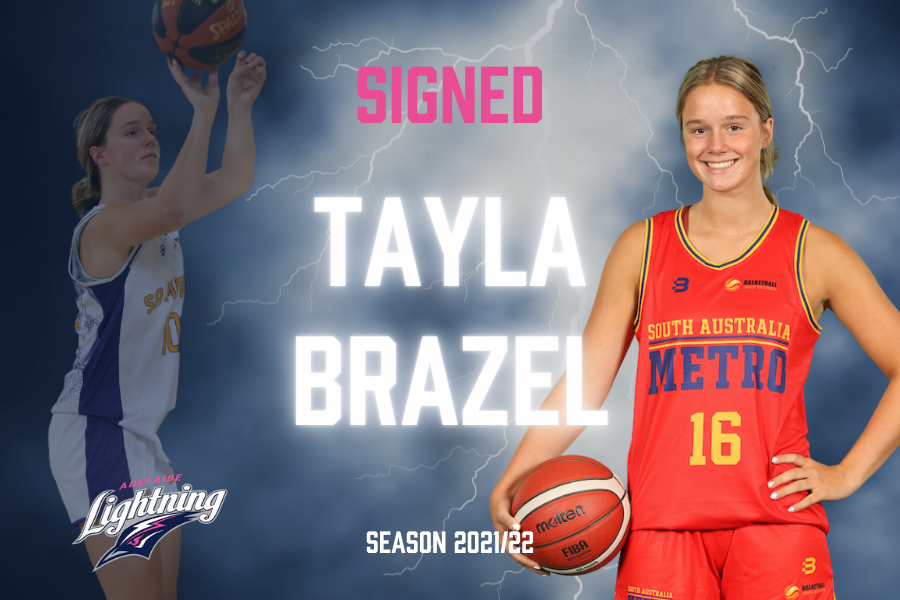 June 22, 2021 | Adelaide Lightning news
She's one of the most exciting talents and South Australian recruits in many years. She crashed onto the scene with a bang in NBL1 Central with the Sturt Sabres, produced some exceptional numbers and play in the recent U18 National Championships, and higher honours are now following with a new contract for development player Tayla Brazel.
Adelaide Lightning are thrilled to announce the signing of exciting prospect and one of the fastest rising stars in South Australian girls basketball, Tayla Brazel to their 2021/2022 WNBL Roster.
Brazel is just 17 years-old, but the 5'11 guard has already impressed many in her development over the past few years with her showing at the recent Under 18 National Championship. Brazel was in the top two for scoring where she averaged 22.75 ppg, 5.88 rebounds, 3 steals, 2.75 assists and shot the ball at 45.1 percent from the field as well as dropping 36.84 percent from beyond the arc.
"I was really pleased with my performance at the Under 18 Championships and I guess it was an opportunity for Chris Lucas to have a look at me as a potential player. During that tournament I wanted to show all the hard work I'd put in particularly the last few years in my development,"  Brazel shared about her strong showing at the championships.
Brazel has also been recently called up to the U19 Gems squad, something our Adelaide Lightning head coach Chris Lucas sees as another step in her exciting development.
"I am extremely excited about her talent and with hard work and dedication, she will become an extremely valuable member of the Lightning moving forward," Lucas shared.
Those who have caught Brazel in NBL1 Central this season for the Sturt Sabres can see the raw talent on display averaging 12.2 shooting at 50 percent from the field, including 57.1 percent from beyond the arc and 3.2 rebounds. This included a 25 point/6 rebound haul against the South Adelaide Panthers and 19 point/5 rebound against the Forestville Eagles.
"I'm still a junior in an Under 18 team, however to be able to also play with the NBL1 Central girls it gave me the opportunity to play with those bigger bodies and gain experience in a fast-tracked way which is helping my development at all levels," Brazel described of her season in the league.
Brazel reflects the dream of club chair Bruce Spangler of having a pathway through South Australia basketball for girls to be able to start their professional career with the Adelaide Lightning rather than other options often taken at this age bracket.
"This is the pathway in action coming to fruition through our club as a legitimate pathway for female basketballers in South Australia. Girls will also have the opportunity to further tuition through the South Australian universities as part of this; a vision for the club I set when I first started," Spangler beamed about the signing and his dream beginning to take shape.
Brazel is looking forward to mixing it with her fellow team-mates already excited about the prospect of what she can learn from them.
"Its such a great opportunity, Chris is such a great coach and the opportunity to play and training with and against girls like Alanna Smith, Steph Talbot and Taylor Ortlepp, it's such a dream to be able to learn off them."
She knows that already the work for her WNBL professional career is about to ramp up as she meets the challenges ahead in her next chapter.
"Chris has already said my work-rate naturally will need to rise to a higher level for WNBL and I am also looking to improve shooting particularly my mid-range and to be ready for the intensity side of things for my game. My defence will also need to be up to the level where I need to be quick and light on my feet and I feel that will prepare me well for my first season."
Tayla Brazel will be one to watch in WNBL Season 2021/2022, the Gems U19 campaign and the remainder of the NBL1 Central 2021 for the top two Sabres.