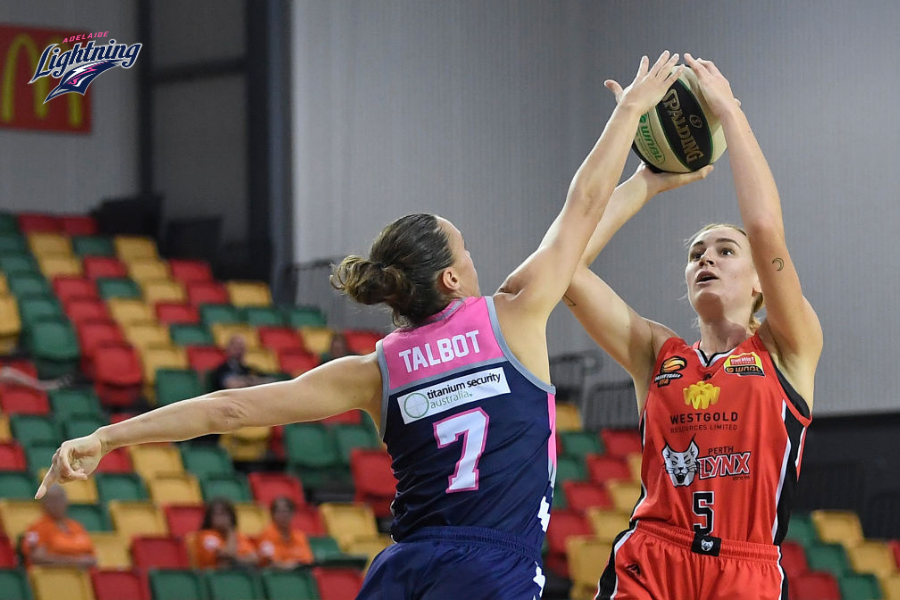 March 11, 2021 | Adelaide Lightning news
We take a closer look at the 2020 Adelaide Lightning key statistical areas and the club leaders after the 2020 WNBL Season. Second up is a look at the defensive end of the floor… Lightning DEFENCE
Opposition Scoring
The Lightning conceded 1071 points in the 2020 season opposed to their offensive output of 918 points finishing with a percentage of 85 across their 13 games. The least number of points conceded (excluding the overtime in game one) in a quarter was against the Bendigo Spirit in the second quarter in their round five clash of 11 points. The most was against the Southside Flyers in the third quarter of their first game on the Saturday of round three of 32 points.
In 49 percent of the quarters played the Lightning conceded 20-29 points a quarter, while 45 percent of the time it was 10-19 points. The most expensive quarter was the first with an average of 22 points per game, while the second to fourth were evenly spread with 18-19 points per quarter.
Rebounding
Total Rebounds
Steph Talbot 117
Marena Whittle 69
Alex Wilson 56
Chelsea Brook 53
Louella Tomlinson 39
Carlie Smith 38
Offensive Rebounds
Marena Whittle 25
Chelsea Brook 21
Steph Talbot 19
Carlie Smith 15
Louella Tomlinson 12
Defensive Rebounds
Steph Talbot 98
Alex Wilson 50
Marena Whittle 44
Chelsea Brook 32
Louella Tomlinson 27
Offensive Rebounds converted to Points
Steph Talbot 10
Chelsea Brook 10
Marena Whittle 6
Alex Wilson 4
Louella Tomlinson 3
Carlie Smith 3
Steals
Steph Talbot 25
Marena Whittle 15
Alex Wilson 13
Carlie Smith 13
Steals converted to Points
Steph Talbot 7
Marena Whittle 7
Alex Wilson 7
Carlie Smith 3
Analysis
Correlating with the offensive output in the part one of this analysis, an average of 14-22 in points resulted in a differential of -8. This meant the Lightning were starting second quarters on average three to four baskets at least behind making catch up play a factor majority of the season. This is opposed to second to third quarters close to breakeven with 18-20 points on average for both teams per quarter.
Talbot is a runaway winner within the defensive statistics and when she gets the ball in her hands more opportunities tend to be converted; 17 scores resulted from Talbot's presence through the season at the defensive end. The presence of Whittle and Carlie Smith can't be underestimated either for the court time they had producing solid figures in rebounding and conversion at the offensive end of the floor.
The Lightning will be keen to convert more opportunities across their squad when the ball is stolen or rebounded offensively to create second chance points. This will add to their fast break offense we saw through the season for the 2021 campaign.