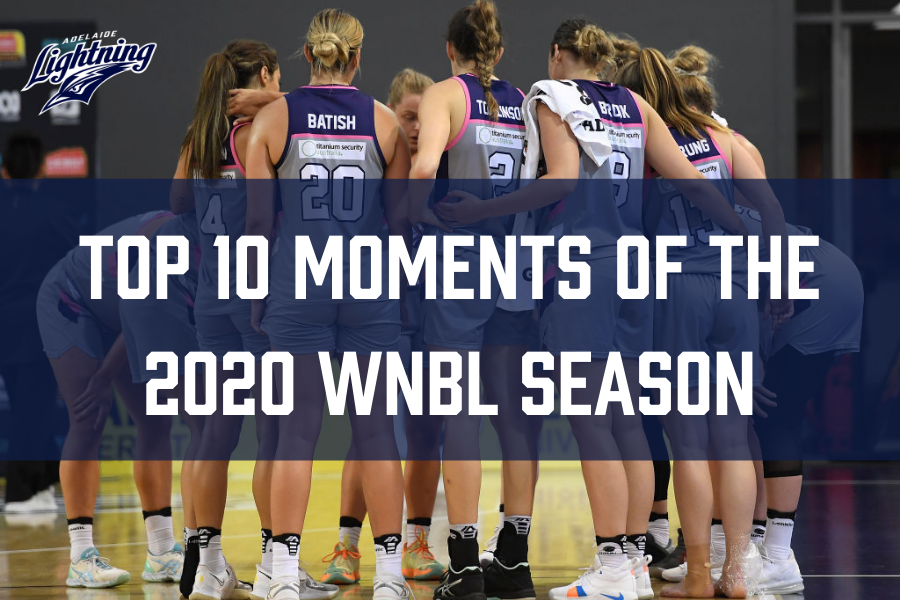 January 4, 2021 | Adelaide Lightning news
The Lightning List: Top Ten Moments of 2020 WNBL Season
We take a look back at the best Adelaide Lightning moments and things we saw from the WNBL 2020 Season.
Marena Whittle's energy
Watching Whittle in 2020 was a big blessing for Lightning fans as she brought enthusiasm and energy night in and night out. She was second in steals (15), rebounding (56) and the leading offensive rebounder (25), fourth in points (113) and fifth in assists per game (1.4). Whittle's most memorable night was her 15 points, 8 rebounds and 3 assists versus the Southside Flyers.
Taylor Ortlepp efficiency
Despite fluctuating minutes from game to game, you could count on Taylor Ortlepp being highly efficient in the time she was on court. Whenever Chris Lucas called her number, she performed admirably both offensively and defensively. Her sequence in the the second half of the second quarter against the Melbourne Boomers in round 4 where she flushed one from deep, grabbed an offensive rebound for a layup and then followed up with assisting Ally Wilson was a prime example of the impact she had all season.
Abbey Wehrung "lightning" it up against her former side
We loved seeing Abbey Wehrung have a great game against her former side the Bendigo Spirit. Even though she dropped 15 points for the game, it felt like she contributed to the game in many ways by how she locked down her opponents, got after rebounds and secured the ball as much as possible. It was a memorable first encounter against her old squad.
Carlie Smith's momentum changing minutes
Smith hit the hardwood in 2020 showing off her ability to sniff out rebounds and clamp opponents. She was big against the Perth Lynx in the first quarter back in Round 4 and then backed it up next game by having a huge impact when Ernst and the Spirit were rolling early in their Round 5 match-up. There is a lot to be excited about Smith and her ability to transfer her NBL1 North form to WNBL in 2021.
Chelsea Brook's back end of the season
We have known for quite some time what Brook is capable of, but we saw her emerge as a consistent player in the latter half of this season. She had a big finish to the season with 48 of her total of 112 points for the season coming in the last 5 games. Her offensive arsenal looks to have expanded beyond three point shooting, with glimpses of a floater and strong post moves starting to become evident. It will be exciting to see even more offensive improvements in 2021.
Ally Wilson's Big Night out against the Spirit
Alex Wilson had herself a night against the desperate Bendigo Spirit, dropping 23 points at 57 percent, 5-10 3PT, 6 assists and rebounds including an important 8 points in the second quarter against them. She was monumental in leading the charge along with Steph Talbot.
Brooke Basham announces herself to the WNBL
The Eastern Mavericks NBL1 Central guard was given an opportunity against the Southside Flyers and played a big part of setting up our number two moment for the season. She finished with 13 points including a perfect 3-3 from behind the three point line and 5 rebounds.
Steph Talbot extinguishes Flames with 30 points
Round 3 showed us Steph Talbot was taking no prisoners this season. Her titanic 30 points came in the form of a double double with 12 rebounds in a dominant performance where she led from the front all night.
Lightning show offensive firepower capabilities in opener against Flyers
The Lightning came out against the Southside Flyers in Round 3 with all guns blazing; their 30 point first quarter effort coming at 66 percent from the field. Despite an eventual loss, it earmarked a season high 21 points to Abbey Wehrung (4-5 from beyond the arc) and Marena Whittle with 15 points, 8 rebounds and 3 assists.
Talbot takes over-time against the Caps
No arguments here as the number one spot goes Steph Talbot on opening night versus the Canberra Capitals. Our Captain and 2020 WNBL MVP tallied up 31 points (55 percent), 13 rebounds, 6 steals and 4 blocks to lead her team all the way into overtime. She dominated the overtime period with 10 points, 4 rebounds, 3 steals and a block in an incredible display.