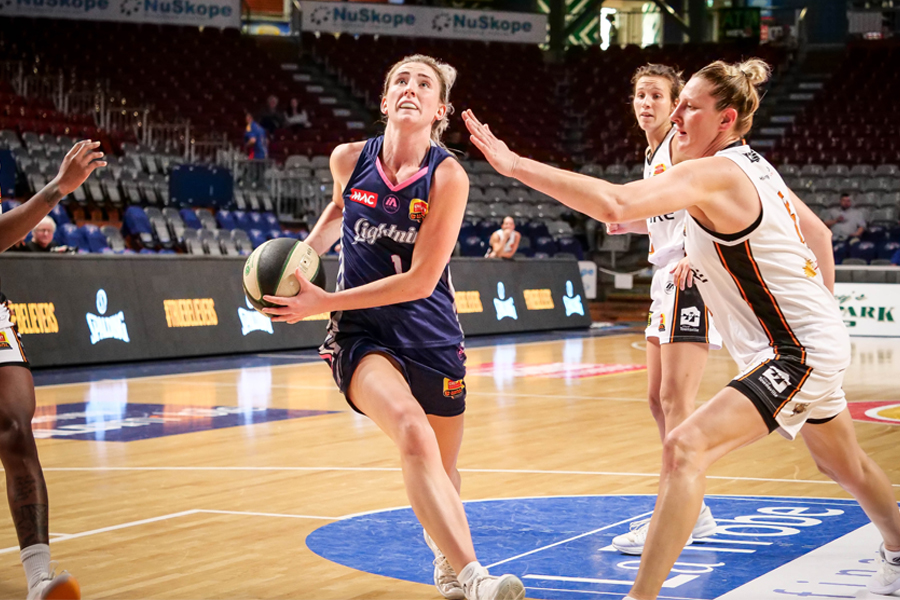 October 19, 2018 | Adelaide Lightning news
Kieren Vartuli @kierenvartuli
The visiting Townsville Fire overcame the Lightning early Friday evening spoiling Adelaide's home-opener by handing them a 10-point loss.
The Fire kept the Lightning at bay despite continued assaults on the scoreboard eventually walking away victors with the scoreboard reading 65-75.
Townsville extended their lead out to the final 10-point margin, but Adelaide continued to remain very much in the contest.
Heading into the final term saw the Lightning down one-point with the score set at 51-52. The third quarter saw an even contest offensively with both sides recording 14-points apiece.
The tale of the tape for the Lightning was the difference on the glass between the sides.
By halftime, the Fire outrebounded their hosts 32-19. The 13-rebound difference extended to 15 by full-time, although, it did not separate the two sides on the scoreboard with the contest still possible to swing either way.
At halftime, Lucas addressed the rebounding predicament of the contest after giving up 10-offensive rebounds by the long break.
That swinging pendulum remained present for much of the contest with the ball game hanging in the balance.
"Obviously I'm pretty disappointed with the result as I felt like we had a good training week, unfortunately we didn't shoot the ball particularly well especially early" Coach Lucas said.
"We missed foul shots when we shouldn't have… and shot the ball poorly" Lucas said.
Although he is not particularly worried about his side's offensive capabilities.
A poor first term from the field saw the Lightning trail 19-12 at the first break. After the first 10-minutes, the Lighting were shooting under 15% from the field with Colleen Planeta leading all scores with ten.
At the half, the Lightning were trailing 37-38 after what was a huge second quarter from the floor. Adelaide outscored Townsville 25-19 after some sharp shooting from Nicole Seekamp and Stephanie Blicavs.
Back-to-back triples by Nicole Seekamp throughout the 2nd cut the margin to a single possession before the Fire created some more breathing room.
Seekamp checked out of the contest early after fouling out during the fourth quarter. Although, Seekamp recorded an incredible 17-points, 4-assists and 6-steals.
Lauren Nicholson demonstrated her superiority on the floor offensively throughout the evening finishing well around the rim.
Nicholson walked off the court with 14-points and 4-steals after a strong showing on both ends of the floor throughout.
The Lightning will have to put this tough loss behind them quickly, as they are back in action Sunday against the UC Capitals on the road.