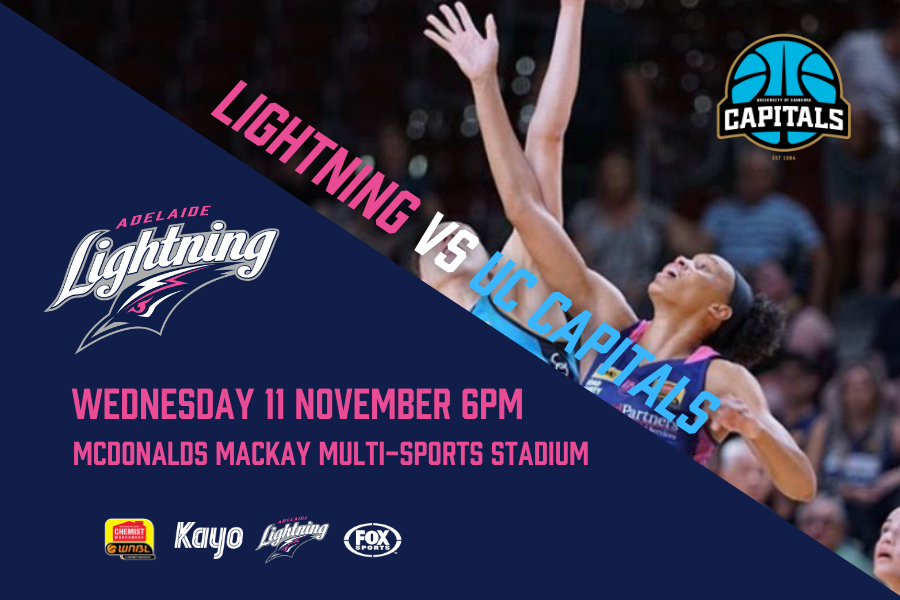 November 11, 2020 | Adelaide Lightning news
GAME ONE  
WHEN: NOVEMBER 11, 5:30PM (SA TIME)
WATCH: Kayo
WHERE: McDonald's Mackay Multi Sports Stadium
Lightning strike with Carlie Smith
The girls arrived in Mackay earlier this week and our 3X3 national recruit Carlie Smith is ready for the season ahead.
"We had an hour training session Monday then went out for a team dinner, yesterday was a busy day with training and plenty more. I am not quite sure what we have to do up here in this Hub but we went for a walk through the Botanic Gardens to start our day yesterday which was relaxing" Smith told the Lightning press.
On the eve of her WNBL debut Smith is excited and surprisingly not nervous about her debut.
"It is a very strange set of circumstances; I was fortunate to have international experience through 3X3 and we are truly fortunate to be able to play considering what has happened in the world. I am just going to go out and have fun, play and enjoy the moment," Smith described the circumstances.
Plenty of Smith's relatives and supporters will be tuning into her debut tonight all over Australia and the world.
"I have family pretty much from everywhere. My brother and his wife will be watching from overseas, my Mum is in Wollongong so she'll be watching from there and my partner is back in Adelaide training with the West Adelaide Bearcats and the Adelaide 36ers, so I know he'll be watching. And my Dad and brother and his girlfriend will be watching from Canberra." Smith shared.
Key Match-Ups
Abbey Wehrung vs. Maddison Rocci
The Capitals had a difficult time dealing with shooting guard Wehrung in the 2019-2020 season when she played for the Bendigo Spirit. Wehrung will have a crucial matchup against the Capital's guards and will be a key offensive threat for the Lightning.
On the other side, Rocci has been strong against the Lightning in recent times. She averaged 10 ppg in 2019-2020 and will need to be stopped by Wehrung. However, as Smith described, the Capitals have a team with good chemistry and for the Lightning Alex Wilson and Wehrung are still gelling through the preseason for their first time playing together.
Louella Tomlinson vs. Marianna Tolo
If there's a game that Louella Tomlinson can make a big statement about her upcoming season, then stopping the vastly experienced and crafty rim post player in Marianna Tolo is the one.
Tolo, while being a difficult matchup for most teams has given coach Chris Lucas and the Lightning many headaches last season. Against the Lightning she averaged 17.5 ppg and 6 rebounds, with 4.5 of those offensive rebounds and an average of 3 blocks of rim protection per game.
Tomlinson will not be alone in support with Ella Batish and Smith helping her nullify the tower of Tolo.
"I'll need to use my athleticism to get up and down the floor, rebound, crash the boards hard and be a lockdown defender supporting Louella and the front court, that will be my role to help stop Tolo." Smith described her scout of the Capitals centre.
Carlie Smith vs. Keely Froling
There's nothing like a friendly rivalry or meeting, and at some point tonight we're going to get these two match up on each other.
From the famous NBL/WNBL Froling family, Keely has had big games against the Lightning including a double double of 22 points and 11 rebounds in their first meeting last season. She averaged 11.33 ppg and 7.66 rpg against the Lightning in the 2019-2020 season and for Smith the matchup is more than an on-court meeting.
"I've played against her in SEABL (NBL1 South/North) and been on her team a few times and she is no doubt a very talented player," Smith described her matchup with her 3X3 and state competition team-mate and opponent Froling.
The Last Strike
There is an air of excitement and anticipation for all teams heading into the hub season, however we can share from the inside, the blue chipped Lightning are ready to go to work and ball. Tonight's game comes down to containing Tolo and as above; this is echoed by Smith.
"She is a key player with all her international experience and along with Kelsey Griffin we'll need to lock them down, she'll also have a strong fan base there as most of her family is from Mackay."
Smith will bring experience playing at the venue many other players may have not, the conditions of the venue and a familiarity with the team we are taking on.
"I have played at the venue before through QBL and I feel pretty comfortable with the conditions and the rings having played there before. I've versed a few of the girls from the side as I am from there (Canberra); at the end of the day I am focusing on what we need to do as a group to beat the Capitals."
And that Carlie is what we are hoping for, a fast start striking in our open court game and engineering a first up win to send some shockwaves through the competition from the get-go…
Last time they've met:
1/02/2020: UC Capitals 73 (Nurse 28, Rocci 16, Tolo 13) defeated Adelaide Lightning 71 (Nicholson 16, Talbot 15, Westbeld 10) at AIS Stadium
STRIKE BACK INTO HISTORY
Seekamp sees ball before buzzer to send Lightning to game three (2018/2019 Grand Final Game 2 vs Canberra Capitals)
The game that flared the argument for the video review system once again will still go down as one of the greatest finishes of the 2019 WNBL season. With 5.5 seconds remaining and the Lightning needing a score to take the Grand Final series to a decider in Canberra, Lauren Nicholson with a behind the back dribble regained control, despite some full court pressure from the Capitals. She got the rock to outside the three point line and dished inside to a free Nicole Seekamp. Seekamp led the Lightning back into the contest and managed as history will now show on scoreboard (whether you look at the replay or not) get the ball up on the rim. It tumbled in to send the largest Lightning crowd of the decade into jubilation and the Lightning to a deciding game three of the 2018/2019 Grand Final Series.