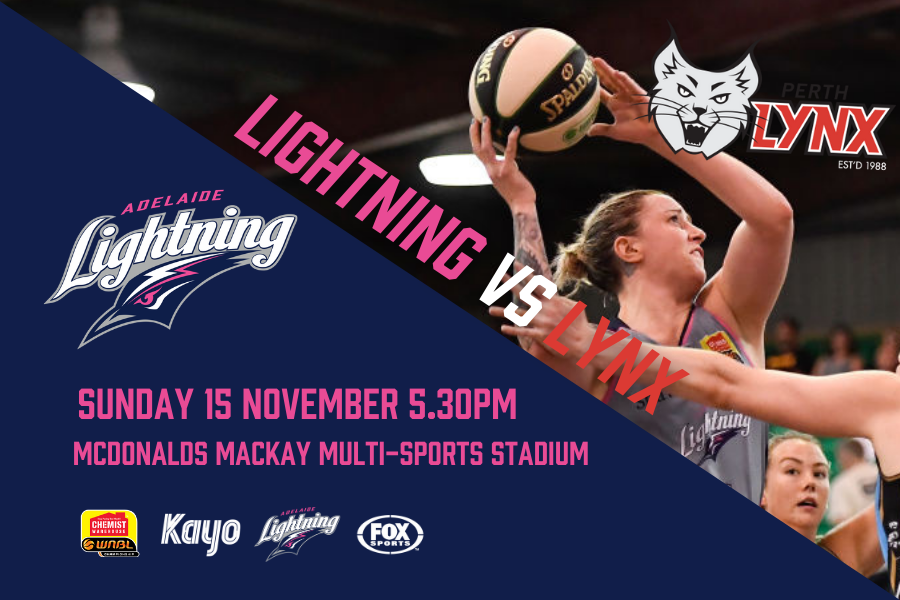 November 15, 2020 | Adelaide Lightning news
GAME TWO
WHEN: TONIGHT NOVEMBER 15 – 5:30PM SA TIME
WATCH: Kayo
WHERE: McDonald's Mackay Multi Sports Stadium
Lightning strike with Marena Whittle
Wednesday night's win over the Caps has generated much confidence for the girls and although they won, utility Marena Whittle knows they can improve even further having been their first top level professional game since last WNBL season.
"It was great, coming into a hub and not having played a WNBL side and to come out and play the way we did for 40-45 minutes was a boost for our side. We still have a bit more flow to get into and we just want to do SA proud," Whittle described Wednesday nights overtime thriller.
Whittle took over the Adelaide Lightning Instagram and Facebook for a "Hub-date" on Thursday and her and several of the girls enjoyed the day off seeing some of the sites in Mackay.
"It was so much fun, we had a helicopter ride dropped on us by Queensland government and tourism, we saw so much of the Eungella National park and much more, hopefully I get to do it more often (Lightning Insta take-over) throughout our time here," Whittle buzzed about her time with her team-mates seeing some of the beautiful state of North Queensland.
Key Match-Ups
Alex Wilson vs. Katie Rae-Ebzery
Wilson has started the season with a bang really lifting her game in the third quarter, particularly in our run against the Capitals. Running point for our team, she controlled tempo and really made it difficult for the defence of the Capitals to keep up. She spells big problems for a Lynx back-court still gelling somewhat without Sami Whitcomb, Ariel Atkins or Lauren Mansfield (Sydney Uni Flames). Wilson may also see much of Tayah Burrows who stepped up to the starting five for the Lynx and was a buzzy annoying defensive presence for Shyla Heal and Lauren Nicholson of the Fire Wednesday night.
"Tayah is just so good, I'm so proud of her, Jewel (Williams) and Nes'eya (Williams) to step-up to roster spots, Tayah has the legs to go for 35-40 minutes on our guards so we'll need to be ready for that," Whittle said of her young former team-mates.
It's not often that the 2018 Women's World Cup Silver medallist shoots 26 percent from the field in just under 30 minutes, but that is exactly what happened to Ebzery game one against the Townsville Fire. Expect her as a champion player to bounce back and be a huge threat both in dribble penetration and outside the arc.
"Katie I love as an individual and a basketball player, I have so much respect for her as she puts in 150 percent into everything she does. I know they will want to fire back on Sunday night, and they are going to have a bit more gas in the tank now as they have had a few days off as we all have. I think it's about preparing on defence for a matchup like hers as I think there is a storm coming our way."
In 2019 she averaged 18.7 ppg against the Lightning at a whopping 57.1 percent; that's numbers that the Lightning simply cannot allow.
Chelsea Brook vs. Darcee Garbin
Brook started without too much fanfare on Wednesday night, but for those keen observers who saw between the lines, she played a solid opening game of the season. Not only was it the 10 points, but her positioning defensively contributed to supporting her fellow bigs Tomlinson, Talbot and Whittle playing some of the four to five spots. Perth hasn't been a side traditionally Brook has done well against averaging only 7 ppg against them, but expect her to up this starting with tonight's game.
Garbin dropped 16 points in her last game against the Lightning for the Fire in 2019 and the WA product was one of the big reasons many thought the Lynx could be a smokey in 2020.
"Darcee is WA local product and I have a lot of respect for her, Perth are trying to use as much WA talent as possible as well as putting in Ash Isenberger (nee Grant) and Kayla Steindl (nee Standish) so once they gel they are going to be a pretty dangerous team," Whittle described about Garbin and her other WA front court.
Garbin provides a difficult matchup for the Lightning as she is so versatile and has averaged 16.7 ppg and 9 rebounds against them in 2019. Along with Ebzery stopping her will be our best chance of going 2-0 for the season at the end of round one.
Marena Whittle vs. Jessie Edwards
Whittle plays her first game against her former side early in the season and no doubt she will be keen to do well against the Lynx. Her defensive presence and ability to bring energy and facilitate the ball came to the fore more across the second half of Wednesday night's game.
"I think we definitely had some great standouts with Steph (Talbot) and Ally (Wilson), I am along with others are still understanding our floor spacing so we will look to improve where we are on the court to each other and that will make our offensive sets more effective. We weren't actually happy as a collective Wednesday night with the way we played which is exciting as it means we can improve much more and play more as a gelled group as the season moves along," Whittle gave an honest assessment of the situation at the Lightning camp.
Edwards is a known quantity for the Lightning having been on their list last season. She started her season well in 11 minutes on Wednesday night with 6 points and 5 rebounds and looks to be getting some additional court time this season. Expect her to come out and show her former team she is ready to go for this season and is one of many players that will benefit from no imports in the league this season.
The Last Strike
Now with a few cobwebs blown off after a tough night against the Fire, Perth under upgraded assistant coach Ryan Petrik will be keen to come out hard against the Lightning as Whittle expects after watching their game live on Wednesday night.
"We watched the game live so seeing it firsthand was pretty great, they are a new team with so much WA talent. Ryan's style as a great upcoming coach is his up tempo game so when they understand where to get their shots we'll need to as well and also pay attention to individual scouts from Chris and Nat of their players."
Overall, Whittle is looking forward to the amount of local talent on display for both sides with both teams looking to truly represent their states in the league with several larger opportunities for players home-grown.
"The WA team and SA Team are two teams that are just jam-packed with local talent and I think its incredible for the League that they are getting playing minutes and the opportunities to play that may have not been there in previous seasons," Whittle proudly shared about both sides.
This will be a game where both states can really get behind their sides and know that both bleed for their home cities and state; that as Sand Gropers and Crow Eaters of this great land we can be proud to witness and get behind this Sunday night…
Last time they've met:
30/01/2020: ADELAIDE LIGHTNING 75 (SEEKAMP 17, TURNER 16, TALBOT 13, NICHOLSON 9) DEFEATED PERTH LYNX 74 (ATKINS, EBZERY 16, MANSFIELD 12, PAYNE, WHITTLE 11)
STRIKE BACK INTO HISTORY
1996 Preliminary Final: Lightning wash away Breakers to setup top of table Grand Final rematch
After a Karen Dalton led Sydney Flames snuck over the top of the Lightning in their semi-final by a lay-up, the girls responded swiftly ruthlessly sweeping aside a Perth Breakers side boasting Gina Stevens and Tully Bevilaqua.
Led by the WNBL's second leading points per game for the season superstar Rachael Sporn, forward stealing master Carla Boyd and assist King Michelle Brogan, the Lightning were never headed despite a brave Breakers having overcome the Brisbane Blazers in their elimination match and then upsetting third placed Bulleen Boomers. The match would of course lead to the famous three-peat of championships that the Lightning went through in the mid 90s and a dominant era of Women's national basketball in the City of Churches.