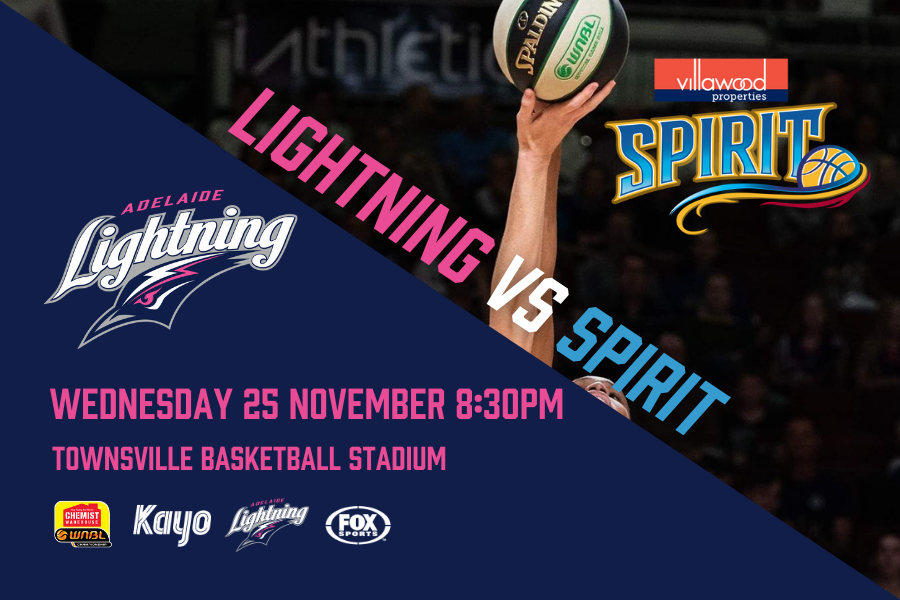 November 25, 2020 | Adelaide Lightning news
WHEN: TONIGHT NOVEMBER 25 – 8:30PM SA TIME
WATCH: Kayo
WHERE: Townsville Stadium 
Lightning strike with Abbey Wehrung
Last night's loss to the Boomers has only fuelled the fire more for Wehrung in a game she needs no extra motivation to perform in. "There's always that little more desire when you play your old side than normal. Coming off the game against the Boomers there's a lot we want to put out tonight," Wehrung told the Lightning Press in the lead up to her first game against her former side.
Wehrung says even minutes after the loss to the Boomers, the Lightning had already identified the key area to change around straightaway. "I think we didn't stamp our physicality and didn't adjust to them (Boomers), we need to be physical and not take anything physical that the Spirit gives us tonight," Wehrung said about her team's mentality refocus tonight. That will certainly enable the Lightning to score on the fast break and from turnovers, an area the Spirit have struggled in this season.
Key Match-Ups
Abbey Wehrung vs. Tessa Lavey
Wehrung had two seasons with the Spirit and was very solid averaging 10.6 ppg, 3.5 blocks per game and shooting over 35 percent from beyond the arc. The Spirit will know the danger she is to her team spreading the floor with her long-range work. "My first season with them we had a real good group and the coach Simon (Pritchard) gave me a bigger role and I grew a lot as a player, I am looking forward to the whole game and playing against the whole team," Wehrung stated about her desire to play the Spirit tonight.
On the flip side, Opals squad current member Tessa Lavey has been one of the standouts for the Spirit this season and will be keen to continue her red-hot start to the season. Lavey's statistics don't show what impact she's had this season with only a 2.5 ppg increase however her increase of 3.3 assists per game is a significant change as she has brought her team-mates like Mary Goulding and Carly Ernst into the play in a significant manner. "She's the barometer for them and works her backside off for them," Wehrung described the match-up with Lavey.
Chelsea Brook vs. Carley Ernst
If there is a Lightning forward that can keep Ernst accountable it's Brook. With her ability to hit the outside shot and create space for her fellow forwards, Brook could have a big impact against the Spirit and without a real "big" game yet for the 22 year old; It's only a matter of time before she finds her range and registers a big tally for a night.
Ernst has been the lynchpin of the Spirit offence averaging 17.6 ppg and 7.4 rpg already this season. In 2019 she was down in these categories however was three points better per game against the Lightning; That alone suggests she will be a hard matchup for our club.
Ella Batish vs. Demi Skinner   
Batish is the kind of player that can give the Spirit some real problems off the bench. She has had time now to warm into her role for the Lightning and provides a surprise matchup for a small bench Spirit front court. The Spirit bench forwards average height is 186cm and with a Spirit team only averaging 34.8 rebounds as a team per game; this is where Batish at 188 cm can get a foothold.  The Lightning are already producing an average of 44 rebounds per game and Batish is likely to contribute strongly to this in this match-up. "I think rebounding is the key and we didn't do that very well against the Boomers, we need to get a body on our players and dominate this area," Wehrung implored about the need for controlling the glass.
Skinner has a history with our state too having played for the Southern Tigers in the ABC Challenge in South Australia and seems to like playing well against the Lightning. In her first season in 2019, she averaged 14 ppg and shot the three ball at 54 percent. While she is only seen an average of 11 minutes, do not be surprised to see much of Skinner against a team she has played well against multiple times including striking that outside triple. "She can definitely shoot the ball so we can't afford to let her get open," Wehrung shared about the triple threat of Skinner.
The Last Strike
Wehrung cannot wait to have an opportunity to bounce back on court tonight also citing one more crucial matchup to watch out for. "Amelia (Todhunter) is very aggressive defensively so we can't afford to let her get up on the ball and need to be aware of setting good screens to get our scorers open and nullify her."
The quick turnaround could work to the advantage of the Lightning with a Spirit team already staring down a potential 0-7, the Lightning will not be underestimating their rivals. "If it was a normal season and we had a week to dwell on it that would be not good for us right now, getting straight back on the horse and going again is the best thing for us."
So, let the two rivals take to the court and gather the popcorn as this one is bound to have a little more "spirit" than normal…
Last time they've met:
15/12/2019: ADELAIDE LIGHTNING 91 (TURNER 23, TALBOT 17, BROOK 16, SEEKAMP 13, NICHOLSON 10, WESTBELD 9) DEFEATED BENDIGO SPIRIT 75 (ERNST 21, SKINNER 16, HEAL 16)
STRIKE BACK INTO HISTORY
Round 3 2017/2018: Lucas return heartstopper for Lightning in overtime
An emotional Adelaide Lightning took the court in this classic in 2017 with coach Chris Lucas having battled kidney-cancer returning to the head chair. After being tied at the end of regulation 71-71, it took a game winning block from Colleen Planeta with 15 seconds left on the clock to get the Lightning across the line in a thrilling 79-75 win in overtime. Planeta finished with 21 points in a match-winning performance.