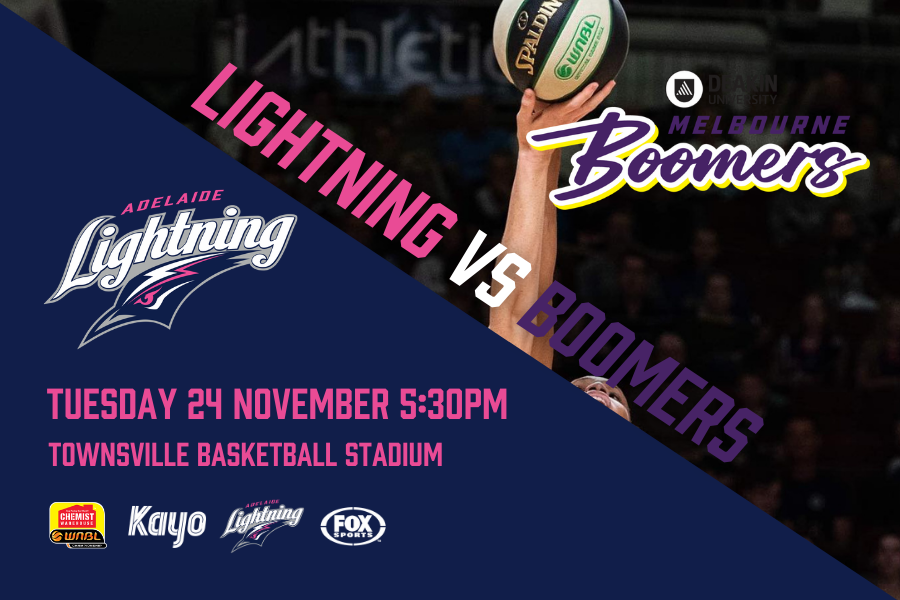 November 24, 2020 | Adelaide Lightning news
WHEN: TONIGHT NOVEMBER 24 – 5:30PM SA TIME
WATCH: Kayo
WHERE: Townsville Stadium 
Lightning strike with Louella Tomlinson
Wednesday night's win over the Caps and Sunday night's win over the Lynx was sadly short lived as under the instructions of the Queensland Governments COVID protocol, our season was put on ice, but that has only stoked the fire further for Tomlinson one of the multiple Lightning players to have experienced quarantine restrictions throughout a majority of 2020.  "Its not what we expected or wanted, but it is what it is so we need to move on and find that momentum we had again," Tomlinson shared with the Lightning Press about the team's focus and mentality post round two.
During the enforced break, the girls have been training the house down whilst gelling together away from the court. "We had three to four days off till we got on the court and have been slowly getting back into it after a big pre-season. It's been a big week since we hit the court again," Tomlinson shared about the Lightning progress for their first game back.
Key Match-Ups
Stephanie Talbot vs. Tess Madgen
Talbot will be keen to erase her record against the Boomers and continue her stellar start to the season. In 2019 she averaged 9.66 ppg but did also register an average of 8.7 rpg, that means her size and strength is a potential challenging match-up for the Boomers; however they do have a player that can challenge Talbot in all areas of the open court.
Madgen really struggled against the Lightning in the 2019 season averaging 5 ppg, but against all other teams she averaged 12.3 ppg and 3.8 apg. Despite an injury this season causing her to miss a few games, she has started this season on fire for the Boomers and is a big part of their setup averaging 19.7 ppg and 5.3 apg. That means she is a key distributor of the ball to her team-mates so expect a lot of off-ball screens to get the Opal squad member open early to negate the influence of Talbot and co at the defensive end of the floor. "She's a great player (Madgen) who has had a great start to the season, she works in their system and she's a real leader. She'll fight for everything and be really competitive so if we can find ways to put pressure on her then we can force their other guards to take more of the basketball," Tomlinson described the mission to manage Madgen.
 Louella Tomlinson vs. Ezi Magbegor/Cayla George
If the Boomers employ their horns, dive and cut method then the positioning of Tomlinson in our defence is going to be crucial against either Magbegor and George. "We have a game plan for that but everyone we'll have to wait till Tuesday night to see how we counteract that," Tomlinson said about her team's plans for Guy Molloy's offensive plays and methods.
It is a fine line between which one Tomlinson defends on each play with both players playing inside, outside the paint and the amount of switching in the offense going on. Both George and Magbegor present different issues for our front court and their flexibility is a key to their ability to score the basketball. Only switching on for 40 minutes by our bigs and Tomlinson guarding the rim is going to stop either of these two incredible players.
Taylor Ortlepp vs. Ash Karaitiana
Ortlepp has had a big start to her WNBL season. It's not only her 6 ppg that has been handy off the pine for the Lightning but her ability to come in and play point forward and some tenacious defence on some of the off-guards/small forwards of the league so far like Cubillo, Rocci, Melbourne, Ebzery and Alex Ciabattoni. This one is the big test as she is likely to see throughout the match plenty of time on Garrick and Karaitiana; Ortlepp is the Lightning's one percent player so far this season and has been highly efficient in many without basketball in hand key statistics. "She's short in stature but big in the way she plays, she's made an impact already and she brings every game what she does well; I hope she lets that ball fly," Tomlinson praised her young team-mate in her first full WNBL season.
In terms of beyond the arc, the Boomers seem to always have a player that gets away from the scouts of Madgen, George and Garrick in the triple shooting. This makes Karaitiana potentially one of the most dangerous players on the floor. In her comeback season she is shooting already 37.5 percent from beyond; she is the kind of player that could "light" up the Lightning very quickly if not shutdown by Ortlepp and the off the pine defensive unit.
The Last Strike
Tomlinson along with many WNBL players is relishing the opportunity for extra court-time and returning to a bigger role in our team. She has also been loving the amount of young talent getting an opportunity in extended minutes to show their wares. "I've been on teams where I've been in the starting five and coming off the bench in a different role so understand both. It's great there is that opportunity for the young girls that are coming through, I think they are playing with such confidence and that is coming from their team and coaches backing them in as when you don't have that confidence it can really impact your game," Tomlinson shared about her playing experience over multiple years in the competition.
Whether the enforced lay-off was a hindrance or blessing in disguise will become evident very quickly through this third round of the WNBL. The mind games have already begun and while we know all teams are going through the same recovery process that we know we don't need to constantly ask the players about, the real intrigue is in how the clubs are going behind closed doors in such close proximity. When something happens to a team like it did with the Lightning, it will draw the best or the worst of character, connection and focus out of a group. From what Tomlinson has said, the Lightning will draw from their experience as a catalyst for the rest of the season.
"Given everything we've been through in the last week, even with a tough draw I think we'll show we are resilient and fiery enough to still get the job done. It's exciting we finally get to play again. It's been a big challenge for us to prepare differently than what we expected but we think it's going to be a lot of fun on our return tonight."
I could have not said it any better about what we should expect from the SA team hungry to return to what they love to do…
Last time they've met:
10/01/2020: ADELAIDE LIGHTNING 69 (TURNER 23, WESTBELD 18, SEEKAMP 11, NICHOLSON 10) DEFEATED BY MELBOURNE BOOMERS 74 (CUNNINGHAM 18, MAGBEGOR, GEORGE 14, GARRICK 9)
STRIKE BACK INTO HISTORY
October 21, 2016: "Mad Max" daughter drains from deep against Boomers
The last quarter of the game versus the Melbourne Boomers early in the 2016-2017 season produced a memorable moment many have not forgotten. The daughter of an Adelaide 36ers great on the night of their 1986 30-year celebration reminded people how great the McKay shooting genes were. The scene was set for Shannon "McKay" Webber as the Adelaide 36ers would play the Cairns Taipans in a 30 year celebration since the 1986 NBL Championship and the crowd was starting to gather when Webber entered the court; she was completely unaware when she would get a call up from coach Chris Lucas.
Lucas knew what her role was and as a firsthand witness myself in the building and having been on tour with Webber earlier that year in our state, I knew also what she could do with space on the perimeter. The freed-up space and open court transition offence allowed her game to be utilised to full effect in a blistering 12 point four triples last quarter in a comeback against the Boomers. It was a sign of the future with the current Adelaide Lightning club looking to promote and recruit local state talent for years to come and 2016 was a pivotal year where although only one season left a memorable mark on the career of a player who put in a performance on the night of her father's title team celebration.