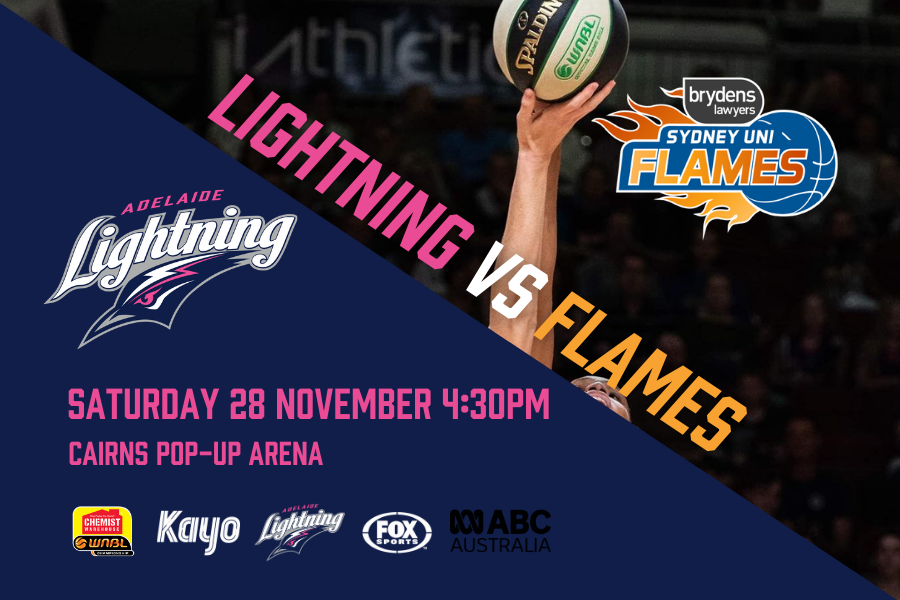 November 28, 2020 | Adelaide Lightning news
WHEN: SATURDAY NOVEMBER 28 – 4:30PM SA TIME
WATCH: ABC TV, FOXTEL, AND KAYO
WHERE: Cairns Pop-Up Arena 

Lightning strike with Alex Wilson
Despite a long trip between Townsville and Cairns, Wilson shared that arriving at the hub in Cairns has been a relaxing unwind, "Its super nice where we are staying here, Cairns is really nice as a place it is however super humid here. Everything is really close in the hub so it's a pretty good setup."
Wilson is looking forward to playing Sydney Uni and said the feeling was quite unusual. "It feels a little bit weird to be playing my old crew, I am looking to have a good game against them. I think you get a bit more up and about to play your old team," Wilson stated about the upcoming game.
Key Matchups
Alex Wilson vs. Lauren Mansfield
Wilson took the bull by the horns in the second quarter against the Spirit and lifted the team onto her shoulders with a huge 8-point quarter. She is already averaging 15.8 ppg, 5 rebounds and 4.5 assists and against her former team, the numbers suggest that she'll be a handful for the Sydney Uni guards.
Mansfield saw a small amount of playing time for North Adelaide Rockets in the ABC Challenge pre-season before being picked up by the Flames for the 2020 WNBL Season. She has started the 2020 Season in a blaze averaging 13 ppg (Up from 9.6), shooting 44.1 from the field (number 9 in the competition) and 5.5 assists, number two in the competition this season. "Lauren and I when we match-up on each other always have tight battles," Wilson shared about the showdown between the two point guards.
Marena Whittle vs. Anneli Maley
If there is anyone that is going to match Anneli Maley's fire and enthusiam on the boards, it'll be Marena Whittle. She will have her hands full with the competitions leading rebounder, who's coming off an impressive 20 rebound game.
Anneli Maley has already 24 offensive rebounds and a total of 67 rebounds for the season. If she chalks up her usual averages, it will hurt the Lightning in a big way. "I think we've been pretty poor with cleaning up the glass, we definitely have the ability to be better than that. At the end of the day it is a mindset thing we need to adjust. Anneli is one of those players that just wants it more because she crashes it hard all the time. We'll have to keep an eye on her but at the end of the day we have to want it more and box out every time," Wilson told us about the desire of the team to control the influence of Maley.
Carlie Smith vs. Carly Boag  
The Lightning need a lift from the athletic Smith and if she can bring the intensity on defence, she will be helpful in stopping Maley, Nat Burton and Lauren Scherf. Smith has the ability to control the glass with her size. She has 9 rebounds for the season but four of these are offensive. In the 2019 QBL season with Sunshine Coast Phoenix she averaged 2.33 offensive rebounds and 10.83 rebounds per game; watch out if she translates that to the pace and positioning of the WNBL.
Boag could be the big difference off the pine for both sides; she is highly effective in limited minutes. She is number two in the competition for three-point percentage with 63.6 and a field goal percentage of 54.2 (number seven in the competition). Her size and ability to hit the long-range bomb combined with issues on the rebounding for the Lightning could complement nicely for the Flames so switching man-to-man and awareness of her space on court is a must. "She's a good friend of mine, she has the ability to go off, can get to the rim, shoot it well and rebound," Wilson described Boag's game and how dangerous she was to the Lightning
The Last Strike
With two games in less than two days it's a big stretch for Wilson and the Lightning and even she is not too sure how coach Chris Lucas and assistant coach Nat Hurst will manage the 80 minutes over the weekend. "I'm not really sure what Chris's plans are for managing minutes over the two games this weekend, but we'll be definitely gunning for the Sydney game, we see it as a must win. We'll need to leave everything out there and deal with the second game as it comes."
This will be one of the Lightning's only live televised games on the ABC this season and while there is some pressure, Wilson said the girls are looking forward to the game being shown showcasing this Lightning team of 2020. "I think that's awesome that we can be on national TV and that all our supporters and family and friends can watch us live around the country, I'm sure there will be plenty tuning into the game today."
Last time they've met:
29/12/2019: SYDNEY UNI FLAMES 72 (KUNEK 26, WILSON, KUSTER 14, TUPAEA 8) DEFEATED BY ADELAIDE LIGHTNING 80 (WESTBELD 17, TALBOT, NICHOLSON, SEEKAMP 13, TURNER 9)
STRIKE BACK INTO HISTORY
Round 6 2015/2016: Boag big night takes out brave Lightning  
Our random research has uncovered that the above rings true for the Lightning, that Carly Boag loves playing our girls. In Round 6 of the 2015/2016 season, In her debut season, Boag produced 10 points and 7 rebounds and along with Tahlia Tupaea (now at the Capitals) and Kate Ebzery (Perth Lynx) knocked off the Lightning who were closer than they had been all season to getting their first win.
We had big games from current Capital Mikaela Ruef (18 points) and Southside Flyer Leilani Mitchell (17 points and 7 assists) as well as contributions from Mikaela Dombkins with 15 points and now retired Southern Tigers NBL1 Central centre Tara Dodman (nee Robinson) with 11 points. Although we lost the match it did set up a first road win for us the following day; more to follow in a future strike back into history.