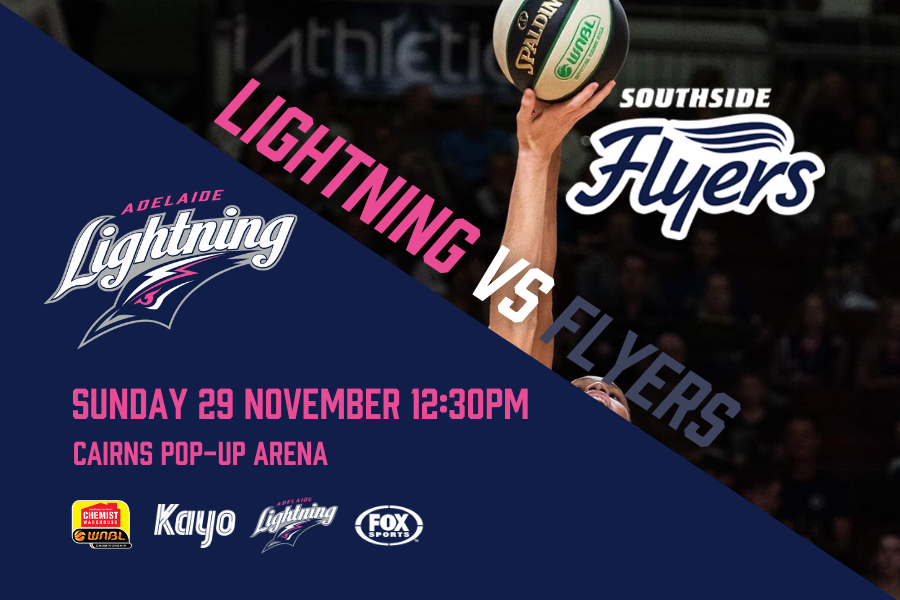 November 29, 2020 | Adelaide Lightning news
WHEN: TODAY NOVEMBER 29 – 12:30PM SA TIME
WATCH: Kayo and Foxtel
WHERE: Cairns Pop-Up Arena
Lightning strike with Steph Talbot
The Lightning struck back last night through their skipper Steph Talbot who had a double double of 30 points and 12 rebounds. Leading the teams has been a part of her lift across many areas of her game. "It's been super easy being Captain of the side so far, the girls get on really well making it a great job, we'll gel as well on the court the more we form this squad together," Talbot shared about her first weeks as the Captain.
It is a tough second leg for the girls with Southside today but with Talbot already scoring 119 points and averaging 23.8 ppg up from 13.8 ppg last season, a simple change for her in a group of young upcoming players has been the catalyst for her offensive output. "It's been a change of role with more young players so my team has changed from last year and simply I am playing a different role to what I did last season," Talbot noted about her increase in points contribution.
Key Match-Ups
Steph Talbot vs. Rebecca Cole
It's hard to nail down three key matchups in a team like the Southside Flyers but we do know our Captain Steph Talbot is the key for us. "We looked at it this morning after a day off yesterday, it's a pretty deep line-up," Talbot said about the Flyers. Talbot has started this season smashing her previous points per game average up by 10 points from last season (23.8 as mentioned). Talbot has caused problems for the Flyers in 2019 averaging 14ppg, 7.6 rebounds per game (11 this season) and 6.5 assists (4 games) in her last five games versus the Victorian side.
Leading the way in those categories is FIBA 3X3 star Rebecca Cole. Cole in 2020 started the season in a blaze of fire with 12, 13, 27, a 20 and a 19 in her opening games and as per last season even with the stacked roster signings remains a crucial piece of the Flyers line-up. She also averaged 19 ppg and 7.56 rpg in her five games against the Lightning last season. The superstar averages 35.4 percent from the perimeter for her career and will need to avoid the outstretched extra 10 cm of length that Talbot once again will bring to that match-up. "That's my strength is being six foot two and quite quick being able to play those multiple positions, she is star Cole and one we need to keep an eye on," Talbot described her matchup with the Flyers guard/forward.
Louella Tomlinson vs. Liz Cambage
It's probably the single most important matchup of the night as our centre goes up against the WNBA star Cambage. Tomlinson's best bet is to run the floor as much as possible and call in doubles on Cambage, however, it is all about timing as too early on doubles and the Flyers will find their perimeter shooters and too late will give Cambage a one-on-one seal opportunity with a height advantage of 10 centimetres. "All their starters can score and that's the Flyers biggest strength however Liz is a key matchup and a dominant player, she is different to deal with than what we've had before." Talbot explained about the match-ups for the Flyers.
Cambage is probably best described from what we have seen so far as "warming into" the season but the numbers do not suggest that is the case. In the first week she was already averaging 16.34 ppg at over 60 percent and 8 rebounds in just under 20 minutes. She has already spent much time on the bench with the Flyers having so many options to rotate through their position-less spots. It's going to take more than one person to stop her but if we can get an open court game going using Tomlinson then the Lightning are a chance of quelling her influence on high singles or low doubles.
Taylor Ortlepp vs. Leilani Mitchell  
Ortlepp has had a big start to her WNBL season despite a possible knee issue. It's not only her 5 ppg that has been handy off the pine for the Lightning but her ability to come in and play point forward and some tenacious defence on some of the off-guards/small forwards of the league so far like Cubillo, Rocci, Melbourne, Ebzery, Ciabattoni and Mary Goulding who she shut down in the third quarter during the week. This one is the big test as she is likely to see throughout the match plenty of time on Mitchell, she is the Lightning's one percent player so far this season and has been highly efficient in many without basketball in hand key statistics.
Former Lightning player Mitchell averaged 17.8 ppg against us in 2019 at just under 50 percent so a players like Ortlepp and Ally Wilson will need to play some accountable defence on her and keep her to under 35 percent which happened just five times in 2019. Mitchell caught fire against the Lynx mid-week however with 20 points with 6-8 from beyond the arc signalling a return to form for her is starting to happen. Mitchell was only averaging prior to that game 7.63 ppg; that should sound alarm bells considering 2019 for Adelaide.
The Last Strike
The big thing about this match-up is the form of our Captain and it seems to have started from a long time ago; her record is exceptionally good against the Flyers (formerly known as the Dandenong Rangers). "They used to be my favourite team to play when I first started, we watched them on TV. They were one of the best teams around so you always want to play your very best against the best teams." Talbot reflected on her strong form against the Victorian side. To note as well the girls have watched most of the games this season including the Melbourne game last Saturday and took plenty away from the Boomers and how they knocked them off. "They shot the lights out, it would be great if we can shoot like they did however we just need to play our team game and stick to our strength of playing together," Talbot said about the match-up today.
In the Flyers loss to the Boomers, Melbourne had 24 assists, shot 59 percent including 16 triples, had 22 bench points and 19 second chance points. Execution, effort, and desire got it done for the Boomers over 40 minutes including keeping the Flyers to 26 percent from beyond the arc. The key on top of the aforementioned is the Lightning core and how much they believe they can replicate these indicators. They have shown they have the ability and if Captain Talbot leads the way as she has this season; The Lightning could quickly upset the favourites and perhaps we could see the makings of a dark horse no one has seen coming around the corner this season…
Last time they have met:
22/02/2020: ADELAIDE LIGHTNING 79 (TURNER 25, WESTBELD 18, NICHOLSON 16) DEFEATED BY SOUTHSIDE FLYERS 82 (COLE 19, MITCHELL, CLYDESDALE 18, RUSSELL 15, BLICAVS 12)
2007/2008 Preliminary Final: Link Lightning shoot down "power" Rangers in prelim
The top of the table Adelaide Link Lightning after being upset by the Sydney Uni Flames were hungry for redemption at their home of the Distinctive Homes Dome and it came in the form of a surprise packet in the Southside Flyers former identity, the Dandenong Rangers.
The Rangers would not be an easy task with an evenly spread contribution and a game plan built for finals led by WNBL defensive player of the year Emily McInerny. It was the home crowd and a "powerhouse" performance from leading Lightning ppg Renae Camino, rebound machine Tracy Gahan and the duo combo of Angela Marino and Jess Foley that saw the Lightning into its first Grand Final since 1999/2000 after missing the past two previous seasons by back-to-back heart breakers including one in overtime to the Canberra Capitals.