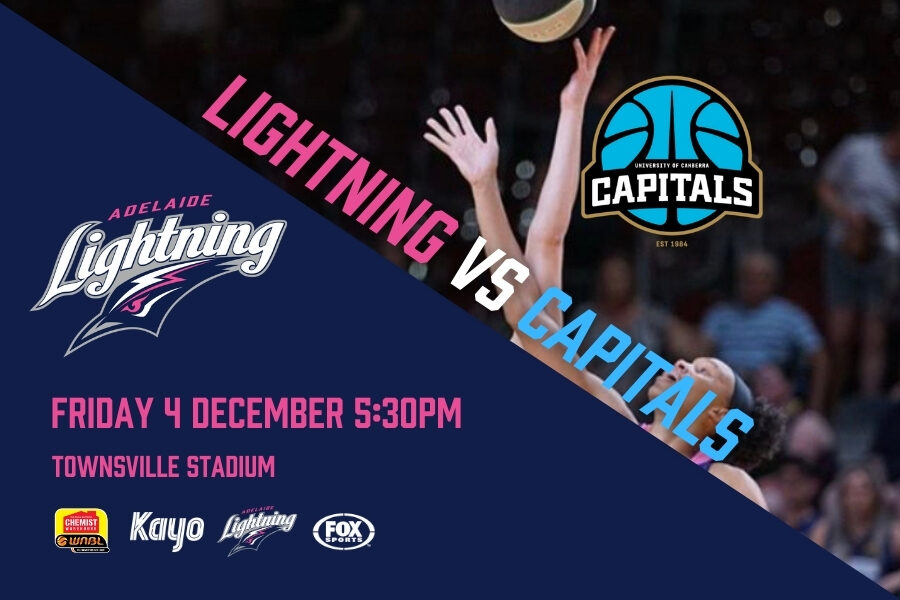 December 4, 2020 | Adelaide Lightning news
WHEN: TODAY DECEMBER 4 – 5:30PM SA TIME
WATCH: Kayo
WHERE: Townsville Stadium
Lightning strike with Chelsea Brook
The Lightning have now played all the teams in the fixture, except the Townsville Heat, and Brook can identify who are the front runners. "The Boomers are up there; they came out very hard and played well against us. They move the ball and shoot the ball well; they are hard to stop. Canberra are up there, now that they are healthy they'll be up there contending," Brook said. Obviously the Flyers are the probably outright favourites at the moment.
Brook has been a loyal mainstay for the Lightning as a South Australian product of the club and even though it's been five years she does not feel that far out of "rookie" school. "It's a weird thing where I've played for Chris (Lucas) for five years and I'm in the same age group as Brooke (Basham) and Aimee (Brett) so I kind of feel that stuck in between sense," Brook shared about her transition from SA Country rookie to loyal Lightning player.
She attributes Lucas to have been one of the main reasons she has stayed as one of the two players that have remained on the roster for multiple seasons. "I have been incredibly lucky to be able to play at home in front of family and Chris, I was 17 when I first started and he took me onboard when I was young, timid and just starting out. He has developed my game so much and in 2019 we saw lots of my game development pay off." Brook is also missing her family but if anything, the contact has increased more so this season. "I still feel I am getting more messages from Mum and Dad than usual because I'm away and was hoping for them and the other players families and partners to come up during the season but what happened in SA has put a stop to that sadly."
Although she played for the Eltham Wildcats in NBL1 South 2019, she missed playing for a South Australian club. "After WNBL you do get a lot of clubs come knocking, I decided to go (to Eltham Wildcats) when I had a break in Uni to try it out. The difference I found with Melbourne was that there was better preparation, bigger bodies and the competition was at a very high level every week. SA hasn't got the national exposure it deserves in the past and we have some great players here. On the flip side though the competition in Melbourne has been a little bit stronger, you also have double the amount of players to choose from. I think the changes for SA women's basketball has been a long time coming and NBL1 Central will give the opportunity for great high-quality calibre players to be maintained in South Australia. It will keep the competition at a higher level because SA locals are just as good as the others out there, so it'll get the exposure it deserves," Brook excitingly described the prospects for Women's basketball in South Australia in 2021.
The hub has been a unique environment and with so many local players this season, downtime has been needed and familiar faces are often seen on a frequent but short sharp basis. "It's a unique season where we see each other in the hallway and on our way to training so we get at least a quick hello in with players we know and played with from different teams. We were trying to get to the pool, get down to palm cove and do some sightseeing while we were in Cairns and similar things in downtime while we've been in Townsville."
Key Matchups
Abbey Wehrung vs. Maddi Rocci  
Alex Wilson was particularly important against the Caps in the first game of the season, but ]the Lightning have found their barometer in Wehrung. In the Lightning wins this season, she averages 14 ppg, 4.66 rpg, 2.6 apg and importantly just 2.6 turnovers per game. In their losses she averages 12.33 ppg, 1.66 rpg, 1.33 apg and a much larger 3.66 turnovers per game. She's a crucial factor in making sure the turnover count does not explode like it did against the Flyers.
We said prior to game one Rocci was a danger and the numbers did not lie. She dropped 21 points, 8 rebounds including 2 offensive and dished it 7 times to her team-mates to set up scores. It's been a breakout season for the Caps guard averaging 30 minutes a game, 15.1 ppg and 3 rebounds and assists per game. "She is playing one of the best seasons I've ever seen her play, it's a matter of knowing she's going to score so it's limiting the damage and making her work for her shots and limit her ball passing," Brook shared about the dangerous Rocci. She is simply someone Wehrung and the intensive defensive pressure of the Lightning need to smother.
Chelsea Brook vs. Kelsey Griffin
Brook has started to find her groove this season and that is evident in her shooting numbers. On Wednesday night she registered her second double figure haul for the season, but the encouraging thing is that she has shot the rock at above 50 percent for the season. "That's the great thing about Chris he's given us a licence to shoot but he'll also tell you if you take a bad shot. We'll be focusing on attacking more and going at the rim and being in better positions to attack in all ways." The Lightning could really utilise Brook more in the pick-and-pop, something that hasn't occurred a whole lot this season, but could be a staple of the offense going forwards.
A likely duel awaits with the experienced Griffin who did not play in round one. Griffin has returned solid numbers this season averaging 22 minutes, 11.6 ppg and 8 rebounds. With so many other Capitals shining this season she has unusually flown under the radar very slightly but the history with the Lightning and her last quarter efforts on the glass have not gone unnoticed. Brook has got to be accountable for this one and she knows it. "The scary part is even with those numbers down she is playing so well coming off injury, along with Froling (Keely) and Tolo (Marianna) they are great offensive rebounders so we'll need to look after that area better than we did in the first game of the season; the game went into a grind because of that," Brook said about the matchup with Griffin and the importance of looking after the glass.
Taylor Ortlepp vs. Jade Melbourne  
Ortlepp although not looking fully fit returned to court Wednesday night in an encouraging sign. If you are a young upcoming female athlete, you just have to love how she plays bigger than her size and shows some really smart basketball IQ. That was on display the first time against the Caps in Round One and here is hoping she can show a little more when she takes on the guards of the Caps.
Who would have thought that Canberra supporters could get behind Melbourne in sports? Not the city of course, we're talking about Jade Melbourne, who has been a revelation for the Caps this season. "We've played her in the pre-season so we know she is a baller and got that flair like Rocci." Brook said of the young guard.
The Last Strike
The hand has been dealt and the Lightning are right in the middle of a game of mid-table poker where perhaps now that a couple of folds have occurred, they can find the aces in the pack. "The Flyers are the benchmark so it was tough going up against them, we had a double header that weekend that we were coming off, sore bodies, we tried everything but in the end if the day we couldn't reel them back in. We have spoken a lot about playing our game and knowing what we are good at, getting out at running and playing team defence. If we do that, we will be able to get easy buckets and control the boards," Brook summed up about the process of getting control back of their season.
At 4-3 now, tonight is a massive opportunity to jump ahead or drift back to the pack. It is going to depend which cards are placed on the table and here's hoping that the girls take the advice of their team-mate.
Last time they have met:
Round 1 2020: ADELAIDE LIGHTNING 85 (Talbot 31, Wehrung 16, Wilson 15, Brook, Tomlinson 10) DEFEATED UC CAPITALS 73 (Rocci 21, Froling 19, Ruef 13, Tolo 10) in OVERTIME at McDonalds Mackay Multi Sports Centre
Round 6 2015/2016: Out "Standish" performance crashes Caps Bibby Celebration
We head back to the weekend of Round 6 in the 2015 season today where after coming close to grabbing our first win of the season; the next day we were able to.
Celebrating her 378th record breaking game for Canberra Jess Bibby, the Lightning struck early through the returning Kayla Standish (now Steindl at the Lynx) who ended up amassing 20 points along with now fellow Lynx team-mate Alex Ciabattoni with 15 points. Our Co-Captains Kelly Bowen and Leilani Mitchell also hit the scoreboard respectively with 14 points and 12 points with 3 assists.
The Caps were led by Bibby with 20 points in her big match followed by a double double from former Lightning player Abby Bishop (19 points and 11 rebounds) and current WNBA Atlanta Dream point guard Renee Montgomery with 14 points and 4 assists.
The win was the first road win of the season where the Lightning would go onto a seventh placed finish with a 10-14 record.