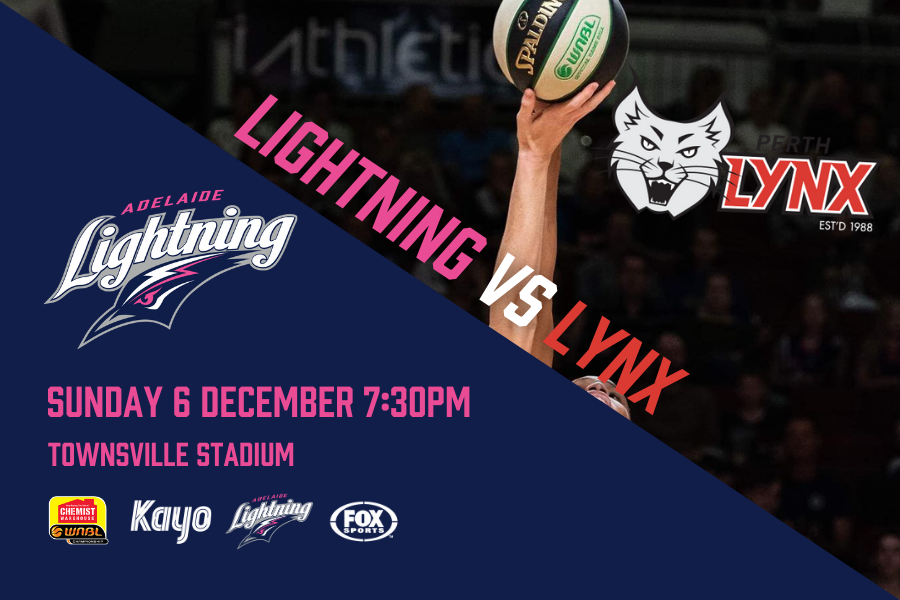 December 6, 2020 | Adelaide Lightning news
The Lightning meet the Lynx for the second time this season and after a scrappy game last time the teams met, we expect it will be much more different for both. With both teams desperate for a win to stay alive in the season, read our preview and how first year player Ella Batish sees what both teams will take into tonight's must win clash…
GAME NINE
WHEN: TODAY DECEMBER 6 – 7:30PM SA TIME
WATCH: Kayo
WHERE: Townsville Stadium
Lightning strike with Ella Batish
Batish in her first WNBL season has been a handy acquisition for the Lightning from the NBL1 South Southern Sabres but her move to the club nearly happened at the start of last season but as she said the timing was not quite right. "I'd actually been in contact with Chris (Lucas) before last season and was offered an opportunity to be a development player. For me confidence is a big thing so packing up and moving to another state I didn't think was for me at the time but this year the call came within a week of when a roster spot freed up, so the turnaround from the call to moving to Adelaide came within a week so it was very fast. It was really nice to be even considered again this year as sometimes for me there is the fear of saying no to something that coaches forget and move on but for Chris to consider and call me I am very grateful for the opportunity this season."
The transition from NBL1 to WNBL has been noticeable for Batish however the team she has landed in has made the journey much easier than she thought it may have been. "We have WNBL Players in NBL1 but the speed of games and physicality is naturally higher. The coaching staff and the team have been so good at boosting my confidence to go out and play as I am. The team has been so welcoming and made me feel so comfortable the transition has been much easier than I thought it might be which is a big positive," Batish shared about her experience in transitioning between competitions.
Batish was not sure if the WNBL professional lifestyle was going to be for her but now she is relishing the opportunity and gotten a good feel for what future years in the competition are going to be like. "If I'm honest I've never been someone that has looked that far forward with what I am doing. I've just enjoyed playing basketball at whatever level I can with people that I know and then when this opportunity came I thought with it being such a short season as well I thought this is a pretty good opportunity to get your foot in the door and have a feel for what it's like. I thought this was the time now to give it a go and see if its something I'd like to pursue and doing so I am loving every second of it; It's been great," Batish summed up her thoughts on a future career beyond this season in the WNBL.
Key Matchups
Marena Whittle vs. Alex Ciabattoni
Whittle was huge against the Lynx in Round One producing a double double and grabbing some crucial rebounds in the last quarter when the game was on the line. Whittle has been the leader of the pack defensively for the Lightning and once again its time for her to lead the Lightning out of the loss column with her energy and tenacity in the field.
In Friday night's game it was Ciabattoni that got the Lynx roaring eventually finishing the night with 18 points at 70 percent, 5 rebounds and 3 assists. Shouldn't be a surprise as the South Australian has been steadily increasing her numbers throughout the season with 13 ppg, 3.75 apg in the last four games.
Steph Talbot vs. Darcee Garbin
It was great to see Talbot show the way in the last quarter on Friday night and last time she played Perth, that is when the whole league started to take some real notice. If she comes out aggressive against the Lynx tonight and does what she does best, lead by example then the Lightning will be the first to strike in this contest.
Garbin's last quarter Friday night though too showed she is not too far away from getting into the conversation about "the one to watch" in the WNBL. We know she already is in the current Opals squad but the way she hauled the Lynx on her back and took the game by the scruff of the neck was a treat to watch. 12 points showed what we may have a privilege to watch in our league and hopefully for the Lightning not tonight.
Ella Batish vs. Emma Clarke
Batish has been slowly building into her role and it seems Chris Lucas is really liking how she is going about it. She has been averaging 15 plus minutes in her last four games and upped her season average in points up to 5ppg and starting to get on the glass more. "Chris has been great there's been no pressure and I've been able to just go out there, do my job defensively and if I'm open shoot the ball. It's been great to have that confidence to go out there and be backed to do my job for the team." Her defensive minutes and helping the Lightning space the floor minutes will be vitally important tonight.
Clarke dropped 9 points against the Lightning in Round One and was definitely a surprise packet. She has been a little quiet the last couple of games but don't be surprised to see her pop up again however the Lightning team will be more aware this time around of her impact.
The Last Strike
Batish reckons the team took plenty away from Friday night's last quarter and knows the simplicity of what must be executed and done. "With such a short turnaround here it's one game finishes and the next one begins; we are looking good preparation wise for tonight. We just need to stick to our team defence; it's not going to come down to one person to defend their key players. It's been a massive focus for us coming into tonight and everyone is available to play so we are ready to go."
So with a full squad at his disposal, you know that Lucas is going to throw out on the floor those players that are committed to the team defence to stop the Lynx derailing a season that already has had many switching points. A win gets them back on track for the WNBL post-season.
Last time they have met:
RD 1 2020: PERTH LYNX 69 (Ebzery 25, Garbin 15, Ciabattoni 10, Clarke 9, Steindl 8) DEFEATED BY ADELAIDE LIGHTNING 74 (Talbot 24, Wilson 12, Whittle 11, Ortlepp 9) at McDonalds Mackay Multi Sports Centre
Round 18 2014/2015: Lightning climb in second and third quarter for Hill's 350th
The West Coast Waves came to town with intent to spoil Jo Hill's 350th WNBL game and it nearly came about for the Waves.
The Lightning dominated the second and third quarter with a 41-13 run to setup the game led by the inspirational Laura Hodges with 22 points and 13 rebounds. Waves 14 year veteran Melissa Marsh (Yes from that family of cricketers) dropped 16 points in the last quarter to get them within striking distance but the Lightning closed out a night of celebration 70-57 in front of the crowd at Adelaide Arena