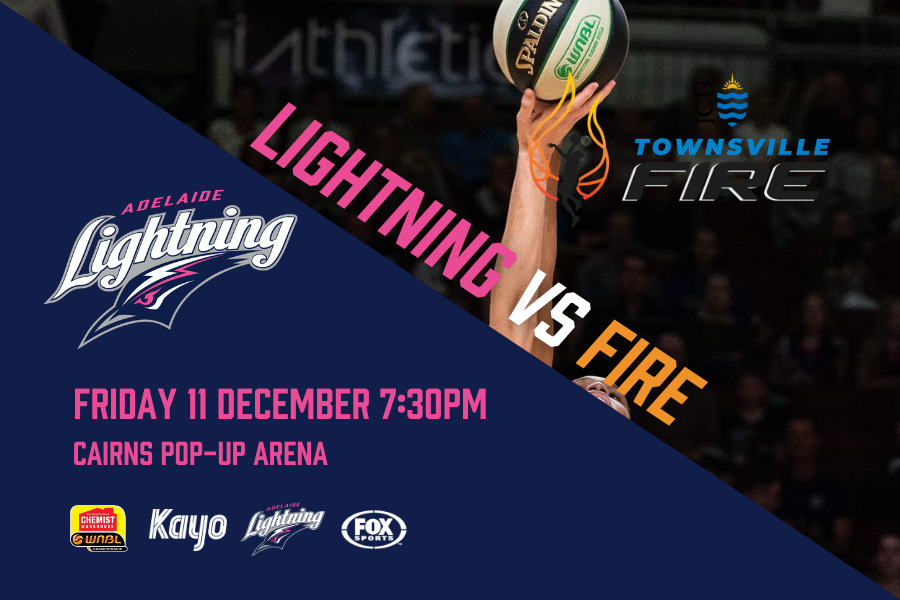 December 11, 2020 | Adelaide Lightning news
WHEN:
TODAY DECEMBER 11 – 7:30PM SA TIME
WATCH: Kayo
WHERE: Cairns Pop-Up Arena
Lightning strike with Taylor Ortlepp
The Lightning scrappily slowly worked their way into the game against the hot shooting Bendigo, however, point forward Ortlepp reckons they found something against the Spirit. "We tried to get some momentum back and showed commitment to our plans. We need to control what we can and that'll be the same against the Fire tonight," Ortlepp shared with the Lightning Press.
We are dubbing Ortlepp "Miss one-percent" because she is leading the Lightning in +/- efficiency on court this season. "I was unaware of that stat but when I come on court, I play my role and if that helps our team be more efficient then that's really positive. A major focus for me and the team has been the defence so if I can play good D then that contributes to our performances on the night," Ortlepp said about being one of the most efficient players for the Lightning this season.
Key Matchups
Steph Talbot vs. Lauren Nicholson
Look for the Lightning to go with what would appear a strange matchup in terms size and mobility but that's exactly what Talbot may bring to her matchup with our former player. Talbot has been moving her way up the ranks in steals, assists and +/- statistics suggesting a more by committee approach may be on the cards against the Fire, however when it's her time to go, she's going to score.
Nicholson leads the Fire in steals with 16, third in assists and most importantly first in points (196 for the season). A lockdown job from Talbot is necessary.
Taylor Ortlepp vs. Shyla Heal
We would love to see Ortlepp see her back up minutes shutting down the rising star of the WNBL. Miss One Percent has been a key component for the Lightning this season. She's averaging 13.5 minutes per game, she is third in attempts from three but most importantly she is the Lightning's most efficient player on court leading the team in +/- on average in the positive.
Heal has been talked about all WNBL season and it's no wonder because she's having an incredible season. She is averaging 4.4 more ppg, 1.8 apg and putting up an extra four shots per game compared to her 2019 season with the Spirit. Expect the Lightning to make it tough for her and play her very physically to see if they can throw her off her game. "She's been putting up big numbers, so we have to apply pressure on her and make her use other players to create scoring opportunities," Ortlepp talked about the the scout of Heal.
Carlie Smith vs. Megan McKay
The rebounds are going to be crucial against the Fire and Smith showed she was ready to hit the hardwood last game trying to own that glass. With Talbot, Whittle and Ortlepp likely trying to contain Nicholson, Heal and Zitina Aokuso, it is going to be up to some of the Lightning bench to come in and secure the glass advantage.
A danger player to watch out for is Ortlepp's old U16 Oceania Championship team-mate McKay. McKay is the leader of the offensive glass for the fire with 22 rebounds for the season and she is number three in total rebounds with 60. "She's had a real good season and always been a hustle player. We need to limit her second chance opportunities," Ortlepp told us about her former championship team-mate. It is the area the Lightning have been killed on this season and simply a conscious effort from Smith and company is needed to make sure she doesn't give her guards extra scoring opportunities.
The Last Strike
The door has been left open to make the finals and for Ortlepp and the Lightning it's not seen so much as a challenge, but an opportunity to glue everything back together at the right end of the season and time their run for the finals. "Its very exciting and a huge game we have tonight, this is a good opportunity it is there in front of us there to grab so we need to go grab it," Ortlepp summed up about the situation ahead of the match-up with the Fire tonight.
It all comes down to this match-up between fourth and fifth to determine who takes the last finals berth.
Last time they have met:
RD 3 2020: ADELAIDE LIGHTNING 77 (TALBOT 16, TURNER 15, NICHOLSON 14, SEEKAMP 12, WESTBELD 10) DEFEATED TOWNSVILLE FIRE 60 (MADGEN 19, GARBIN 16, VANLOO 10)
2012/2013 Semi-Final: Flanagan fires up Townsville for famous victory
General basketball and non-basketball fans might not know that Townsville and Adelaide have had a storied history with many players and coaching staff involved with both clubs at different times. This time around current head coach Chris Lucas was at the helm of a fourth-place finishing Fire with a very evenly balanced team statistically taking on a Lightning side featuring league MVP Suzy Batkovic and rookie of the year Steph Talbot under Peter Buckle.
This game would turn out to be an epic match, despite the Lightning going into the match on a seven-game winning streak. The Fire were led by their Captain Rachael Flanagan who scored 8 of Townsville's first 10 points and held a 14-11 lead over the home side at quarter time then half time at 30- 27. Former Adelaide Lightning player Jess Foley stepped up to the plate to put the Lightning under some serious heat leading the Fire to a 3-point lead at the final break. The final quarter saw the contest rise to another level resulting in Fire's Jessica Adair and Lightning's Batkovic fouling out late in the game. Flanagan was taken from the court after a nasty head clash with Lightning tenacious guard Angela Marino, but the Fire held their cool. The Fire eventually extinguishing the Lightning to advance to the preliminary final against the Dandenong Rangers.