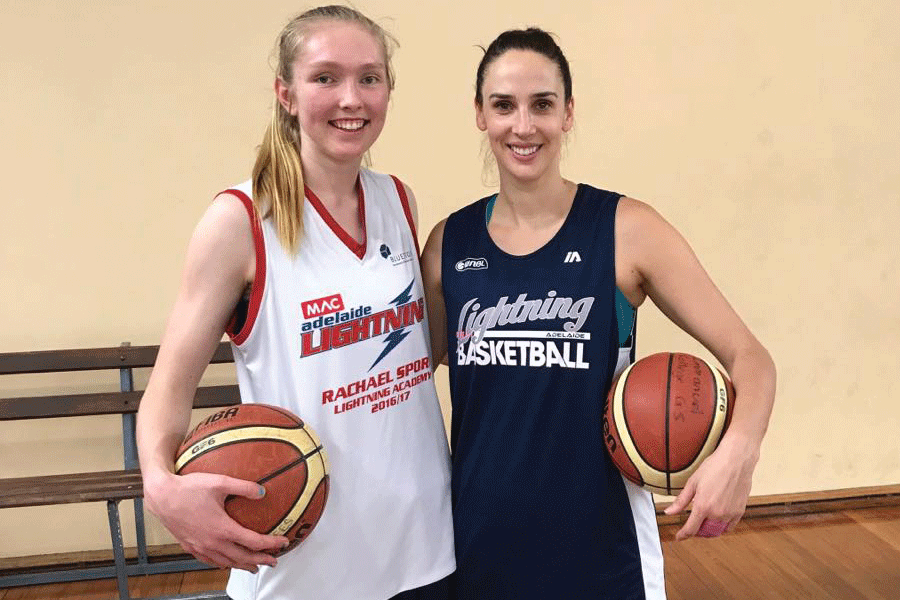 December 15, 2017 | Adelaide Lightning news
Darcy Ress is proof the Rachael Sporn Lightning Academy is a legitimate pathway for young female basketballers to reach the elite level.
This season the 18-year-old was elevated into Lightning's main training squad, following her involvement in last year's inaugural program.
Rees was involved in the program again this season, attending 90-minute sessions each Wednesday at Wayville Sports Centre.
The rookie Is adamant the program has helped her develop the skills to transition into Adelaide Lightning's program and put her on the path to achieve her dream.
"The Lightning Academy has given me a pathway to the WNBL and has really helped to reinforce and improve the skills that are usually taken for granted," Rees said.
"Being exposed to experienced and knowledgeable coaches have been beneficial. Personally, working with Racheal Sporn has helped me immensely, being able to learn from her experience and have her give me advice on playing in the post has helped me develop my skills inside."
Adelaide Lightning club legend and the program's namesake, Rachael Sporn, is thrilled the program is providing pathways for young basketballers, like Rees, to reach their goals.
"It's extremely exciting. The whole reason the academy was formed was to create a pathway. There really wasn't an initiative like this in place at all and there really was a gap that needed to be filled," Sporn said.
"It's just wonderful to be able to identify the top 20 girls of that age group that can come into this program and to see the results with Darcy Rees is very exciting."
Sporn said the rising star is taking the opportunity to train with the MAC Adelaide Lightning in her stride.
"I get to work with Darcy in a small group each Wednesday morning, and I know she's just finding the Adelaide Lightning training pretty much out of this world for an 18-year-old," Sporn said.
"Being able to train with a four-time Olympian in Laura Hodges and Abby Bishop, who is a superstar and then to come up against the bodies of Ruth Hamblin and another youngster Chelsea Brook, you can't replicate that in any other situation. It's just an experience for Darcy that will certainly speed up her development and growth as a player and a person."