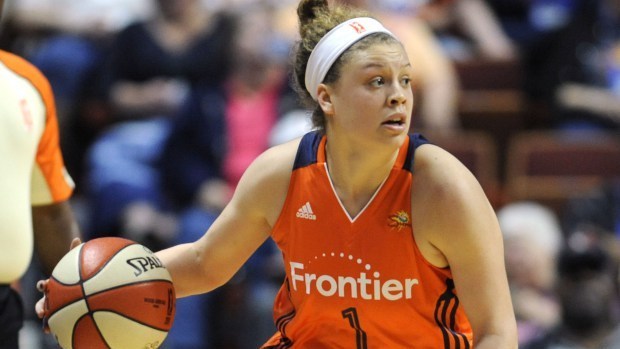 12 June 2017 | Bendigo Spirit news
The Bendigo Bank SpiritÕs newest signing has a lot of fans, and NBA legend Kobe Bryant is among them.
The Spirit this week signed WNBA number four draft pick Rachel Banham to its 2017-18 season roster.
The Connecticut Sun and All American guard broke all kinds of records while playing college ball at Minnesota, with 3,093 points, the sixth best in NCAA history.
She owns the collegeÕs single-season scoring record with 914 at 28.6 per game, and last year scored 60 points to lead her team to a come-from-behind victory.
That feat attracted the attention of NBA legend Kobe Bryant, who congratulated her via twitter, and continued to follow her career, including when the college retired her jersey.
Bryant also spoke about Rachel when asked about the tweets during a post-match press conference.
ÒHer game is very well-balanced,Ó heÊsaid.
ÒGoing left and pulling up and shooting. Going right and pulling up and shooting. Floaters. She can do it all. She can do it all. So, like I said, when I saw she scored 60, it didnÕt seem like much of a fluke to me.
ÒUntil they figure out a way to solve her weapons, sheÕs going to continue to do it.
Spirit coach Simon Pritchard said he would let Kobe do the talking.
ÒI think I will leave it to one of the greatest players the game has ever seen,Ó he said.
ÒRachel is a great point guard and although itÕs early into her second WNBA season, she has shown she can score from anywhere.
ÒShe will be a great asset to us offensively and her ability to work with other players at both ends of the court means she will fit in well with our systems.
ÒBendigo Spirit fans are in for a treat seeing her in their backyard this season.Ó
Rachel, a Sociology major at Minnesota, said she is excited about coming to Australia and playing with the Spirit.
ÒI canÕt wait. I have heard a lot of great things about Simon and, of course, Kelsey Griffin, who also played at the Sun,Ó she said.
ÒThe team is very well regarded and the Bendigo fans, from what I hear, are legendary.
ÒThe WNBL is an amazing competition, and to be given the chance to play in the Aussie league this winter, or summer over there, will be very special.Ó
Spirit memberships are on sale now. For the chance to see players like Rachel up close, go to www.bendigospirit.com.au