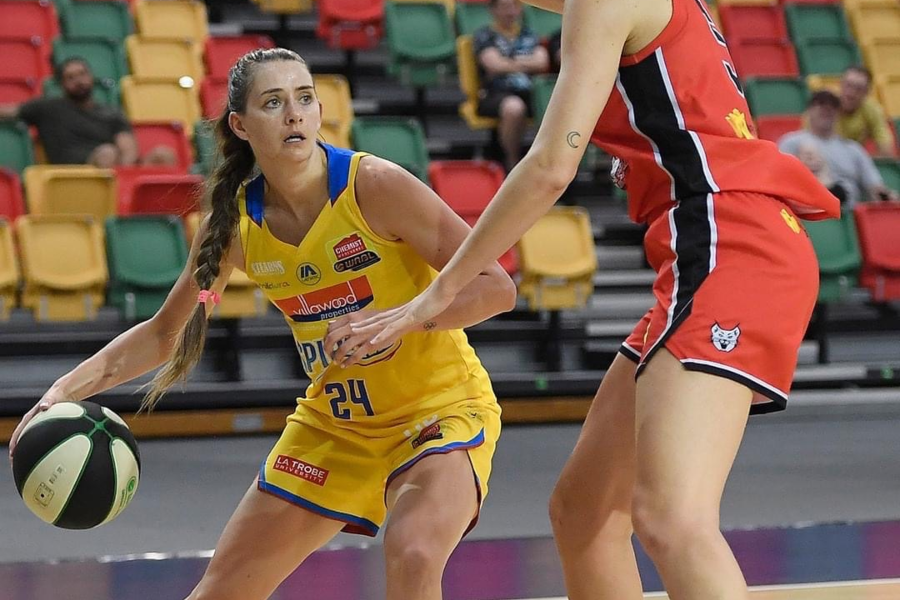 2 December 2020 | Bendigo Spirit news
The Villawood Bendigo Spirit put in a big performance to celebrate a milestone for club legend Tessa Lavey on Tuesday night, but it wasn't enough to get them past a more experienced Perth Lynx at Townsville.
The Spirit's trademark fight, effort, and energy from the first basket to the last were the perfect ways to honour the 200th game of a player who has spent her whole career doing just that.
The Spirit came out fighting in a big way in the first quarter, easily their best for season 2020.
Fast transition and brilliant ball movement saw the Spirit go on a 10-0 run midway through the term, to lead 22-16 at the first break.
The first quarter was all about one player – Demi Skinner. The South Australian forward has been almost unstoppable in the past few games, and hit 11 points and dragged in five rebounds, including two offensive, in the first term.
And the Spirit was doing it at the opposite end as well, stifling the Perth offense with great hustle and brilliant defensive switching.
As expected, Perth came out firing at the start of the second, but the Spirit was able to hold them back with tough defence, until, with 3 minutes left, the Lynx went on a 3-14 run, ending the half 36-46 ahead.
An even third quarter off the back of some good points from Carley Ernst gave the Spirit some hope going into the last, but with the Lynx slowing the game down, a comeback was always going to be tough.
Instead of dropping their heads, the Spirit showed their legendary fight in the last, putting on 24 points, to go down 79-95.
In true style, Lavey was the Spirit's top scorer in her 200th game, with 23 points, seven rebounds, five assists, and three steals.
Skinner finished the night with 17 points and six rebounds, and Ernst ended the game with 16 points and eight rebounds.
Coach Tracy York said the Spirit worked hard to try to close the half-time gap but couldn't quite get there.
"Tessa's 200th game started well and our first quarter was one of our best, especially defensively," she said.
"The second quarter Perth responded and it was close – score for score until about three minutes left where Perth gained and held the lead.
"We couldn't cut that deficit even though we threatened many times in the third and fourth.
"Demi Skinner again found her shooting touch and Amelia Todhunter was effective at both ends of the floor."
The Spirit's next game is against Melbourne on Saturday at 5pm Bendigo time.
RadfordMedia