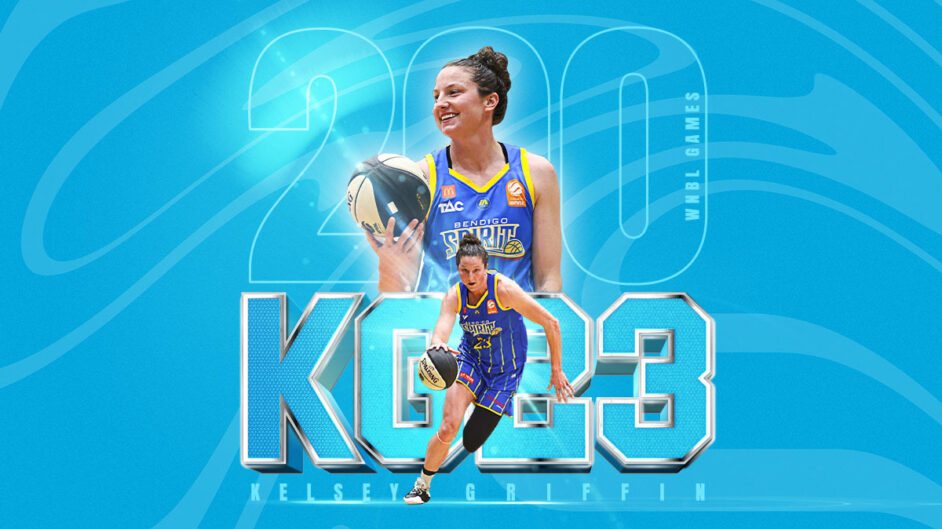 22 December 2022 | Bendigo Spirit news
From Alaska, to Nebraska, to Connecticut, to Bendigo.
After 120 games across seven seasons with the Bendigo Spirit and 79 games across four seasons with the UC Capitals, Kelsey Griffin will play her 200th WNBL game this Friday against the Southside Flyers.
Drafted third overall in the 2010 WNBA draft and playing 170 games for the Connecticut Sun, Griffin first came to Australia when she joined the Bendigo Spirit in 2012 in the WNBA off-season.
Griffin made an immediate impact, playing an integral part in the side's back-to-back championships in 2013 and 2014, taking home the Grand Final MVP in both.
Where Griffin goes, success follows. She added another two WNBL championships and a third WNBL Grand Final MVP to her name with the UC Capitals during her four seasons in Canberra.
Along with her team success, she has a multitude of individual accomplishments, including WNBL Most Valuable Player (2019), three-time All-WNBL First Team (2015, 2016 and 2019) and WNBL Defensive Player of the Year (2015).
Returning to where her Australian basketball journey began, Griffin is playing as strong as ever, making the WNBL23 Team of the Week four out of a possible five times, as well as being named the Player of the Round in Round 4.
Reflecting on her 200 games, Griffin said the initial decision to come to Australia wasn't an easy one.
"I suppose when I first came out here the decision to come here was kind of a tricky one in itself," she said.
"It wasn't really somewhere where imports went for career progression, but it was something that my parents, mum specifically, really encouraged me to do.
"Once I came here, I realised that Australia felt more like home than anywhere else id ever been in the world, and that was before I had met my wife, and I told my mum and family within a few weeks that it felt like home, so while I didn't maybe know I would be here 10 years later, it certainly felt like the place I was meant to be."
Griffin said she cherishes the relationship she's made along the journey.
"If I really reflect back on my time when I think about what I've achieved I think it's the friendships and the relationships I've built through my time playing," she said.
"My hope is that I've been able to impact people in as positive a way as they've impacted my life."
Playing with a new-found freedom, Griffin said she is looking to leave a positive mark on the Bendigo basketball community.
"At this point I feel like I'm playing to enjoy it, I'm no longer playing to prove anything to anyone, and I really get a sense of freedom in playing that way," she said.
"My hope for this season for myself personally is to enjoy playing because the reality is I won't get to play forever.
"I'm hoping to build a legacy of making those around me better and for the Spirit to be a club that is impactful in a positive way in the community, and that people really feel a part of what we're doing and a part of the experience of what it means to be a Bendigo Spirit player.
Kelsey Griffin and the Bendigo Spirit take on the Southside Flyers this Friday at Red Energy Arena, get your tickets now to join in the Christmas Spirit festivities.