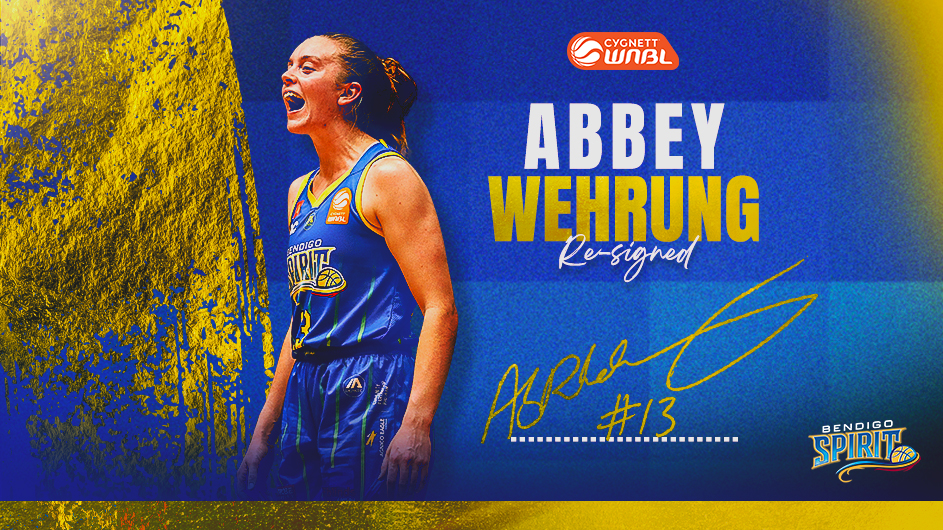 2 August 2023 | Bendigo Spirit news
The Bendigo Spirit are excited to announce the re-signing of sharp shooter Abbey Wehrung for the 2023/24 season.
It will be the 27-year-olds fourth season with the Spirit, after representing the club in the 18/19, 19/20 and 22/23 seasons.
The 2023 Defensive Player of the Year nominee averaged double-digit points for the fourth time in her career last season, while shooting at a career-high 47.2% field goal percentage.
Wehrung also led the league in three-point percentage last season, making a phenomenal 52.5% of her attempts from long range.
Wehrung said that re-signing with the Bendigo Spirit and reuniting with Coach Kennedy Kereama was a no brainer.
"I really enjoyed last season with Kennedy and the group that he put together so it was kind of a no-brainer."
"Bendigo is also like home to me. I'm an hour down the road and played all my juniors in Country Vic basketball, so it just feels like home and I wouldn't want to be anywhere else."
On the upcoming season, Wehrung said she is super excited to be part of the team being put together.
"I think the team that's being put together is super exciting, and we want to build on last year where we just missed out."
Wehrung is looking forward to playing a Coach Kennedy Kereama style of basketball again.
"I think that the system Kennedy plays with really suits my game, so I had a lot of fun with that last year and want to keep building on that this season."
"I want to be a lockdown defender, shoot the ball, and have some fun."
Throughout her off season Wehrung played for her hometown of Ballarat in the NBL1 South, where she averaged over 20.4 points, 4.7 rebounds, and 6.3 assists.
Wehrung said it was a good experience playing a leadership role for the side.
"I've kind of had to play a bigger role and lead more than I have in previous NBL1 season, so that's been good for me," she said.
"I've enjoyed it as much as it's been like a bit of a grind. I've really enjoyed the team and being home. I've had a good off season."
Coach Kennedy Kereama is thrilled to welcome Abbey back for the 2023/24 season.
"Her signing adds experience, versatility, a strong defensive presence, and exceptional perimeter shooting to our team," he said.
"I have had the privilege of working with Abbey, and can confidently say that she is one of the top defenders I have encountered."
"She embraces the challenge of guarding key opponents, utilizing her length and size to handle bigger guards, while also displaying remarkable speed and quickness to defend against smaller players."
"Abbey's selflessness, strong work ethic, unwavering focus, and remarkable character make her an outstanding teammate and an essential asset to our team. Obtaining her signature was a top priority for us."