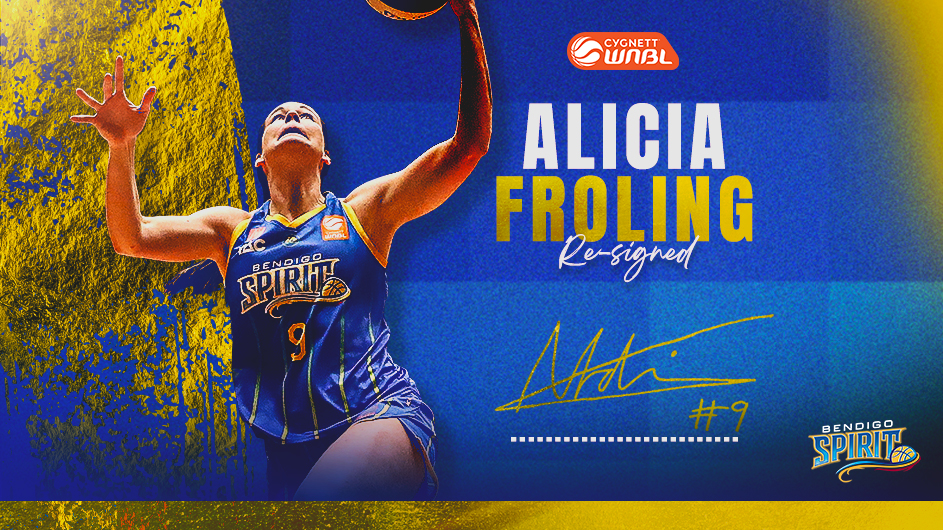 21 July 2023 | Bendigo Spirit news
Bendigo Spirit are delighted to announce the re-signing of forward/centre Alicia Froling for two more seasons.
This will lock Alicia Froling in for her third and fourth season with the Bendigo Spirit, after playing for the side in 2020 before returning last season.
Coming off the 2021 NBL1 South MVP and coming into the season unaffected by injury, Froling played the most games she has played in a WNBL season last season with 21.
Starting in 15 games her stats increased across the board, with her average points rising from 2.3 PPG to 11.1 PPG, and average rebounds raising from 3.3 RPG to 5.2 RPG
Froling will head into the upcoming season off of another strong season in the NBL1 with averages of 24.2 PTS and 11.4 REB, including eighteen 20+ point games including four 30+ point games.
The forward said that re-signing with the Spirit was an easy decision.
"It was a really easy decision. I really love Kennedy and I love the vision that he has," she said.
"I feel like we had a few great pieces last year and I feel like he's just building a team and building a culture that I want to be a part of and I'm so excited to play with people like Kelsey Griffin and Ally Wilson again."
"People like that that are just good people and great basketball players and it's just fun. It's fun to be on a team like that."
Froling is looking forward to building on the second year of this core group of players coming together.
"Second year I think we'll be a bit more cohesive. We have a lot of same people coming back, and have included a few really great pieces as well. I'm just excited to play on a team that I think is going to be a really good team," she said.
"We obviously have some studs. I think on any night it could be anyone's night and I think we'll just be a great team and it'll be a great environment and fun to play in."
When speaking on the goals for the season, Froling is looking forward to building on last season.
"Personally, I think just building on what was my first really solid year in the WNBL and now having that confidence and knowing what I can do and building on that."
Head Coach Kennedy Kereama is excited to have Froling back.
"I am excited that Alicia will be re-joining us for another two seasons at the Spirit," he said.
"Last season she made tremendous inroads with her game and played a number of different roles by coming off the bench, starting, rebounding, defending, running the floor and gave us a good level of defensive versatility."
"Alicia has been working hard during the off season with myself, her NBL1 skills trainer and coach on continuing to diversify her skills and stretch her game further away from the basket."
"Afrol will bring toughness and much needed depth to our roster."