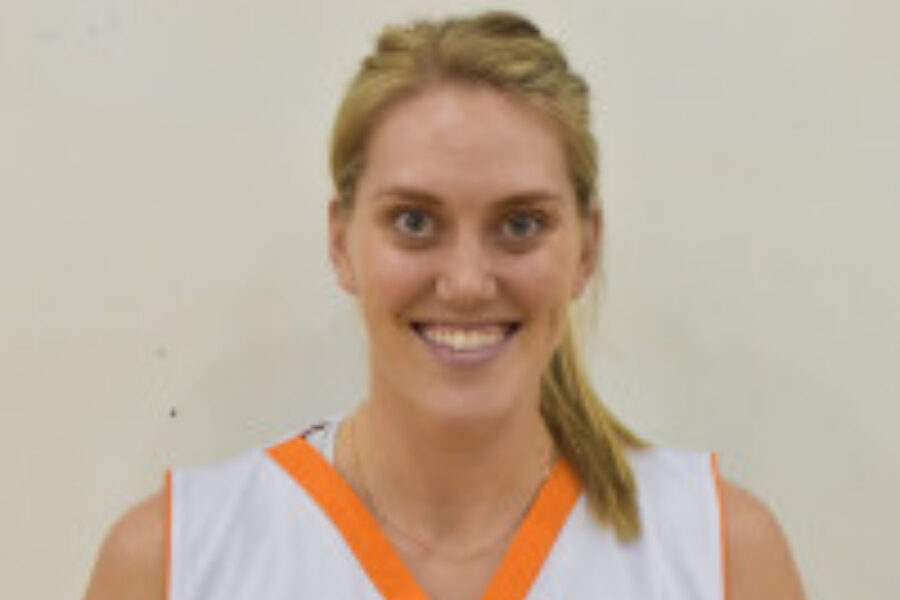 9 September 2020 | Bendigo Spirit news
Jennie Rintala has the right spirit now she has naturalised as an Australian Citizen and she will fill an integral piece of Tracy York's puzzle for the Spirit roster in season 20/21.
The 6'2'' Centre and South Dakota State University graduate had been plying her trade in the Western Australia SBL. She made a move to Adelaide last season to cover an injury to the Lightning's import where she suited up for five games.
Jennie stayed in Adelaide with her husband Ryan, still pondering her future whilst finalising her citizenship, with the knowledge that there was probably no imports in the WNBL 20/21 season. It was there, during free agency, that she met with York who was home during the off-season.
"Jennie reached out and as it happens she was living about five minutes from me so we caught up for a coffee," York said.
It had always been Rintala's intention to seek permanent residency and secure a long term future in Australia and it was that meeting with York that has seen that come to fruition.
"I am very excited for the upcoming season. I could not be more thrilled for the situation I find myself in," Rintala said of her citizenship and signing.
With previous professional basketball experience in Germany and Luxembourg Rintala intends to build on her brief WNBL experience with the Spirit.
"I find myself blessed to be surrounded by my team, the basketball community in Bendigo and a country that loves our sport," she added.
York was just as happy with the signing of Jennie. "Jennie will complement our roster with her defence and ability to run the floor. She knows a couple of our girls and played a few WNBL games last year and we are confident she will be a great addition to the Spirit Family," York said.
Rintala was so excited about the move to Bendigo she immediately started looking for accommodation and pondering how her future may look. But she also has a more holistic take on what the season that lays ahead presents.
"This year's situation represents way more than the ability to join talented women on the basketball court, with this pandemic going on we are creating a path moving forward for all female athletes in Australia," she said.
She is now looking forward to being a part of the Bendigo community as a "fair dinkum Aussie!" "I am excited and ready to play some basketball," she said.
The Spirit fans are going to love cheering for No. 31 when the season tips off.