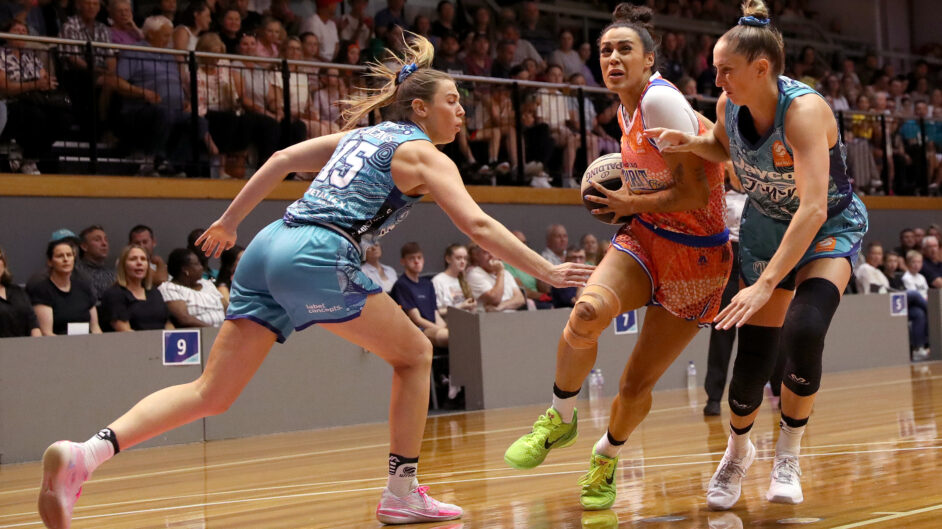 14 February 2023 | Bendigo Spirit news
By Tristan Prentice | The Pick and Roll
The representation of Indigenous Australians continues to grow in the WNBL. It's a status that Australia as a nation is coming to respect and embrace, with the WNBL celebrating First Nations Culture and its people in Round 14.
Similar to other featured rounds, the WNBL is facilitating a space of inclusion, support and respect. It is also a space for our First Nations Culture in sports and an opportunity to celebrate the incredible impact these athletes —but firstly people— have and impart within the greater community.
Adelaide Lightning's Abby Cubillo, Bendigo Spirit's Ally Wilson and UC Capitals' Shaneice Swain are three of the eleven listed players of Indigenous and First Nations heritage in the WNBL this season, helping build on the foundations of those before them, including past players such as Rohanee Cox and Michelle Cosier.
"I'm proud to be an Indigenous woman who has played in the WNBL and represented Australia. Reconciliation to me means that all Indigenous and Non-Indigenous Australians come together as one to celebrate the Indigenous culture," Cosier said back in 2020. That theme continues to be the story that builds year after year.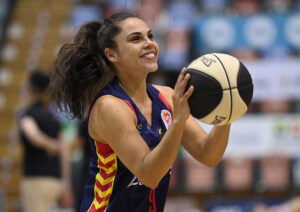 Larrakia Woman
The Lightning's Abby Cubillo is excited about another celebration of the culture of her people and is incredibly proud of her background.
"It makes me really proud obviously coming from that background and being a part of the oldest living culture, it's super special to celebrate that and the impact that Indigenous people have had on this country." Cubillo shared with The Pick and Roll.
"I think it's super important to celebrate that. But not only that, do our bit in the community which I always like to push every year to not just have the round – but to make sure that clubs and teams are doing stuff behind that to be able to engage with the indigenous community. It's a great opportunity both ways for both the Indigenous community and a great opportunity for us as clubs to learn."
As an added bonus, Cubillo is also sharing the floor with fellow Larrakia woman Jasmin Fejo this season. It's a sentiment not lost on Cubillo, and a welcome connection away from home for the two players, something that doesn't always happen at elite level.
"I guess it's always nice [having someone who understands your culture in same team]. It wasn't necessarily a factor in deciding whether to come to Adelaide as such, but I think having people there, especially like Jazz, it's nice to have that bit of connection to home especially – sharing that with her. It'll be really special to share this round with her."
The difference between Canberra and Adelaide is not so much the opportunities being presented for Cubillo this season, but the access to different communities. For Cubillo, she is thrilled to be able to engage with young Indigenous communities through clinics and camps, now in South Australia.
"I think when I was in Canberra, as a club we did a great job and we really, as a club, wanted to make an impact in the community.
"I think we did a great job of running clinics, or running camps during COVID-19 times where it was virtual stuff anyway. To still have that actual impact instead of just celebrating and saying how it's such a great round, helped keep me involved and taught others to embrace the Indigenous culture, to help other athletes come through that are Indigenous in these places."
Cubillo hopes that through sharing her story and her experiences, she will help inspire the next generation of Indigenous athletes.
"I think airing a bit of my story helps hopefully and it inspires the younger generation. Hopefully it gives other non-Indigenous athletes in the WNBL a bit of an insight about not only my life but also Indigenous culture as a whole."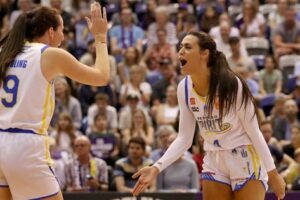 Alex Wilson | Bendigo
Ngarrindjeri Woman
We spoke to the Spirit's Alex "Ally" Wilson last year about the impact of Indigenous culture and people in the WNBL. Reiterating Cubillo, she explained that there has been a positive shift to increasing awareness and highlighting the issues that face not only the Indigenous athletes, but also their communities.
"Indigenous round is very special to me as it gives an opportunity to celebrate Indigenous culture and be proud of that. At the same time – it is also an opportunity to highlight and bring awareness to the issues that Indigenous people face and provide education around the history of our people," Wilson shared.
While Wilson uses her profile and position as an elite athlete to help impart positive change, she believes that ensuring a voice within Australian Parliament is a significant change that can help facilitate awareness, but also positive change.
"To have an Indigenous voice to Parliament that will advise Parliament and the Federal Government on Indigenous policy matters, including health, education, economic disadvantage, and social matters – will matter.
"This is a huge initiative and something that will make a massive difference in the lives of First Nations people who are also a part of our basketball communities."
Having also been involved with the Indigenous Community Basketball League (ICBL), Wilson explained that it all starts at the grassroots level in increasing participation for Indigenous athletes at the elite level.
"ICBL is doing a wonderful job of engaging young Indigenous boys and girls in basketball. It all starts at grassroots level and as that program continues to grow and evolve, it will only continue to reach more and more kids. It is a stepping stone into higher level basketball programs."
Wilson's passion for the Indigenous youth of Australia is no doubt trailblazing in her own right, helping provide pathways and opportunities that could one day result in more Indigenous athletes in the WNBL and NBL, and making their way to the the Centre of Excellence (CoE), just like Shaneice Swain.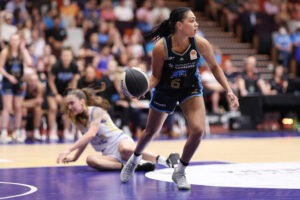 Shaneice Swain | Capitals
Yupangathi and Gangalidda/Gooreng Gooreng Woman
While the Capitals' Shaneice Swain hails from Cairns, her family's history is entrenched in the areas near Rockhampton and Central Queensland. It's an area known for its strong Indigenous basketball development through the Cairns Basketball junior program, with Indiah Bowyer, another Indigenous female also in the WNBL, a product of the region.
Touted as a future Opal, having progressed through the CoE program under current coach Kristen Veal, Swain is another young Indigenous athlete that is helping establish the pathway for the next generation.
"I think it means a lot to me because being able to represent my culture and then having like a whole round dedicated to the culture is pretty special because other people, other players can learn more about the Indigenous cultures through jersey designs," Swain shared.
From Swain's perspective, the exposure gained through social media promotion for Indigenous Round, helps educate others and share awareness.
"I've seen a lot of positive things posted about Indigenous culture. They're still sharing the content on Instagram or Facebook or Twitter, and they're sharing or liking it. The social media has gotten bigger platforms, so people that are seeing it are not only basketball people, but it's other people that are seeing it and are more aware of it," Swain explained as to the positive impact social media awareness is having.
"Having the social media opportunities when it comes around in a round like this – to have it elevated so much is good to see."
Having represented Australia on the world stage at junior level, Swain is living proof that others can also follow in her footsteps.
"I feel there have been some big steps in the right direction. There's a lot of basketball role models and even people that aren't indigenous advocating for these pathways for the Indigenous youth."
Swain would further explain that the Capitals have already been representing Indigenous culture continuous throughout the current season, something fans may not have even realised.
"We've actually got the Aboriginal and Torres Strait Islander flag on our uniforms already and Indigenous art on it – so we've been playing with it the whole season.
"It's pretty special to be able to represent and wear the jersey with the flags on it. Having everyone on board with doing that as well. It's pretty special to me."
The collective vision
For Cubillo, Wilson and Swain, all Indigenous athletes of different generations, the hope is to see more representation of all groups, including Indigenous and First Nations players, represented in the WNBL.
"I think as professional athletes, sport is such a great platform to be able to share this round and celebrate the culture, and I think it's definitely trending in the right direction," Cubillo affirmed.
"I know speaking from my history at the Caps, that all the non-Indigenous athletes were super keen to be involved in this round and not just celebrate it, but make an impact like I had said before. I think even though I had left that club, those non-Indigenous athletes now have had that experience to pass on to the next people. I think overall [the league is] doing a good job."
The big picture of where Australia is at as a nation, Wilson believes that sport and the WNBL are on a pathway for improved inclusion for the next generation.
"Indigenous round is a chance to celebrate the past and current Indigenous women that play in this league, and at the moment there are just a few of us.
"I want to see that number grow and continue to be a role model for young Indigenous girls coming through the ranks. I believe you can't be what you can't see, and the fact that there are numerous Indigenous athletes playing this season is hopefully inspiring to the next generation."
Swain shared just how special the round is for her, and hopes that many non-Indigenous people will be educated and hear their voices advocating for their communities.
"I feel like as much as it's special to us, sometimes we need to see different people speaking on it as well. Non-Indigenous people speaking on it as well would be pretty special to hear what other people think and feel about Indigenous round."
The definition of deadly in Aboriginal language, is an awesome outcome for all.
The dreaming of a united voice for the Indigenous community for everyone? That sounds like a deadly focus.