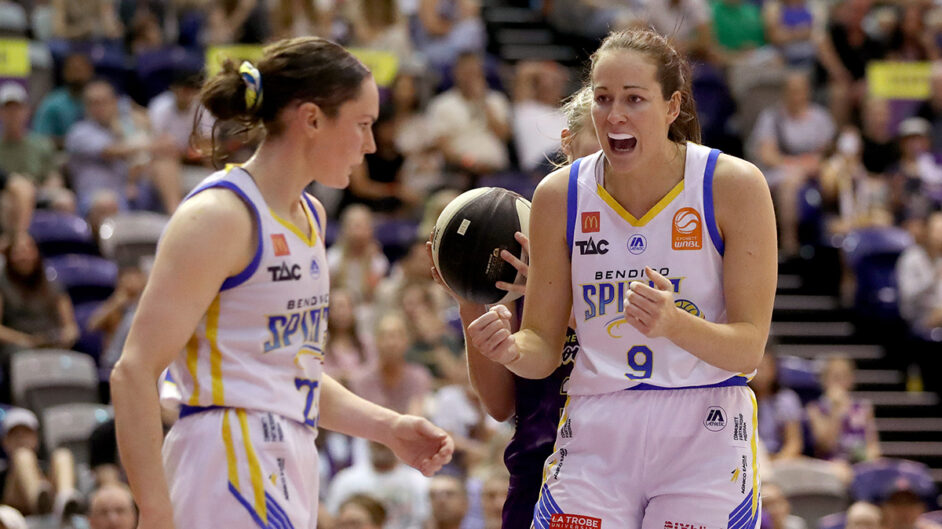 22 January 2023 | Bendigo Spirit news
Game details
Bendigo Spirit 81 defeated the Melbourne Boomers 76
Melbourne Sports Centres – Parkville
22 January 2023
Summary
Bendigo have now won three games in a row after defeating the Melbourne Boomers at their home court. The side overcame a 15 point deficit to earn a stunning victory in Melbourne.
Melbourne flew out of the box, converting through a Cayla George three within seconds of the game starting. They kept this momentum going for the 10 minutes of the quarter, right up to a Tiffany Mitchell buzzer beater three to close the term giving the home side a 11 point buffer to take into the rest of the game.
The second quarter was much stronger offensively for Bendigo, who after being held to 12 points at quarter time outscored the opposition stacking on 26 points in the term. Abbey Wehrung continued her efficiency streak from last game, scoring 5/6 from deep in the half.
Bendigo continued to grit and grind through the third term, managing to outscore the Boomers again. The sides three-point efficiency played a big part in this, managing four triples from seven attempts for the quarter to reduce the opposition lead to just six points heading into the fourth.
The side carried this momentum into the fourth, opening the quarter with 7-0 run through a Kelly Wilson lay-up and an Anneli Maley steal and score in quick succession before a Tessa Lacey triple gave the Spirit their first lead of the night.
Alicia Froling and Tessa Lavey were big contributors in the second half, with Lavey going 3/3 from three point land  to help secure much needed points, while Froling dominated the fourth term with all nine of her points landing in the term.
After being down by as much as 15, and by 12 at the eight-minute mark of the third quarter, Bendigo completed the comeback to come away five point winners on the road.
Kelly Wilson was the leading scorer for the Spirit with 19-points, including an incredible clutch 9 in the fourth playing a massive part of the sides comeback.
Caela George was the oppositions best with 24-points and 13-rebounds.
Bendigo are now equal second place on the standings in win percentage as the race to the finals heats up.
Player focus
Anneli Maley was her dominant self at both ends of the court today. She owned the glass with 12 rebounds to go along with her 17 points, four assists and two steals.
Next game
Bendigo are heading home to take on the Perth Lynx this Wednesday 25th January at Red Energy Arena, the game will tip-off at 5.30pm EST. Get your tickets through Ticketek.