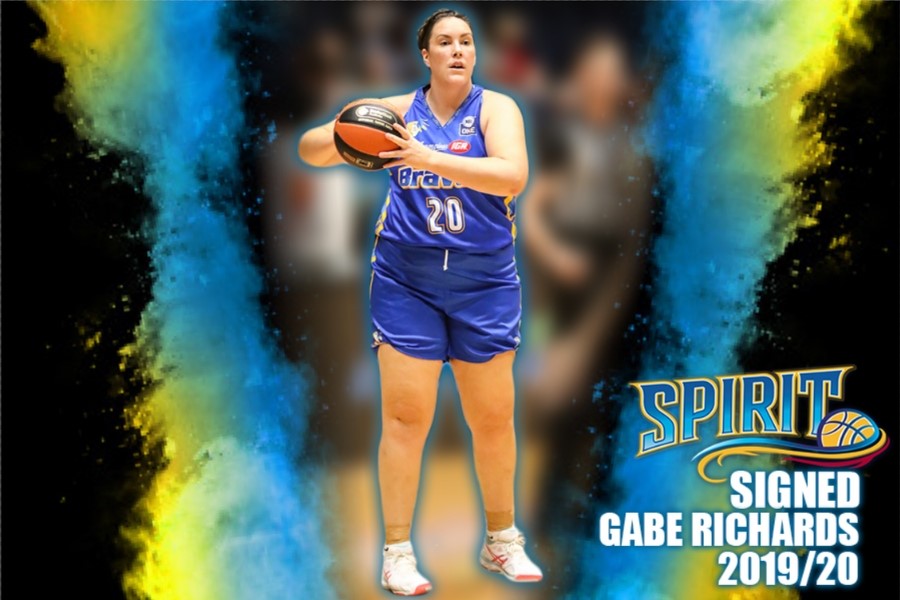 21 May 2019 | Bendigo Spirit news
After taking a year off of the national level competition, Gabe Richards will make her return to the 2019/2020 Spirit roster. Richards is a 2 x WNBL Champion, both with the Bendigo Spirit in 2013 and 2014, alongside current teammate Kelly Wilson.
Richards played with the Bendigo Braves during the 2018 season, averaging 15.9 points, 9.4 rebounds, 1 assist; all while shooting 63% from the field and 81% from the free throw line. Notably having her best game of the season in the grand final against Launceston Tornadoes, scoring a season and career high 43 points, off of 16-19 field goals, at 84% while also grabbing 24 rebounds and shooting 11-14 from the free throw line.
No hesitation was made when signing Gabe Richards to the Spirit for her 13th WNBL season. Head Coach Tracy York stated, "It's fantastic to have such a great Champion from Bendigo back playing for the Spirit. Gabe is a role model, a professional on and off the floor and we welcome her back to the WNBL. She will provide leadership and experience for the team and myself."
Gabe is back to defend the title with the Bendigo Braves in the NBL1 2019 season, with the team currently sitting at 8-1. Of the 9 games the Braves have played, Richards has put on 6 double-double performances and is again putting her mark on the league. Currently averaging 17.5 points, 12 rebounds, and 2.5 assists. As well as, shooting 57% from the field.
Excited to return to national league basketball, Gabe said, "I'm glad to be putting on a Spirit Jersey once again, not only because I love the challenge that the WNBL brings, but also because of the people that I get to line up alongside of. The team that Tracy is putting together is not just a talented group of women, but also an exceptional group of individuals. I'm ready to help put Bendigo Spirit back on the map and make a push towards playing finals once again."
Bendigo Spirit will enter its' 13th season in the WNBL, with Richards being a part of 11 of those seasons.