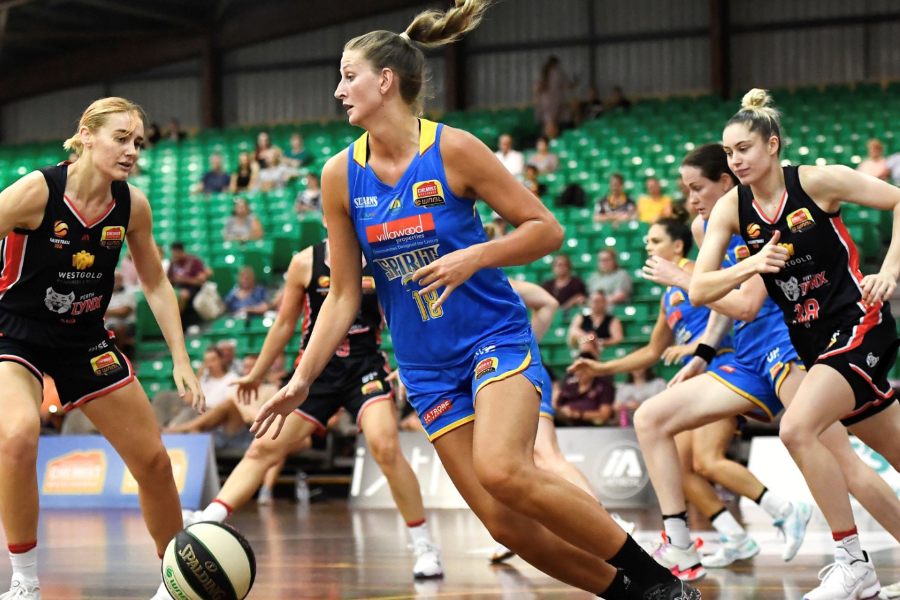 18 November 2020 | Bendigo Spirit news
"The Spirit aren't far away". That was the analysis from WNBL broadcast journalist Megan Hustwaite after the Villawood Bendigo Spirit toughed it out against Perth Lynx in Mackay on Wednesday night.
It was a night of what could have been for the Spirit, who hit the ground running with an impressive first quarter.
Powered by 12 points from superstar Carley Ernst, the Spirit led 19-18 at quarter time, after shooting the lights out in the first term.
The second quarter ebbed and flowed, with an 11-2 run in the middle of the term pushing the Spirit lead out to 5. But a Lynx fightback saw Perth lead by seven at half time.
Led by experienced Opals star Katie Ebzery, Perth exploded in the third quarter, going on a 2-22 run to make the mountain a big one to climb at the last break.
Going into the last quarter down by 23, it could have been easy for the young Spirit side to drop their heads. And young they were.
The Spirit started the final quarter with Ernst, two first-year players – Shelby Britten and Mary Goulding –  second-season player Cassidy McLean and new Spirit player Chevannah Paalvast.
Coach Tracy York asked her young guns to show the basketball world what they could do in the last quarter, and they responded.
When captain Tessa Lavey subbed in after a couple of minutes, the Spirit were in the middle of a 10-nil run, and the lead was back to 15.
And while the mountain did end up being too big, the Spirit kept fighting, winning the final quarter 21-11, to end the game 65-78.
Lavey was again inspirational, spending less than three minutes on the bench for the whole game, finishing with nine points, nine assists and six rebounds.
But there was only really one contender for Spirit MVP on the night.
Ernst hit an astonishing 28 points, pulled in 10 rebounds (four offensive), had three steals and two huge blocks.
She is averaging 18.3 points a game this season, taking up where she left off last year.
York praised Ernst and Lavey for their leadership.
"Carley Ernst played one of her best games at both ends of the court tonight. She was outstanding," she said.
"Tessa continued to work until the end and showed the class she has as our captain."
York said the Spirit was close to playing four good quarters of basketball.
"Tonight we played three good quarters, but the third quarter let us down," she said.
Spirit's next game is against Townsville at 5pm Saturday, live on ABC TV, Foxtel, and Kayo
RadfordMedia