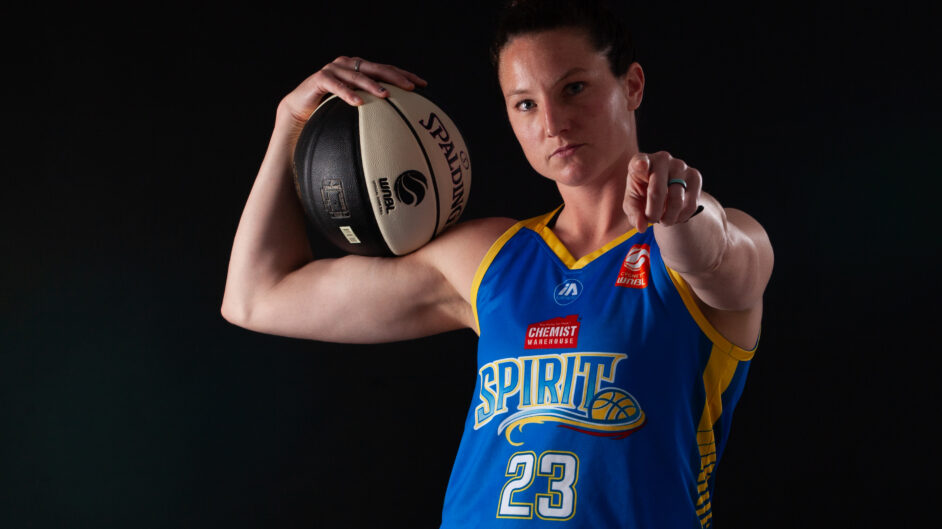 1 November 2023 | Bendigo Spirit news
Three-time Women's National Basketball League MVP Kelsey Griffin has been voted in as Bendigo Spirit's captain for the new season, which tips off against Townsville at Red Energy Arena on Saturday.
Griffin will form a three-person leadership group alongside Kelly Wilson, the WNBL's most capped player with over 400 games, and new import and former WNBA player Mehryn Kraker.
The 36-year-old, who has a remarkable basketball CV which includes four WNBL titles and stints in the WNBA, said it meant a lot to be voted in as skipper by her teammates.
"Any time that a group of your peers vote you into a leadership position, it's quite special," Griffin said.
"We've got such a high quality of characters that I'm fortunate enough to play alongside this year, so it really means a lot.
"I've got a lot of experience around me in the leadership group, Kelly is the WNBL games-record holder and that most likely won't be broken.
"She knows not only what it takes to play the game, but to win championships as well, and brings a level head.
"For Mehryn, to be voted into the leadership group as an import is pretty rare, I don't know how many times that's happened across the WNBL.
"For her to already have the belief from her teammates that she's one of the best people to be in that position, I think that speaks a lot about what she's going to bring to the group."
Spirit coach Kennedy Kereama highlighted Griffin's outstanding leadership qualities, work ethic and character.
"Kelsey has consistently proven herself to be a standout individual, both on and off the court," Kereama said.
"Her exceptional character shines through as she leads by example, demonstrating exceptional communication skills, an unwavering work ethic, and a wealth of experience that creates an environment of trust and clarity for her teammates.
"What sets Kelsey apart is her ability to inspire and motivate others. She sets high standards that inspire her teammates to go above and beyond for the team, recognising her commitment to their collective success.
"It is worth mentioning that Kelsey's impressive accomplishments in the WNBL further solidify her position as an exceptional leader.
"Kelsey will be supported additionally by two other great leaders.
"Both Kelly Wilson, the WNBL's most capped player with over 400 games, and Mehryn Kraker, who has played professionally all over the world, including time in the WNBA, will form our leadership group.
"All three players received the highest amount of votes and will complement each other's excellent leadership skills."
Bendigo Spirit – 2023-24 leadership group
Kelsey Griffin (captain)
Kelly Wilson
Mehryn Kraker