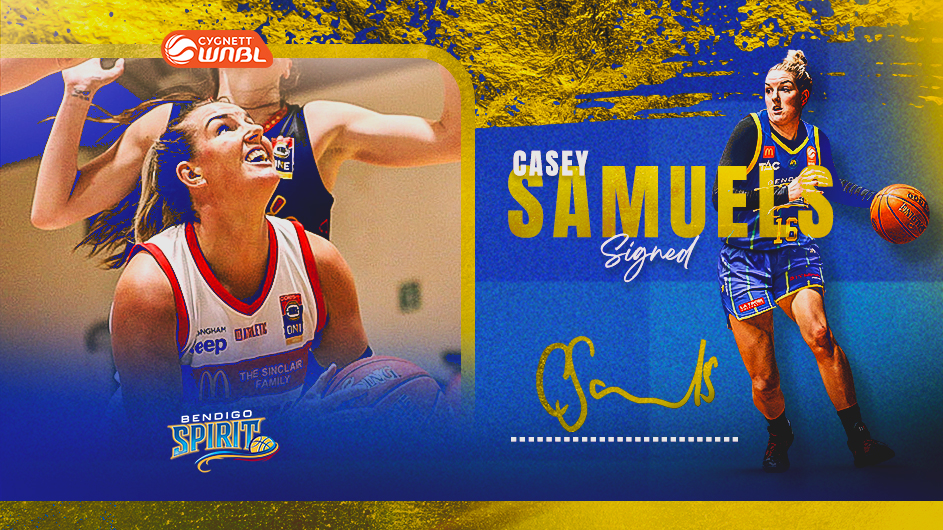 26 July 2023 | Bendigo Spirit news
Bendigo Spirit are happy to announce the signing of experienced WNBL player Casey Samuels.
Born and raised in New South Wales and now calling Queensland home, Samuels has achieved so much in her career already, including winning a bronze medal for Australia at the FIBA U19 World Champions.
Samuels first joined the WNBL in 2010, while she was attending the Australian Institute of Sport.
Playing there for two seasons, Samuels then joined Canberra for a season before heading to the Sydney Flames (formerly Sydney Uni) for three seasons. Samuels also spent a season with the Townsville Fire, before returning to Canberra with the UC Capitals.
Currently playing alongside Spirit teammate Mehryn Kraker with Rockingham Flames in the NBL1 West competition, Samuels is having a stellar season with averages of 19.5 points, 4.8 rebounds and 2.9 assists.
Samuels has reached 20+ points in 10 of a possible 17 games this season, including 3 30+ point games.
After being coached by him in the past, Samuels is looking forward to reuniting with coach Kennedy Kereama.
"I played under Kennedy a couple years ago for a short stint, and I just love his game and his style in the way we pushed the ball and were intense on defence," she said.
Samuels is also excited to reunite with some multiple former teammates, including Kelsey Griffin and Ally Wilson.
"I'm excited to be part of a team where I have played with a few of the girls before," she said.
"Including Mehryn, who I am playing with right now as well."
"Having that group around that, I know how they work, how they play, and stuff like that will really help."
On her goals for the season, Samuels said a championship is front of mind.
"The goal coming into any season is to win the championship," she said.
"Got to knuckle down every training, learn as we go as that's the end goal."
Coach Kennedy Kereama said that Samuels will bring a great deal of experience to the side.
"First and foremost, experience, and a tremendous amount of it from playing at the AIS," he said.
"Casey's had a very long and fairly experienced career in basketball over playing eight seasons in the WNBL."
"Playing at that level of versatility, experience and toughness is certainly what she brings."
After coaching Samuels in past years, coach Kennedy is looking forward to working with her again.
"From my experience working with her previously, she's an incredibly hard worker and is prepared to do whatever needs to be done for the betterment of the team.
"She's a very unselfish player in that sense."
Coach Kennedy said that Samuels is having a great season in the NBL1.
"She's having a great season with Rockingham scoring just under 20 points a game, averaging a few assists, five rebounds, and shooting the board a really good clip."
"Having someone with that level of experience playing a fairly significant role for us is going to be really important for the program and success of the Spirit season."