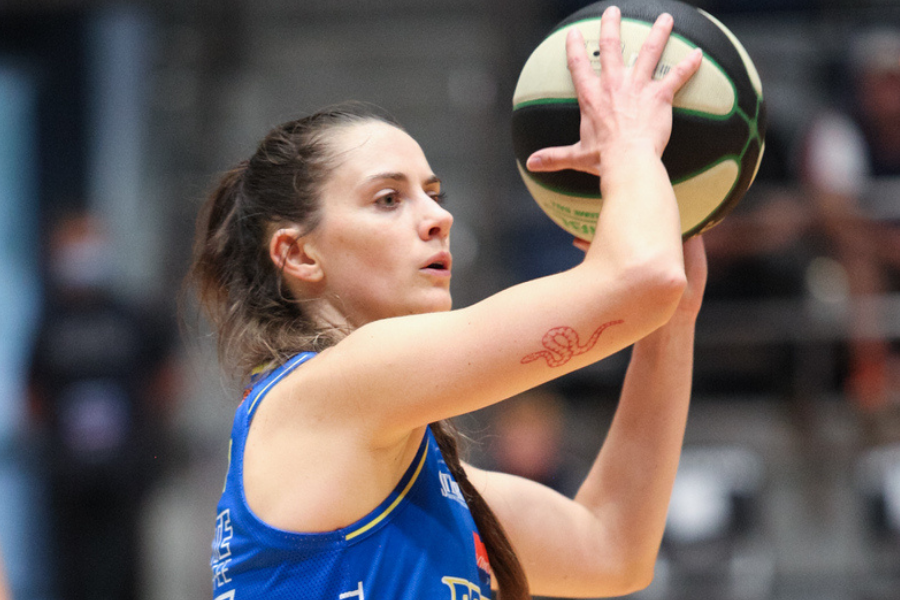 7 February 2022 | Bendigo Spirit news
A remarkable defensive effort combined with consistent offensive play saw the Villawood Bendigo Spirit defeat championship contenders Adelaide Lightning in the festival state on Saturday night.
With most of its core roster fit and firing for the first time, the Spirit's recent run of good form was rewarded with its second win of the season.
Bendigo jumped out of the blocks to lead 8-3, and was on target from outside the arc in the first term. But Adelaide pushed back, to go into the first quarter 13-20 up.
Bendigo turned the screws in the second term, holding Adelaide to just nine points and piling on 19 at the other end, including an impressive 8-0 run in the first three minutes of the term.
That continued early in the third quarter, with the Spirit scoring 29-13 between quarter time and the first three minutes of the third term. Bendigo won the third quarter 24-17, led by scoring machine Anneli Maley.
At half time Maley had nine points. At the end of the third term, she had 24. That was enough to see Bendigo head into the final quarter with the wind at their backs.
As expected from a Chris Lucas-coached team, Adelaide didn't lie down. But Bendigo, as they have done all season, pushed back hard in the final quarter, running out winners 74-62.
Maley finished with an astonishing 26 points, 21 rebounds, three assists, and five steals.
Maddie Garrick again showed her class when it mattered, hitting clutch baskets down the stretch to snuff out the Lightning. She ended the game with 17 points and six rebounds.
Tessa Lavey was also on fire late in the game with key baskets, finishing with 12 points and five assists.
Coach Tracy York said the result was a great win for the team and the club.
"After we were down early, we got key stops and pegged it back. We were then able to push forward for the rest of the game," she said.
"Our starters all did really well. Anneli came off a tough Opals camp and showed what relentless persistence is all about.
"Maddie was dangerous all night and Meg McKay was great on the boards. Tessa led by example and steadied the ship in the final quarter to bring the Spirit home."
Bendigo hosts the Perth Lynx in their next game at 5pm Saturday, February 12.
RadfordMedia
www.radfordmedia.com.au
Photo: Akuna Photography