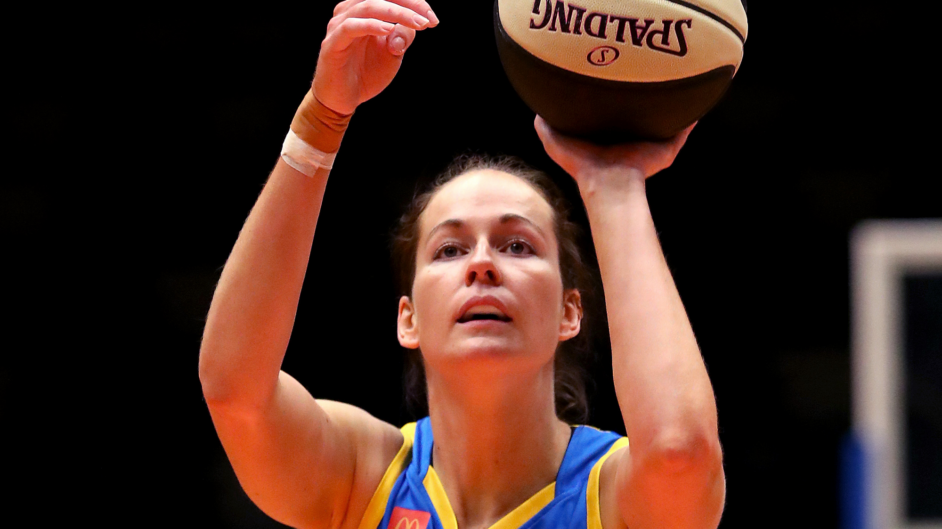 21 December 2022 | Bendigo Spirit news
By Lachlan Everett for NBL1.com.au 
"If you told me at the start of the season I was going to be conference MVP, I probably would have laughed at you."
Alicia Froling made a difficult decision at the start of the 2022 NBL1 season, as she switched her prominent shooting hand from her right to her left.
Froling has had two major surgeries on her right wrist, in an attempt to repair cartilage and tendon damage, while she suspects nerve damage is also an issue.
At the start of the season playing for the Knox Raiders, Froling's main goal was just to be able to just shoot free throws and finish around the basket. By game four she made her first three-pointer and by the end of the season, she was awarded the NBL1 South MVP, averaging 21 points, 11 rebounds and shooting 49.7 percent from the field with her newly implemented left-hand routine.
"I got to the point where I felt like I had two options," Froling explained.
"One was to just stop playing basketball together. I was so frustrated and I knew I wasn't playing to a level that I could play at. Or use my left hand."
It was a tremendous struggle for Froling, both on and off the court. Coming from a family of basketball excellence, she had always been determined to be the best player she can be and has spent the past two years working to repair and strengthen her right wrist for hours every day.
Her pain and frustration were manifesting off the court and negatively affecting her mental health, stopping her from sleeping, making her doubt her love of the game and consuming her every thought.
"It had probably been about two years since I had my second surgery, and it just wasn't getting better," she said.
"I was doing rehab for hours a day, I was form shooting for hours a day. And it got to the point where I was just consumed with fixing my shot. I really couldn't sleep at night, like it was just all-consuming.
"And I got to a point where I'm like, 'it's not actually getting better'. It's been two years of me doing every single thing that I possibly could. It's just affecting me off the court and I was like, 'I just can't keep doing this'.
"So I had to make that decision that what was best for me, I want to enjoy basketball, enjoy life. So that's why I kinda was like, what can I do?
"I knew that I was the kind of person, I'm always going to work hard, I'm always going to put in extra work. So I just said to myself, if I put into my left hand what I've put into my right hand for the past two years, I can do it."
The ultimatum Froling gave herself paid off quicker than even she thought. The tone in her voice changed from frustration to liberation as she explained.
"I think it came along a lot quicker than I thought it would. Originally, my plan was just to be able to shoot free throws in the NBL1 and finish around the basket," she said.
"And then I think like three games I hit a three. So obviously it came along a lot quicker than I even expected."
Froling said she felt comfortable making this big switch with Knox, especially under coach Kennedy Kereama. He coached Froling as an assistant with the UC Capitals and then brought her to Knox.
Kereama was hesitant at the time when Froling said she wanted to do it, but like everyone else, he quickly changed his mind.
"I remember just calling Ken and saying 'I'm turning to my left hand', and I think initially he was a little bit hesitant," she said.
"And then the next training, we have a shooting session and after like 30 minutes, he came up to me and was like 'Oh my god, people are gonna think that I've made that decision for you'. He said to me that this is the best thing that we could have done."
There are many unsung heroes in Froling's transition to her left hand, talking it out with her twin Keely, going through rehab with her father Shane (who later admitted he thought Alicia had "rocks in her head" when she told him she was switching hands) and Knox's assistant coach Charlie Fyffe.
The full-time teacher spent four to five days a week (depending on how cold it was) working with Froling in the early hours of the day on freezing courts in Bendigo, rebounding for her as she transitioned to her left hand.
"[He was] chasing after my rebounds, especially initially. It was good but you know, obviously, I changed hands so it still needed work. Like I wasn't Steph Curry," Froling said.
The biggest thing for Froling, including the Bendigo Spirits' current 7-0 run, was regaining her confidence on the court again. Which her NBL1 season gave her and more.
"I think initially (after switching hands) it was just getting my confidence back through NBL1. If you told me at the start of the season I was going to be conference MVP, I probably would have laughed at you," she said.
"Obviously, there's still a heap of stuff that I improve on. But I felt like I came to the Spirit in this WNBL season with so much momentum and so much confidence… I've kept that momentum going and then keep carrying that on to WNBL."
Feature image via: Connor McKenzie