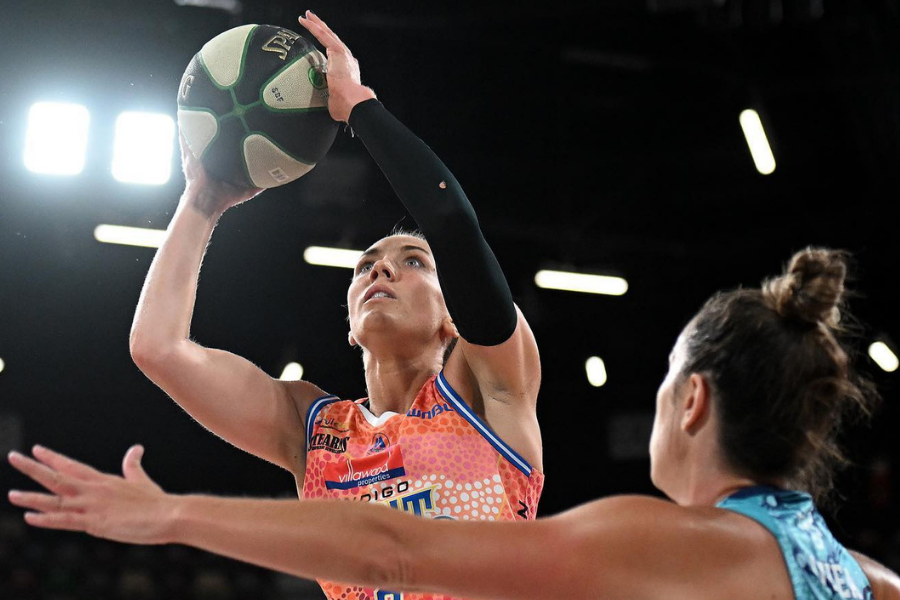 27 February 2022 | Bendigo Spirit news
Villawood Bendigo Spirit coach Tracy York has again praised her talented team after a polished victory against the Southside Flyers in Hobart on Saturday.
Both sides put their bodies on the line in a tough game, with 43 fouls highlighting the effort Bendigo and Southside were both putting in.
That effort was obvious from the first quarter, with Bendigo dominating the paint and scoring regularly from their quick transition game, which has been a focus all season.
The Spirit went in leading 28-26 at quarter time, with MVP favourite Anneli Maley  (14 points) and Megan McKay (6) showing their class.
Leading 55 to 46 at half time after a 27-20 quarter, the Spirit's game plan was paying dividends, highlighted by 40 points from the key in the first two quarters.
Maley had an astonishing 26 points for the half, and McKay 15. Mary Goulding showed her ability in the second term, coming off the bench for six points and some quality defensive work.
Southside shuffled their defensive strategy in the third quarter and it worked, pegging back the lead to go into the final quarter at 70-all.
But an 8-0 run midway through the last quarter, and a 12-2 run in the final two-and-a-half minutes saw Bendigo home 96-80.
Alex Wilson, Tessa Lavey, and Maddie Garrick were phenomenal in the last six minutes of the game, making key buckets and orchestrating important turnovers and stops.
Maley ended another remarkable game with a match-leading 35 points, 18 rebounds (including nine offensive), and five assists.
McKay's best game for the Spirit finished with 22 points and a phenomenal +29 impact.
Garrick ended the night with a classy 17 points and five assists.
The Spirit made the most of the high foul count for both sides, hitting an astounding 26 from 28 from the stripe, on the back of a 52 per cent field goal shooting.
Coach Tracy York was ecstatic.
"What a brilliant and hard fought win by a team of talented women," she said.
"From scoring the first basket and playing relentlessly throughout, we again showed our effort and class to win against the highly fancied opponents.
"Credit to the girls to play 4 quarters of entertaining basketball.
"We're off to do some clinics in Hobart and Launceston before the rematch on Wednesday night."
Watch the two go head to head again when the Spirit plays their second Tasmanian game against Southside Flyers on Wednesday March 2 at 6pm. Streaming live on Kayo or purchase tickets here.
RadfordMedia
www.radfordmedia.com.au
Photo: WNBL