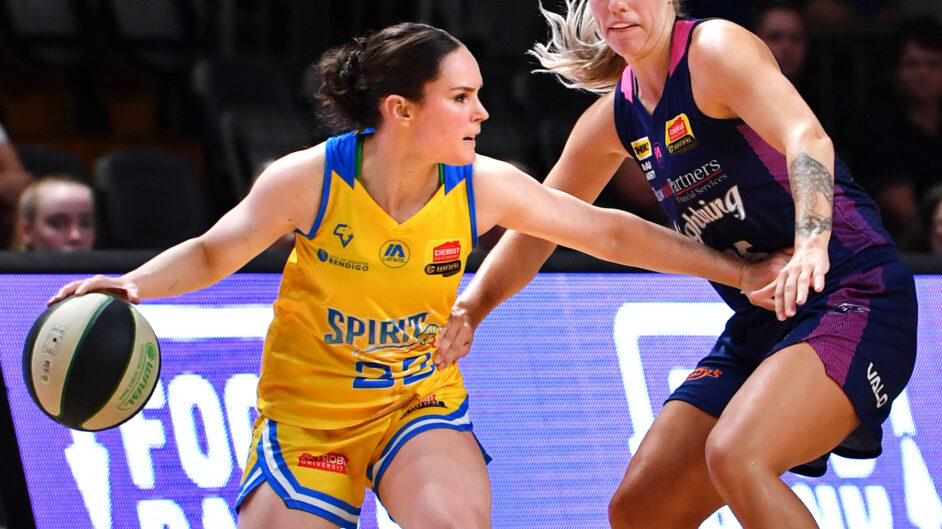 30 September 2022 | Bendigo Spirit news
The Bendigo Spirit is incredibly excited to announce the return of Kelly Wilson for the upcoming WNBL season.
In January 2022, Wilson made WNBL history, becoming the first player to reach 400 games.
Entering her 20th season in the league, Wilson has had one of the most decorated careers the WNBL has seen.
Wilson played a pivotal role in Bendigo's back-to-back championships in 2013 and 2014, and went on to win another two titles, one with Townsville Fire in 2018 and one with Canberra Capitals in 2019.
The Australian Opals representative said she's thrilled to be back.
"I'm excited to be back representing my hometown of Bendigo and country Victoria," she said.
"To be able to play in front of my family, friends and Bendigo Spirit fans again makes me very happy and I would like to thank the new ownership group SEN and Coach Kennedy Kereama for offering me the opportunity to return.
"Kennedy has put together a great group of girls and we are going to do our very best to bring the WNBL championship back to Bendigo."
Coach Kereama is thrilled to have Wilson back in Bendigo.
"I'm so happy that we have been able to bring Kelly back home for the upcoming WNBL season," he said.
"Kel ticks so many boxes for us as a program, her incredible basketball IQ, her leadership skills, her talent, she is always in peak condition and leads by example in so many ways."
Kereama said Wilson's championship experience will help take this team to the next level.
"As a club and program that has championship ambitions, you need players with championship experience to help lead the way," he said.
"She has championship-winning and playing experience which is incredibly beneficial to us a group, and best of all, she is a homegrown regional Victorian!"
Wilson completes the 11-person roster, joining Piper Dunlop, Cassidy McLean, Sophia Locandro, Tessa Lavey, Alicia Froling, Megan McKay, Anneli Maley, Alex Wilson, Abbey Wehrung and Kelsey Griffin for WNBL23.
Bendigo Spirit face Perth Lynx in the season-opener on Sunday 6 November.