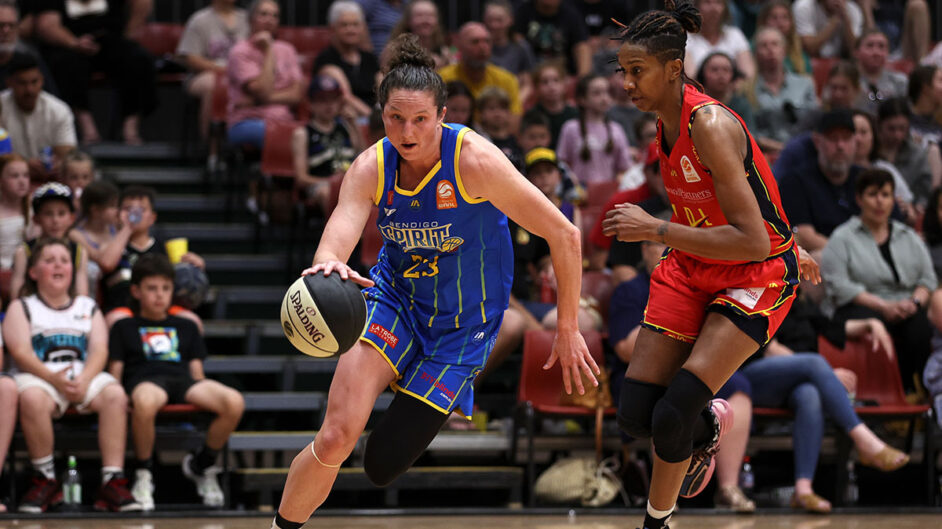 27 June 2023 | Bendigo Spirit news
The Bendigo Spirit are delighted to announce the re-signing of club veteran Kelsey Griffin for the next two seasons.
Griffin came to Australia in 2012, playing eight seasons for the club from 2012-2018.
Her impact was immediate, winning back-to-back championships with the club in 2013 and 2014, earning the Grand Final MVP in both.
Griffin moved to the UC Capitals in 2018, adding two championships and a third Grand Final MVP in her four seasons there.
Along with her team success, she has a multitude of individual accomplishments, including WNBL Most Valuable Player (2019), three-time All-WNBL First Team (2015, 2016 and 2019) and WNBL Defensive Player of the Year (2015).
Returning to where her Australian basketball journey began last season, Griffin said the vision of the club played a big part in her move back.
"A huge enticing factor was the 10-year commitment from SEN and then getting to do the induction and hearing what their plans are for the club and what they want to build in this space," she said.
"When Kennedy got the job and he started recruiting me and, and what he was trying to do and what he was trying to build and Erin and I talked about it, it was really about that leap of faith and trying to leave some place better than when I got there."
"Kennedy had me playing far more perimeter basketball than I have for most of my career."
"I was really excited last season about the scope of what they were trying to do with the team."
With this upcoming season her twelfth in the league, Griffin said she is looking forward to it.
"I'm really optimistic and I'm excited about it," she said.
"I'm also really excited about how Kennedy and Dave have recruited from a standpoint."
With a season back in Bendigo up her belt, Griffin is excited to continue her leadership role at the club.
"As much as it is about winning games and winning a championship, for me what I've really enjoyed through my career is teaching, mentoring, and helping younger players and my peers find their joy in basketball, find their joy on court and then us achieving something together."
"I play a team sport to be able to be a part of making those around me better."
"Kennedy's system really lends itself to that and it's something that I'm really looking forward to on court."
Coach Kennedy Kereama said securing the signature of Griffin was key to building the team.
"KG's re-signing is a key addition to what we are trying to build on from last season. Her experience, leadership, on-court skills are a foundational piece of what our program is about."
"KG has everyone's respect, she sets the tone for everything with her work ethic, acute attention to detail and her words carry a tremendous amount of weight throughout our program and community."
"After last year we all witnessed how much of an impact KG can have. She is able to play whatever role is required to help a team win, whether that be a scorer, defender or facilitator. KG's versatility makes her a difficult proposition for opposition and an asset to the Spirit."