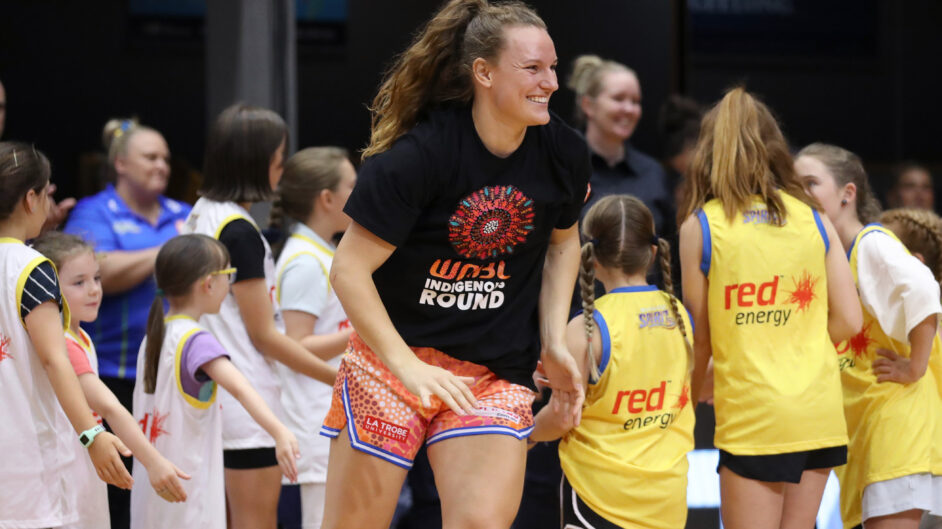 14 February 2023 | Bendigo Spirit news
By Lachlan Everett for NBL1.com.au
For Megan McKay, a country girl at heart, Bendigo seemed like the perfect place to settle.
Her career has taken her from the small country town of Katanning in Western Australia to California, Germany, Townsville and more.
"[Katanning] is about three and a half hours away from Perth, last time I checked it has a population of about 4000, maybe 5000 now," she said.
"I think being in Bendigo kind of taps into that. You'll be driving down the main street and there goes a B-Double [truck] of sheep off to the market and a Land Cruiser pulls up next to you. There are Akubra hats everywhere.
"That's a big part of it, just feeling like you're home. You're in a big country town, you walk down the street and you recognise someone that sponsors you. So I'm more than happy to continue coming back to Bendigo."
The NBL1 South superstar has recently re-signed with the Braves for the 2023 NBL1 season and has spent the last four seasons playing in Bendigo, between the NBL1 South's Braves and the WNBL's Spirit.
McKay seemingly enjoys consistency, she's not only stayed in the same town for multiple seasons and had the same teammates overlap between the NBL1 and WNBL, but her playing number has also stayed from college to Bendigo.
McKay has worn the number 25 for most of her career, with both the Braves and Spirit it has always been that number. McKay explained that it is in honour of her favourite player, Lauren Jackson.
"I am a massive Lauren Jackson fan, massive. My mom and dad drove me all the way to Perth to watch LJ play back in 2007," she said.
I was 15 years old at the time and I love the number 15 through and through. When I went away to college (Saint Mary's), number 15 was taken – so 25 became it and that's really been me ever since college.
McKay explained that college was defining stage in her career, it's where she became becoming the rebounding machine she is today. She described it as an "interesting challenge" and said that it pivoted her playing style into what we see today.
Last season with the Braves she averaged 21 points and 11.7 rebounds – while in this current WNBL season, she averaging 8.5 points and 3.7 rebounds for the Spirit who sit fourth on the ladder.
In college with Sanit Mary's, she finished with a career average of 7.5 rebounds per game and said her mindset to crash the boards was cemented in college.
"College definitely cemented it, I think it came through (playing for) the national team too. But yeah, college was a 'this is who I am, this is what I do'," McKay said.
"But now I've got to share my rebounds with Anneli Maley."
Like many NBL1 players and WNBL players, McKay works outside of basketball. McKay works for Elders Rural (farm supplies store) and says she is lucky to have the flexibility with both her coach and employers (who also sponsor her as a player).
We're really lucky as (coach) Kennedy Kereama, he moved our Spirit trainings to the morning, so we're really in the gym and on the court from 7-11 am, which then allows a lot of us to be at work at 12," she said.
"Some of us have meetings or something scheduled in the mornings that we can then just pick back up in the afternoon," McKay said.
"I think we've been really lucky with how flexible our coaching staff has allowed us to do things in the morning. And then to have the afternoon off."
Last season was heartbreaking for the Braves. Coming up short against the Ringwood Hawks in the NBL1 South Grand Final, McKay had a monster 23 points and 17 rebounds in the loss. Despite the loss, McKay says the battle and the NBL1 season helped her prepare for the WNBL significantly.
"Yeah, it just you just roll straight into it," McKay said.
We're lucky [to have] a very similar group that continues through (Cassidy McLean, Abigail Wehrung, Kelly Wilson), having that rollover really, really helps."
The Braves have signed Cassidy McLean, Megan McKay, Madi Sexton for the 2023 NBL1 season so far, with the NBL1 South tipping off on April 1.
See the full fixture here.