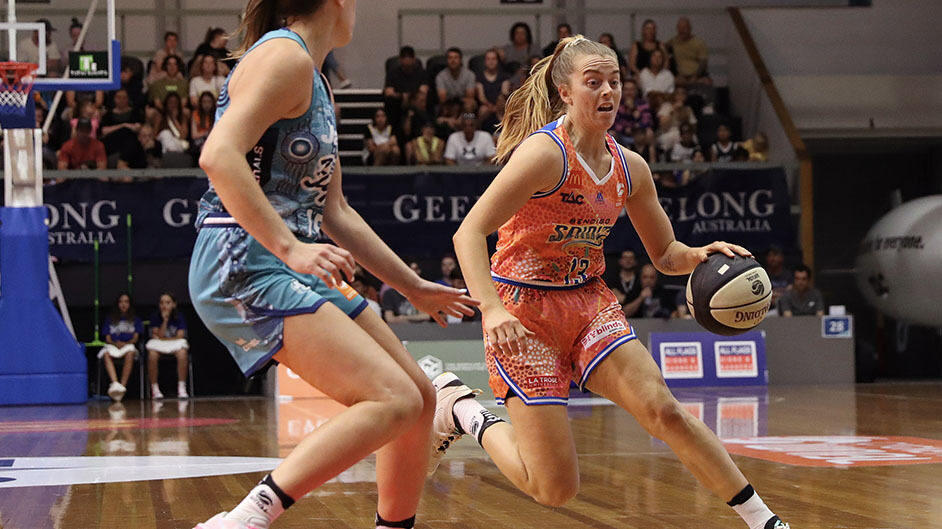 11 February 2023 | Bendigo Spirit news
Game details
Bendigo Spirit 69 def by. Southside Flyers 77
Geelong Arena
11 February 2023
Game Summary
Bendigo Spirit have suffered their third loss in a row after going down by six points to the Southside Flyers.
Spirit v Flyers was a hot contest from start to finish, with the outcome of the match set to play a big part in final standings.
The occasion was a big one, with the pair playing off in the WNBL's Indigenous Round, and the game being played at a special occasion home court for Bendigo in Geelong Arena.
The two teams couldn't be separated in the first, trading buckets throughout. The physical tone of the game was set early, with both team knowing what was on the line and bringing the heat to match.
Bendigo worked their way into the contest in the second, with several players firing offensively throughout. Abbey Wehrung's hot three point shooting form was on full display, with her knocking down two in the term.
The third quarter was all Southside, who dominated both sides of the ball to outscore Bendigo by five in the term. Some turnovers late in the term allowed Southside to really dominate the ball and put some scoring pressure on Bendigo heading into the fourth.
After taking a five point lead into the last break, the Flyers came into the term with a strong defensive mindset playing on Bendigo really tight and giving them some trouble to work through. Despite fighting hard to diminish the lead in the quarter, Flyers proved too strong and ran away six point winners.
Abbey Wehrung top scored for Bendigo with 18 points on an efficient 4/6 from three point land. She leads the league in the stat, with an incredible 3-point percentage of 54.1%.
Kayla Thornton top scored for the opposition, with 19-points and 7 rebounds. Five of Thornton's rebounds were at the offensive end, giving her side valuable second chance opportunities.
Player focus
Kelly Wilson stuffed the stat sheet tonight, posting 11 points on 5/10 shooting along with 5 rebounds, 4 assists and a whopping 4 steals.
Next game
Bendigo Spirit are heading to Townsville to take on the Fire at Townsville Entertainment Centre, the match will take place on the 18 Feb at 7.30pm EST.