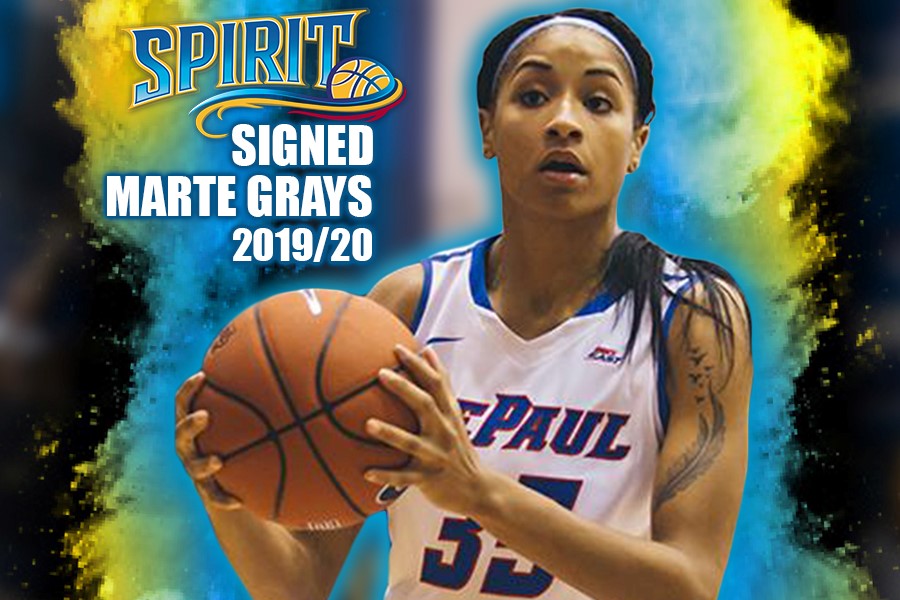 14 August 2019 | Bendigo Spirit news
The Spirit are pleased to announce the signing of second import and final roster spot, Marte Grays.
Grays recently completed her collegiate eligibility at the University of DePaul, in Chicago, Illinois. In her final season at DePaul University, Grays averaged 14.9 points (15.6 points in conference play), 5.5 rebounds, 1.4 assists and shot at an impressive 45% from the field. Marte also comes as a very decorated athlete, being named in the 2017-2018 and 2018-2019 All-Big East First Team, 2017-2018 and 2018-2019 Big East All-Tournament Team, 2018-2019 Cheryl Miller Small Forward Award, and 2014-2015 Big East All-Freshman team.
In her debut season in the Chemist Warehouse WNBL, Marte was excited to say "To play in the WNBL is a blessing within itself! I'm so excited to be playing for the Spirit, I would like to express my gratitude to Coach York and the staff for giving me this opportunity! Many players are not given this opportunity to play in such a great league and I'm just fortunate enough to be one of those players who do get to play. I cannot wait to meet the Bendigo Community and get to know you all!"
Head Coach York said "Marte comes to the Spirit after having an excellent college career with DePaul in the Big East Conference. She's a 6'2" wing player where in her senior year she led her team in scoring, was second in blocks and third in rebounds. We look forward to Marte's versatility and are excited to see her play up-tempo with the Spirit in WNBL20"
The Spirit tip-off at 7pm on October 12th against Melbourne Boomers at Bendigo Stadium. Head to trybooking.com today to get your membership!