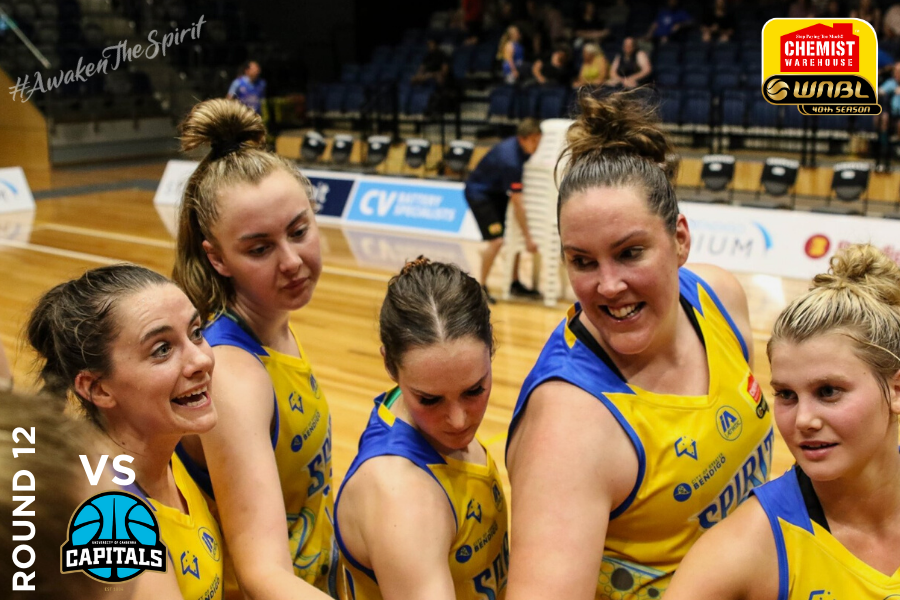 6 January 2020 | Bendigo Spirit news
The Spirit are seeming to put all the right pieces in place after securing their 4th win of the season in one of the biggest upsets this year against defending Champions, the University of Canberra Capitals.
Starting the game with no time to waste, Carley Ernst made a statement by scoring 10 points, 2 rebounds and 1 assist in just 5:27 minutes of play due to foul trouble.
However, this did not slow the Spirit, closing out the first quarter marginally atop, 25 – 24.
The momentum did not falter from the Spirit as they amounted a 26 point quarter to Canberra's 16 points. Which saw Shyla Heal begin to show her confidence scoring 8 points in the 2nd quarter alone. Helping the Spirit take an 11 point lead heading into half time; 67-62.
The third quarter showed exactly why the Canberra Capitals are the current defending champs, with Keely Froling going to work and scoring 13 points and 3 rebounds. Accompanied by Marianna Tolo's 5 rebounds and 6 points during the third term.
Both teams fought hard during the fourth quarter, both teams showing fight and grit throughout the final 10 minutes of the game.
However, Spirit's bench spark in Shyla Heal once again came alive scoring 10 points, and taking her game total and WNBL career high to 24 points.
As the Capitals inched away at the Spirit's lead, current Opal squad member, Tessa Lavey found herself weaving through several pick-and-roll situations and notching 10 points to finish the game.
With the final score line 94-90, the Spirit were able to see themselves as winners at the end of regulation.
Heading into round 13 with back-to-back wins, the Spirit look to get win number 5 against a very talented Perth Lynx team. Spirit are currently 1-0 against Perth this season and will match up again with them on January 24th for the Spirit's pink OTIS round.
Bendigo Spirit: 
Shyla Heal – 24 points, 8 rebounds, 1 assist
Carley Ernst – 19 points, 6 rebounds, 3 assists, 2 blocks
Abbey Wehrung – 14 points, 4 rebounds, 3 assists, 1 block
Gabe Richards – 11 points, 8 rebounds, 2 assists
Tessa Lavey – 10 points, 5 rebounds, 4 assists, 1 steal, 1 block
Canberra Capitals: 
Marianna Tolo – 26 points, 17 rebounds, 1 assist, 2 steal, 2 blocks
Keely Froling – 22 points, 11 rebounds, 2 assists
Kia Nurse – 17 points, 5 assists