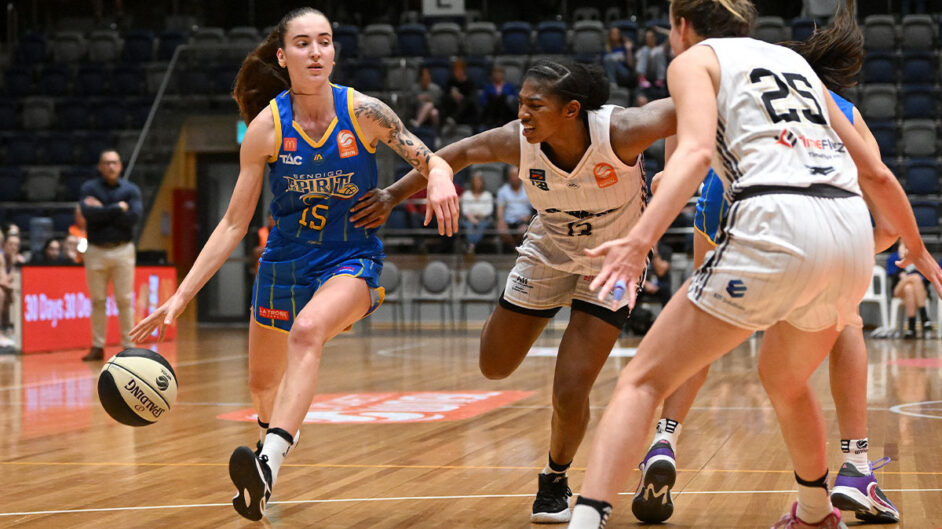 12 November 2022 | Bendigo Spirit news
Game details
Bendigo Spirit 77 defeated the Sydney Flames 57
Red Energy Arena
12 November 2022
Summary
The Bendigo Spirit dominated home court once again with a 20-point win over the Sydney Flames at Red Energy Arena.
After a close first quarter where the visitors went up by a point, Spirit came out and dominated the second quarter at both ends of the floor putting up 24 points while holding the Flames to just 11.
Flames pressed in the third but had no answer for Anneli Maley who scored 15 of her 23 points in the third quarter, including an incredible 3/3 3PM.
Spirit maintained this lead in the fourth, finishing the game with their third double digit win in a row to start the season.
Efficiency told the tale of the game, where the two teams took the same amount of shots but the Spirit managed 13 more field goal makes.
Spirit also dominated the boards, bringing down 23 more rebounds than the visitors including 15 on offensive leading to 12 second chance points.
Anneli Maley led the team in scoring with a game-high 23 points, while Shyla Heal led the Flames in scoring with 20 points.
Reaction
Coach Kennedy Kereama shares his thoughts after the win.
"It was again another all around team effort, certainly from a defensive perspective to keep a team under 60 points in any league is an elite effort so really really happy with that.
Coach Kennedy Kereama on Kelsey Griffin:
"The deflections, the energy plays, the steals, they're all things that certainly help and certainly generate a lot of energy amongst the group and you can see the team prepared to rally behind players making those types of plays for us."
Player focus
Anneli Maley backed up a big double-double performance last week with another dominant game, finishing with a game-high 23 points including 3/3 3PM, and 14 rebounds.
Next game
The matchup between Bendigo Spirit and Southside Flyers on Saturday, 19 November has been rescheduled due to circumstances out of the league's control. Bendigo Spirit's will return to the court on Friday 2nd December to take on the Townsville Fire at Townsville Entertainment Centre.