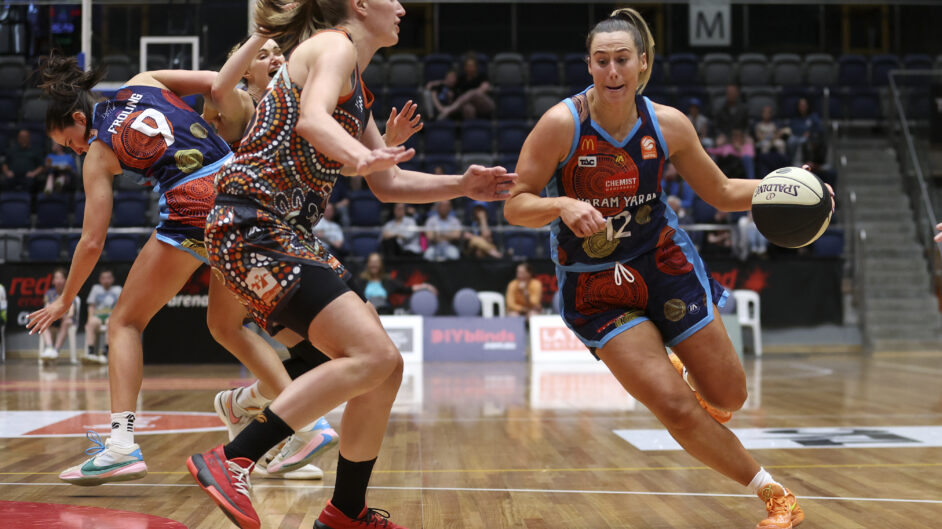 16 November 2023 | Bendigo Spirit news
Bendigo Spirit head coach Kennedy Kereama believes his team is closing on its first win of the season ahead of Friday night's clash against Perth Lynx at Bendat Basketball Centre.
The Spirit dropped their opening two games of the 2023-24 WNBL campaign to strong outfits Townsville and Sydney respectively, but Kereama felt they were in both contests.
Bendigo addressed their turnover issues after the Fire loss but couldn't re-capture their hot shooting for long enough to complete a come-from-behind win over the Flames.
"Certainly starting the season 0-2 is not ideal from our perspective," Kereama said.
"Both games we've been it. Both games have been very different in terms of the adjustments needing to be made.
"Game one we shot the ball really well and were probably better statistically, however 21 turnovers probably wasn't going to get it done.
"You go to the next game, we did a great job at taking care of the ball but shoot the ball poorly."
Kereama confirmed captain Kelsey Griffin didn't travel with the team to Perth on Thursday but is set to make her long-awaited return from a hamstring injury against Melbourne Boomers on Sunday.
"We'll definitely see her on Sunday, for sure, unless a catastrophe occurs between now and then," he said.
Kereama praised new import Mehryn Kraker on her start to the season and the leadership she's brought since arriving.
The Spirit come up against former Anneli Maley for the first time since she joined the Lynx, with Kereama knowing all too well how dangerous she can be.
"I think everyone has a scout on Anneli, it doesn't stop her from getting 20 rebounds a game," he said.
GAME DETAILS
Spirit v Lynx
Bendat Basketball Centre, Perth
Friday, November 17
Tip-off at 9.30pm EDT
INJURY LIST
Kelsey Griffin: Hamstring, return date 19 November
Sophia Locandro: Hamstring, return date TBA
Ella Gordon: Back, return date TBA
SPIRIT ROSTER
You can view the Spirit's 2023-24 playing roster here
SEASON FIXTURES
You can view the Spirit's 2023-24 season fixture here
HOW TO WATCH
All games will again be broadcast live, with Wednesday night games (and all finals games) on ESPN (Foxtel, KAYO and Sky Sports NZ), while all other games will be shown on the Nine Network's free digital channel, 9Now. Internationally all games will be broadcast live on FIBA YouTube.