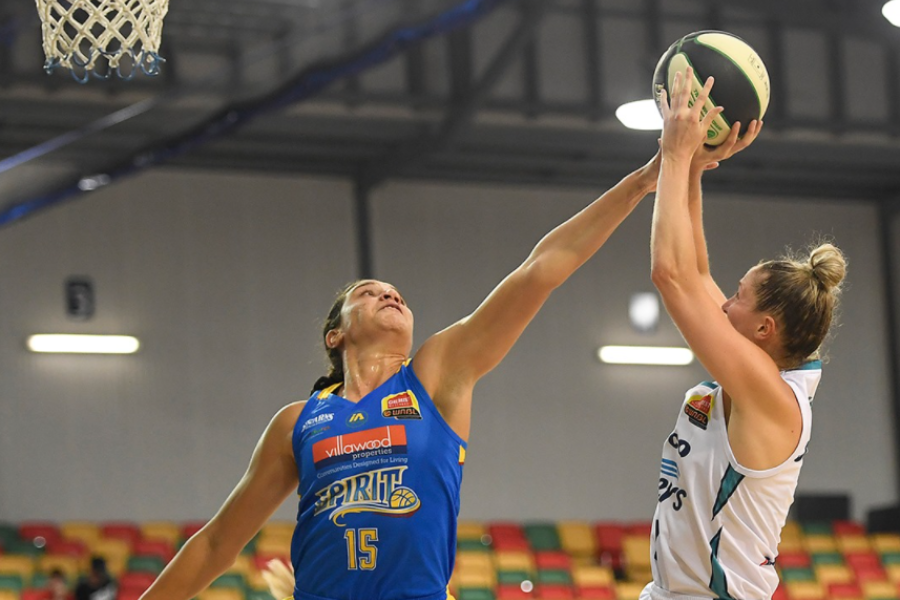 13 November 2020 | Bendigo Spirit news
It was a tough start to the 2020 WNBL season for the young Villawood Properties Bendigo Spirit, but a start that showed a lot of spark.
The Spirit went down to star-studded Championship favourites the Southside Flyers 60 to 102 in Townsville on Thursday night, but in the process unearthed some promising youngsters and, at times, some impressive intensity.
Captain Tessa Lavey led from the front at both ends of the court, with 8 points and three assists.
Carley Ernst took her great form from last season into the 2020 opening round, with 16 points and seven rebounds.
Her tussle with WNBA All Star – and all-round superstar – Liz Cambage was one of the highlights of the night, with the pair slugging it out one-on-one in both keys.
Ernst was brilliantly supported by Spirit newcomer Jennie Rintala, whose presence under the ring was felt all night.
The former Adelaide power forward was impressive defensively, as well as being a scoring target, with seven points for the game.
The Spirit look to have unveiled another young gun in Mary Goulding. The Tall Fern started the game well and found herself in strong scoring positions all night, finishing with six points.
Alicia Froling also impressed in her first game for the Spirit, dominating the boards with 11, including a game-high four offensive rebounds.
For the Spirit faithful, there was a lot to like, but none more so than the six minutes played by 17 year old Catherine McAuley Year 11 student Piper Dunlop.
The former Junior Brave grew up watching the Spirit and got her chance late in the game.
The delight on her face when she scored almost immediately showed how much wearing the blue and gold meant to her.
Dunlop finished with three points, one rebound and one assist, and looked like she belonged at the elite level.
Coach Tracy York was impressed with the team's energy, which didn't ease up all night.
"Tonight was a tough first game against the Championship favourites, and a good measuring stick for us and the rest of the competition," she said.
"We played hard and with energy but couldn't match the firepower of the Flyers.
"We'll move our focus onto our next game in about 36 hours!"
The Spirit take on the Sydney Uni Flames at 3pm Saturday, live on Kayo.
SPIRIT GAME HIGHLIGHTS
 https://www.facebook.com/BendigoSpirit/videos/750840975531562
RadfordMedia