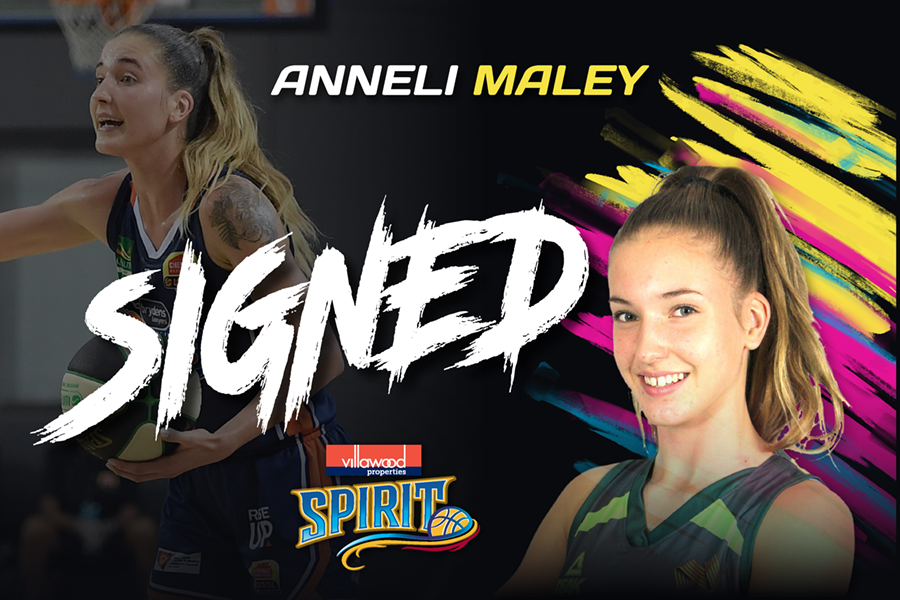 4 May 2021 | Bendigo Spirit news
The Villawood Bendigo Spirit has signed another big name for the 2021 WNBL season.
Last year's WNBL leading rebounder Anneli Maley will suit up for the blue and gold for the next two seasons, adding to what is fast becoming a formidable roster.
The 22-year-old small forward stands at only 184 centimetres, but last year dominated the boards, averaging an astonishing 12.1 rebounds a game for the Sydney Uni Flames.
Maley represented Australia at Under 16, 17, 18, 19 level and played top-level college basketball with the University of Oregon Ducks in 2017-18.
Spirit coach Tracy York said Maley is another world-class signing for the Spirit.
"We are extremely excited to sign Anneli to a two-year deal," she said.
"Anneli is a unique and extremely talented athlete who has represented Australia at the junior level and currently in the 3×3 squad for the Tokyo Olympics.
"She is a relentless rebounder and fearless competitor, and we think she fits well with the team we are building and want to put on the floor".
Maley's competitiveness was on show last season, with some huge performances against quality opposition.
"Against Premiers Southside, Anneli had 19 points and 17 rebounds in one game, and 9 offensive rebounds in another," YORK SAID.
"She had 20 rebounds against Perth, and got a double-double against Townsville with 10 points and 14 rebounds.
"Those numbers are phenomenal for her size. It shows what a monster she is on the boards."
Maley said she is looking forward to being part of the Spirit program.
"I am so excited to be a part of such a dynamic team and to become a part of the Bendigo community," she said.
"I can't wait to get started and to take on this next season as a part of the Spirit family."
Radford Media
www.radfordmedia.com.au