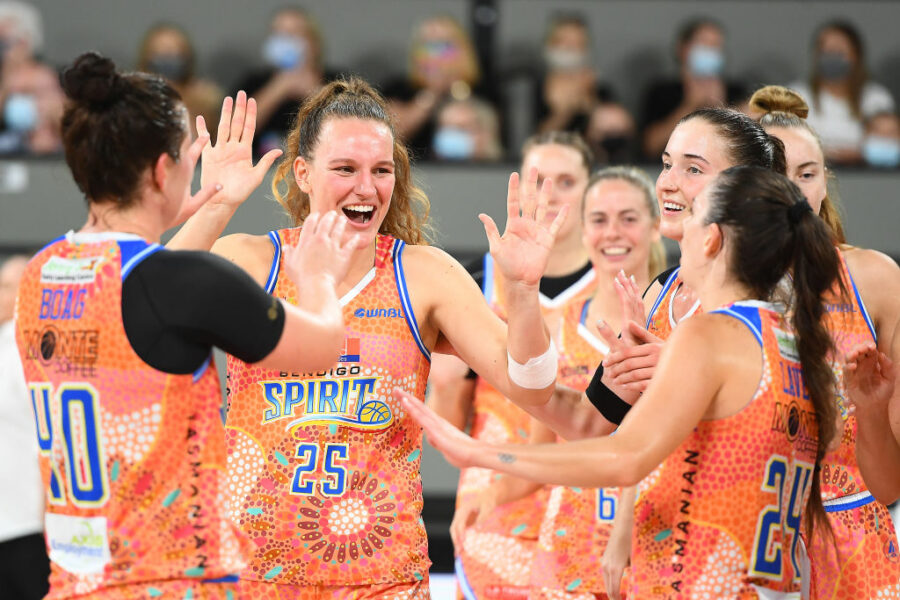 4 March 2022 | Bendigo Spirit news
A dominant rebounding display and a remarkable last quarter saw the Villawood Bendigo Spirit make it two from two from their Hobart trip on Wednesday night, and record their fourth WNBL win in the past five games.
The Spirit came from eight points down against the Southside Flyers with less than nine minutes left, to win by eight – 78 to 70.
The win keeps the Spirit's finals hopes alive as they head into some big season-defining clashes over the next few weeks.
The game started off at break-neck speed, with Bendigo opening up a 14-6 lead half way through the first quarter.
The Spirit's star guards were feeding talls Megan McKay (eight points in the first quarter) and Anneli Maley (six) constantly, a tactic that paid off early.
But the Flyers bounced back, going into the quarter time break leading 22-20.
The next two quarters were an arm wrestle, with the pace slowing down and the lead ebbing and flowing, until it was the Flyers with a three-point lead going into the final quarter.
That lead blew out to eight in a little over a minute, but Bendigo's defense dominated from then on in, keeping the Flyers to only 12 for the quarter.
Key baskets and assists from Mary Goulding, Tessa Lavey, Carly Boag, and Anneli Maley in final few minutes helped the Spirit pile on 23 points in the last quarter to take the win.
Maley completed yet another double-double, with 21 points, 19 rebounds (nine offensive) and six assists.
Alex Wilson's value to Bendigo continues to stand out, the tough guard finishing with 17 points.
McKay had 13 points and 11 rebounds, and Maddie Garrick's late-season form continued with 13 points.
Astonishingly, the Spirit finished with 24 offensive rebounds to eight, resulting in 27 second-chance points for Bendigo.
Coach Tracy York said the Spirit's toughness had once again shone through.
"I am really proud of this team and the club to come to Tasmania and get back-to-back wins against Southside," she said.
"Last night's game was again hard-fought. We were down by eight in the last quarter and outscored Southside 23-7, which was outstanding.
"We had a very good spread of scorers and again did an outstanding job on the boards.
"We look to get some rest and recovery in before our game in Melbourne on Sunday against the Boomers."
RadfordMedia
www.radfordmedia.com.au
Photo: WNBL