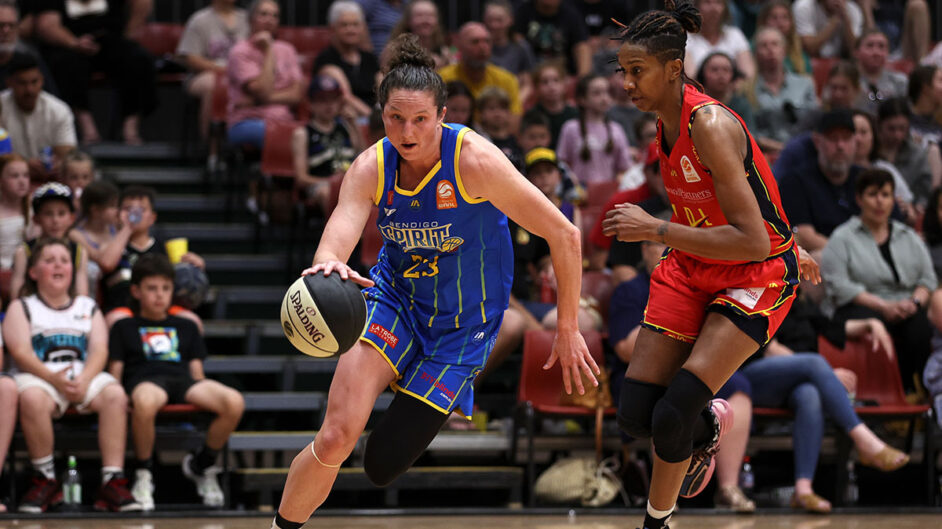 10 December 2022 | Bendigo Spirit news
Game details
Bendigo Spirit 84 defeated the Adelaide Lightning 75
Mildura Sport Precinct
10 December 2022
Summary
In a change of scenery with the game taking place at Mildura Sporting Precinct, the Bendigo Spirit and Adelaide Lightning engaged in a physical back-and-forth battle where the Spirit proved too strong.
The Spirit were short-handed missing key cogs in Meg McKay (family commitments) and Abbey Wehrung (illness) but the side conquered on with Ally Wilson and Alicia Froling coming into the starting line-up and ensuring the team didn't miss a beat.
The two sides couldn't be separated in the first in a physical period that set the tone for the game.
Trading back-and-forth blows, both squads crashed the offensive boards hard to provide extra chances for their team.
Bendigo managed to breakaway in the second period, scoring 24 points to the visitors 18 to extend their lead to nine-points.
Adelaide rose to the occasion in the third quarter thought, outscoring Bendigo 19-18 setting themselves up for a big fourth quarter.
It looked for a moment like Lightning pair Borlase and Monro might lead the side to a comeback. Starting the fourth quarter on fire, Adelaide cut the lead to just 6-points before a timely time-out from Coach Kennedy and some clutch Kelsey Griffin buckets steadied the ship and saw Bendigo run away 9-point winners.
Bendigo Spirit now have six wins to their name without a loss, equalling their best start to a season since 2012-13.
Kelsey Griffin was the leading scorer with a massive 30-point double-double, while Jacinta Monroe led the scoring for the opposition with 16-points.
Player focus
Kelsey Griffin was simply unstoppable against the Lightning who had no answers for her dominance. A force at both ends of the court, KG stuffed the stat sheet with a game-high 30 points, 10 rebounds and six steals, at an efficient 61% from the field.
Next game
The team are back in Bendigo this upcoming round, taking on the Sydney Flames in the third and final game of their home and away series.
The game will take place on Wednesday 14 December at Red Energy Arena, tickets are still available so secure your seat now to be in the stands as Bendigo try to make history with the best start to a season.