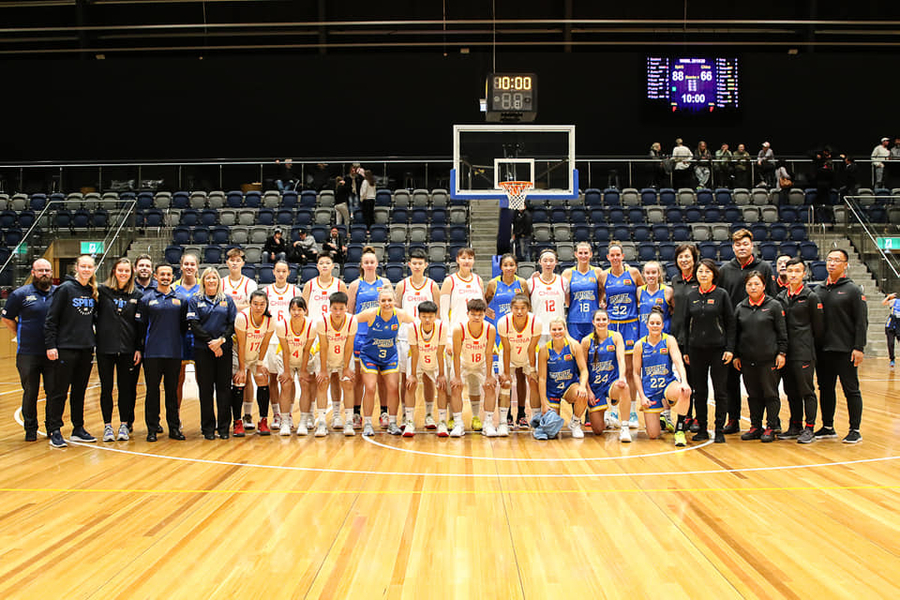 12 September 2019 | Bendigo Spirit news
In their first pre-season contest the Spirit defeated the Chinese national team on home territory, with a convincing 88-66 win.
New to Bendigo, Carley Ernst shone from tip-off with a game high 29 points, shooting an incredible 71.4% from the field, 5/8 from beyond the arc. Closely followed by an equally impressive performance in her return to the WNBL, Becca Tobin posted 20 points, all while shooting 72% from the field and collecting a full stat sheet, adding 7 rebounds, 5 assists, 1 steal and 2 blocks for the evening.
The Spirit welcome new import, Martè Grays who in her debut in the WNBL pre-season, posted a double-double with 14 points and 12 rebounds.
However, the final score does not completely depict the flow of the game or pressure the Chinese National team brought to Bendigo Stadium on Wednesday night.
The Chinese National team's height and defensive pressure were prevalent from the beginning of the game, finding themselves only training by 3  going into the second quarter.
China's Hu Yueming was her team's spark all evening, scoring 20 points and proved to be a force throughout the whole game.
An impressive defensive second quarter from the Spirit, saw China only notch 10 points in 10 minutes of play, leading into half time; 47-31.
Entering the second half saw the Spirit assert themselves to extend their lead to 69-54 by the end of the third quarter and eventual full time winners, 88-66.
All 12 players saw court time, as well as, all but one player making it onto the score board.
The Spirit head to Tralagon for the Triple Crown Tournament against The Melbourne Boomers for their second pre-season hit out on Sunday September 15th.
Bendigo Spirit – 88 (Carley Ernst 29, Becca Tobin 20, Marte Grays, 14)
Chinese National Women's Team – 66 (Hu Yueming 20, Cao Junwei 14)