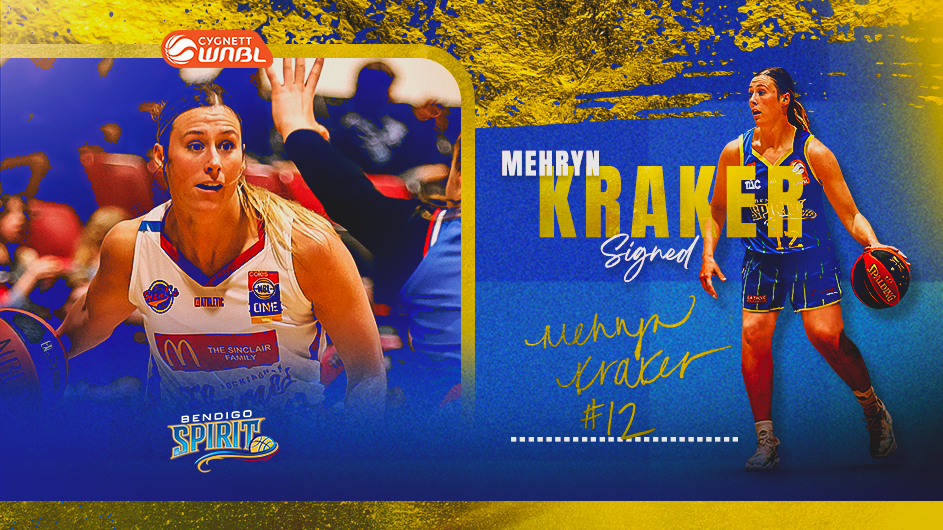 17 July 2023 | Bendigo Spirit news
The Bendigo Spirit are excited to announce the signing of import guard Mehryn Kraker for the 2024 WNBL season.
Hailing from Milwaukee, Wisconsin, Kraker will be the Spirit's first import since the 2019-20 season.
The 29-year-old went to Green Bay college from 2013 to 2017, playing with the Green Bay Phoenix, before being drafted by the Washington Mystics in the WNBA in 2017.
After playing for the WNBA side throughout their pre-season, Kraker was then waived before joining Spanish side Cadi La Seu in the highly reputable Liga Femenina de Baloncesto where she played until 2019.
Kraker has played for multiple sides since then, including back in her home state with the Winsconsin GLO in the Global Women's Basketball Association (GWBA), as well as spending a season as an assistant coach with the Green Bay Phoenix in 2021.
In 2022 Kraker joined NBL1 West club the Rockingham Flames, where she is currently playing her second season for the club putting up averages of 19.5 points, 6.4 assists and 3.9 rebounds.
Kraker said she is looking forward to her first season of WNBL.
"The WNBL is super well respected in the ranks of professional leagues, it's always a league that I've dreamed of playing in," she said.
"I think the Aussies and their national players are really talented, skilled, physical and strong so I think it'll be good to challenge myself in this league."
The vision and culture of the Bendigo Spirit is something Kraker could see herself being part of.
"I got the opportunity to talk with Kennedy beforehand and spend some time with him. I really liked his vision, David's vision, and the kind of the culture they're establishing in Bendigo," she said.
"I watched a lot of their games from last year and I really liked the style of play."
"I've just heard really good things about it being a really nice family atmosphere and really good things about Bendigo as a city as well."
Ahead of her first season playing in the WNBL, Kraker is ready to do whatever it takes to win.
 "I think it kind of aligns with the belief and the way Bendigo plays, but however I can assist and help in having that winning season and continuing to build on the culture they've established," she said.
 "Obviously it's of the utmost importance to establish ourselves as a championship calibre team, and however I can assist in that I'd love to do that."
"I think winning is paramount and however I can help in that, I am definitely willing to do so."
Head Coach Kennedy Kereama is excited to welcome Kraker into the program.
"It was fair to say from the moment I met Mehryn I was impressed with who she is as a person, her work ethic, coachability, skills, leadership and ability to perform meant she ticked all the boxes for what we are trying to build in Bendigo," he said.
"I know she will be a great culture piece to our program and will be the type of teammate players want to play with."
"Her ability to play whatever role that was needed based on time and situation really impressed. When her team needed scoring, she could do it and when her team needed passing, rebounding, defence or any other task she provided."
"All the vision I watched from her collegiate, WNBA, Europe and NBL1 play was incredibly consistent and oozed with leadership, unselfishness and a team first mentality."
"I think she is one of the most well-balanced basketball players out there and she is a serious competitor."