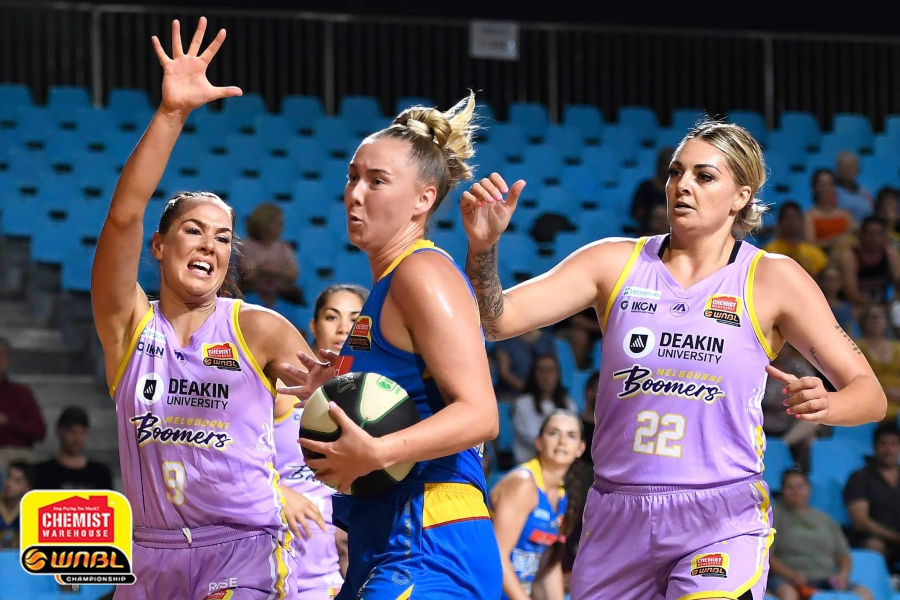 5 December 2020 | Bendigo Spirit news
It was a case of bookend brilliance for the Villawood Bendigo Spirit against championship contenders Melbourne Boomers at Cairns on Saturday afternoon.
The Spirit began with one of their best quarters of the year, matching the full-strength Boomers at both ends of the court.
Having multiple scoring options has been the key to good Spirit offence this season, and the entire starting five hit the scoreboard in the first term.
Fast transitions, accurate and purposeful in-out passing, and high-percentage shots saw the Spirit trouble their superstar Victorian rivals early.
And at the other end of the court the Spirit was getting the job done as well, forcing the world-class Boomers' talls out of the key and out of their comfort zone, causing turnovers and allowing the blue and gold to get quality rebounds.
At quarter time, the score was 20-all, with Carley Ernst (8 points) and Tessa Lavey (6) finishing off when it mattered.
The second quarter was tough offensively for the Spirit, scoring only 3 points, but coach Tracy York was happy the Boomers had been kept under 40 in the first half.
The third quarter was a better one for the Spirit, with Demi Skinner hitting the first 5 points for Bendigo.
York injected her young bench into the game in the last couple of minutes of the third quarter, with immediate results. Paige Price scored soon after, as did young Shepparton star Shelby Britten.
The Spirit entered the final term down 34-62, but you wouldn't have known it with the enthusiasm and intensity on show from the young Spirit players.
As she has done at every opportunity this season, 17-year old Piper Dunlop made an impact almost immediately.
She made a strong steal at the defensive end, then scored off a Britten assist. She then scored the next two Spirit points, with a strong move under the basket.
In the first six-and-a-half minutes of the last quarter, the young Spirit team outscored the Boomers 13-10, and Dunlop had 7 of those points.
In the end, the Spirit went down fighting 52-84
"We competed really well and had a great first quarter," York said.
"Our shots didn't drop in the second and even though defensively we held strong, we couldn't put the scoreboard pressure on.
"We competed hard and will move forward to our next game in 18 hours."
The Spirit next takes on the Sydney Flames on Sunday, 1pm Bendigo time.
RadfordMedia
0428375005