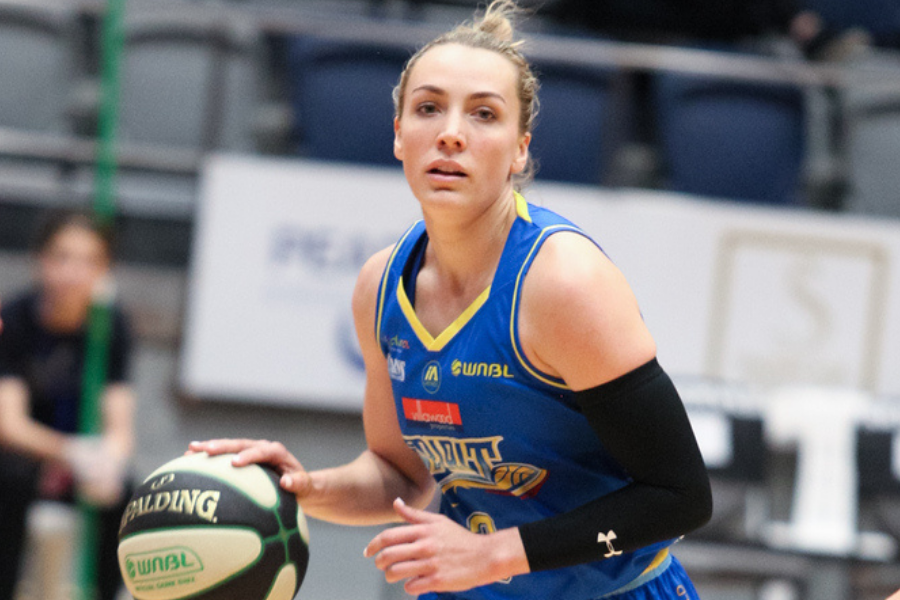 31 January 2022 | Bendigo Spirit news
It took a couple of hot-shooting WNBA stars for championship favourites Perth Lynx to overcome an impressive Villawood Bendigo Spirit at Ballarat on Saturday afternoon.
In a see-sawing game, the Spirit had their chances to upset the Lynx , but ended up falling short 82 – 90 in a game coach Tracy York can take a lot away from.
Bendigo got off to a good start, leading by four points early, before New York Liberty star Sami Whitcomb and Las Vegas Aces gun Jackie Young started hitting their straps, giving Perth an eight-point lead.
But if we know anything about the Spirit this year, it's that they are never down and out. Five points from returning co-captain Tessa Lavey and three from Wilson, all in the last minute of the term, had the scores level at 24 at quarter time.
Perth were able to take control of the game in the second term, on the back of a 59% field goal percentage, blowing their lead out to 34- 48 at the half.
Then, once again, the Spirit hit back. Led by Alex Wilson (eight for the quarter), Megan McKay (six) and Maddie Garrick (six), the Spirit halved the half time lead with some quality shooting of their own.
The 27-point third quarter was one of the Spirit's best for the year.
Garrick was on fire in her return after an ankle injury, and Wilson was again showing the class that has given her a quality reputation around the league.
A couple of minutes into the last term, the Spirit were within four, off the back of some quality shooting from Lavey (nine for the quarter) and Garrick.
But despite their heroic efforts, the Spirit couldn't overcome Perth's quality offence.
It was the fifth time Bendigo cracked 80 points in their eight games this season, a stat that has kept them in most games.
Garrick led the Spirit with 18 points for the game, with Lavey finishing on 16 points and seven assists. Wilson ended the night on 15 points and star Anneli Maley added yet another double-double to her impressive season with 13 points and 10 rebounds.
Coach Tracy York said there was plenty of positives to take out of the game.
"It was another Spirited performance against one of the top sides," she said.
"We welcomed Tessa and Maddie back and they didn't disappoint, adding valued experience and scoring punch.
"After levelling the scores at the end of the first we found execution hard in the second.
"We got within four in the last, but a big corner three by Perth stretched the lead which they held onto. It was the story of the night for us."
RadfordMedia
www.radfordmedia.com.au
Photo: Akuna Photography