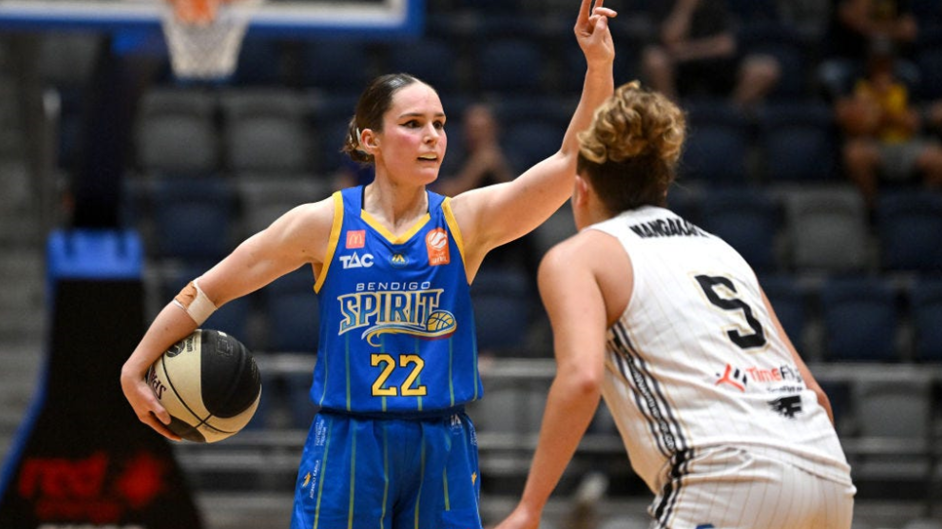 30 November 2022 | Bendigo Spirit news
By Daniel Herborn | The Pick and Roll
In the year Kelly Wilson made her WNBL debut, Eminem's 'Without Me' was the biggest single of the year. Kath and Kim were Australia's hottest new TV show. Current Bendigo Spirit teammate Piper Dunlop wasn't even born.
Since that first season when she won Rookie of the Year with the Australian Institute of Sport, the 38-year-old Wilson has become the all-time leader in games played, setting a record that may never be broken.
She's the league's great survivor, its evergreen floor general. But it's a feat of longevity that the modest no-fuss Wilson never saw herself achieving.
"When you're young, you don't think too much about the future," she tells The Pick and Roll. "I wouldn't have ever anticipated playing at this age. But I still play because I enjoy playing basketball and being around these people."
Wilson has been one of the league's most consistent and energetic point guards across her two-decade career, orchestrating her team's offence, controlling the tempo of games and whipping that distinctive two-handed overhead pass through traffic to set up teammates so often that only Kristi Harrower and Kristen Veal had recorded more assists in the WNBL. She's also been a more than handy complementary scorer over the years, averaging at least 10 points in five seasons.
She's a winner, too, with four championships across her career, one each at Townsville and Canberra, and two at Bendigo, where she has returned for season number 20. After growing up in the tiny Gippsland town of Leongatha, she says Bendigo has become a special place for her. "I've spent a large part of my career in Bendigo and had some success here. Most importantly, it's my home now. It's where my work is, and it's close to family. Being involved in a regional community like a Townsville or a Bendigo has a different feel. The community really gets behind it."
This year's Bendigo Spirit is perhaps the most talented they've assembled since the Bernie and Kristy Harrower era, with Kelsey Griffin, Anneli Maley, Megan McKay and Abbey Wehrung all part of the squad. All five go into round four averaging double-digit scoring, with Ally Wilson not far behind. Two-time Olympian Tessa Lavey will also rejoin the team and provide backcourt punch. Wilson, as ever, is pulling the strings and making life easy for the scorers around her – she's second in the league for assists with 6.7 per game.
A key part of Wilson's role will be drawing on her veteran know-how to help this talented group gel together; she has been named as co-captain with another returning Spirit favourite, Kelsey Griffin. "I don't take that role lightly," says. "I've been around long enough that I should be able to impart some experience to the team, especially the younger players. My goal, first and foremost, is to lead by example."
"I think team chemistry is a huge part of why you win a championship. It's integral to that. You need everyone to buy in and have the same common goal to work towards; it's a huge part of it."
Past teammates and coaches rave about her work ethic. In a team widely tipped to return to be there at the business end of the WNBL season, Wilson will no doubt keep the squad focused and guard against complacency.
"I think we've got a group that can win a championship, but it's only early days," she says. "We've got a long way to go to see where we're at."
More: Renewed Spirit: Kennedy Kereama's career has come full circle
This year's Spirit side may be only three games into their season, but early signs are good. They're 3-0 and have recorded the most assists per game of any team. Wilson says the ball movement and unselfishness are part of new coach Kennedy Kereama's system. "That's what we aim for. We want to be hard to defend as a group."
Having played in every season bar one since 2002/03 (she missed the 2020 bubble season to give birth to her son Ted), Wilson has seen the WNBL's development in more depth than anyone. "There's obviously (been) some huge improvements since I've been in the league," she reflects. "I've been in the league a really long time, but it still feels like we're continually pushing to get those opportunities and help the league progress."
Like many WNBL players, she has either studied or worked a day job for much of her time in the league. She enjoys her work teaching at a local high school but says balancing both careers has been "incredibly hard" at times.
"I've been fortunate to have the same job in Bendigo for quite a long time now. I teach some great kids, and I love my job. It's all about balance. I quite enjoy the fact that I have something outside basketball to focus on, but it is difficult at times."
Wilson has been around the game since she joined a local team at age 10 because her friends were playing. She loved it immediately. As this unassuming record-breaker chases an improbable fifth WNBL championship in her adopted home town, that love for the game still burns as bright.