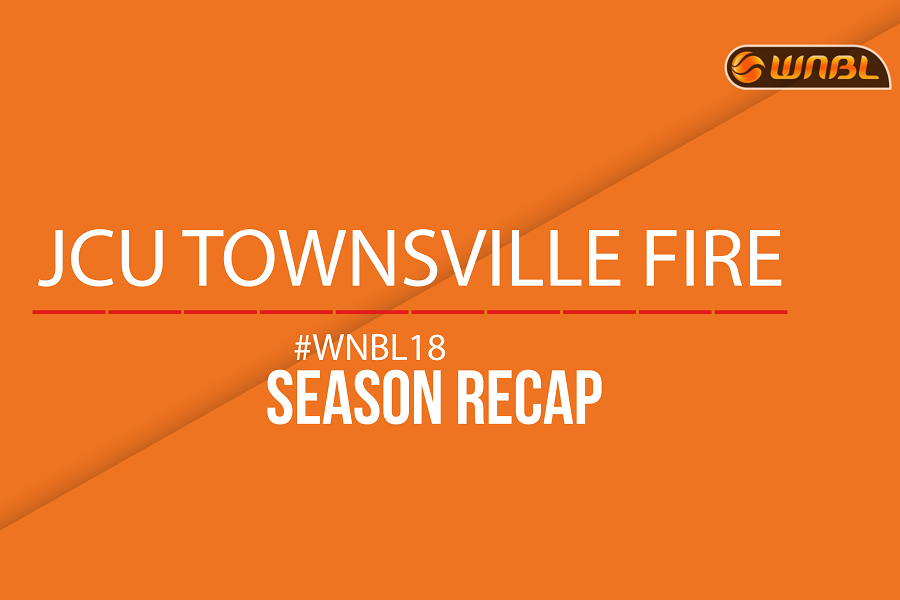 February 9, 2018 | WNBL news
JCU TOWNSVILLE FIRE
Wins – 14
Losses – 7
Standing – Champions
2016/17 result – 14 wins, 10 losses, 4th
THE GOOD
Winning a third Championship in four years, there is no doubt that Townsville have created a dynasty and they have now put themselves into consideration as one of the greatest teams of all time. With the second best defence through the regular season, the Fire allowed only 70 points per game and they then took it up a notch in the playoffs, restricting their opponents to just 58.6 points per contest at 32.1% field goal shooting. The return of Cayla George (10.9 points, 9.7 rebounds, 1.1 blocks per game) cannot be underestimated with the forward now involved in all three Townsville Championships and together with Suzy Batkovic, they both sat in the top three for boards in the league to help the Fire be the best rebounding team.
The Fire also easily recorded the most assists of any club with 47 more than any other team during the regular season thanks to point guard Kelly Wilson (4.8 per game) who surpassed the 350-game milestone in the last game of the year. Mikhaela Donnelly, Sydney Wiese, Mia Murray, George and Batkovic also averaged over two assists per contest with Donnelly proving to be a strong back-up point guard in her return to the competition while Murray and Wiese were three-point threats that helped spread the floor. Having fallen to Perth twice in the regular season, they were lucky to avoid them in the playoffs and they finished with an 8-3 record against Sydney Uni and Melbourne.

THE BAD
Consistency was a slight issue for the Fire through the regular season as they responded to a sweep of the first round with only two wins from their next four games. A two-week period between Round 8-10 also saw Townsville drop three of four games with their only success coming against the Flames when they won by three points which came in between defeats at the hands of Dandenong and Adelaide.
STANDOUT PERFORMER
Suzy Batkovic was the standout for Townsville as well as the league in 2017/18. She arguably had the perfect season, winning the league MVP, Rachael Sporn Grand Final MVP, the Townsville Fire club MVP as well as the Championship while finishing third for scoring (20.5 points per game), second for rebounds (ten), fourth for blocks (1.1) and fifth for steals (1.8). At age 37, Batkovic is as dominant as ever and her will to win has never wavered which was proven in an incredible playoff series. She owned Sydney Uni in the Semi-Finals with two double-doubles and then recorded 28 points, 13 boards and two assists in Game 3 of the Grand Final series to clinch the title. Prior to 2014, no WNBL player had won the MVP three seasons in a row and Batkovic has now achieved that feat twice from 2012-14 and 2016-18 while this year marked her fifth WNBL Championship to install herself as the WNBL's greatest player of all time.
Next Year
TEAM NEEDS
The Fire have wasted little time in shoring up their front court for 2018/19 with Darcee Garbin and Batkovic already returning. Garbin is a key piece for the club after she averaged 9.9 points, 4.6 rebounds and 1.3 assists per game this season and with George not yet committed to coming back, she could find herself in a bigger role soon. Wilson speculated about retirement leading into her 350th game and without her, it will be interesting to see whether they hand the reigns to Donnelly or bring in someone else to take over the point guard duties.
LIKELY IMPROVEMENT
Ever since her dunk at the 2016 Athlete Development Camp went viral, Zitina Aokuso has been a player to watch and she had a strong debut season in the WNBL this year, playing 14 games for 2.8 points and two rebounds per contest while shooting 40% from the field. Her length makes her an imposing figure at the defensive end and she showcased impressive moves in the post as well as on the bench by providing support for her team mates with some entertaining dance moves.