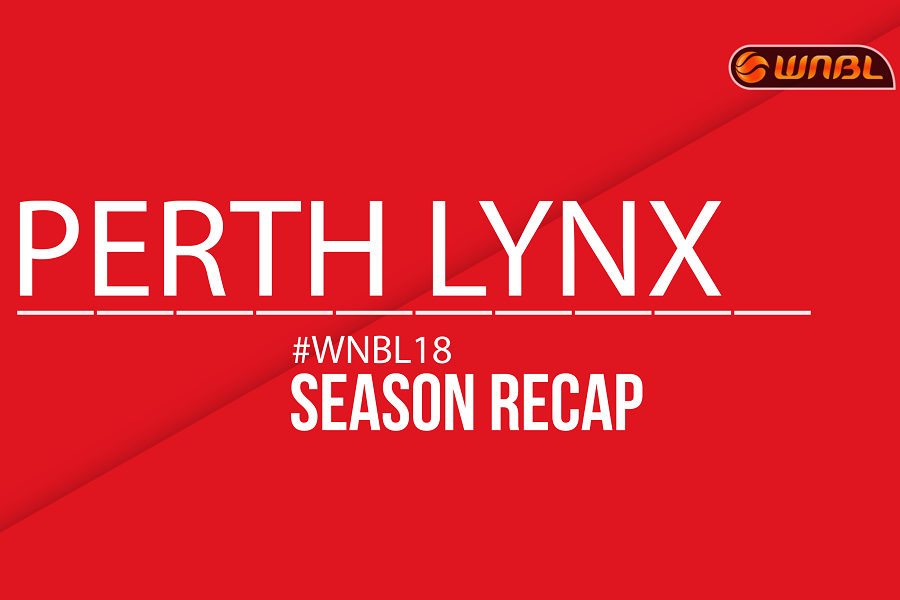 February 7, 2018 | WNBL news
PERTH LYNX
Wins – 15
Losses – 6
Standing – Lost in Semi-Finals
2016/17 result – 15 wins, 9 losses, 3rd
THE GOOD
The Lynx smashed club records this season courtesy of a 14-game winning streak that spanned Round 4-12 and set them up to take top spot on the ladder at the end of the regular season. Incredibly, they won the season series against every other side and owned a 6-3 record against top four teams, helping Andy Stewart win his second Coach of the Year award. With an average of 82.6 points, Perth knocked down 21 more three-pointers than any other club at a 35% clip while shooting 43% from the field overall.
Sami Whitcomb's point production dropped from previous seasons due to the arrival of Courtney Williams but she still finished fifth for scoring at 17.2 points per game as well as seventh for assists (4.4) and first for steals (2.6) as she now aims to become a member of the Australian Opals Commonwealth Games team. Alongside Williams, they were named to the Team of the Week together each week from Round 8-11 before filling out the two back court spots in the All-Star Five. Alice Kunek made the move over from Melbourne to average 13.8 points, hitting a career-high 46 three-pointers and Kayla Standish proved to be another threat both inside and outside with 11.4 points and 4.2 rebounds while finishing second in the team for blocks. Her 36 total offensive boards placed her in the top 20 in the league alongside Natalie Burton (37) and Amanda Dowe (53) who led the Lynx to be the best offensive rebounding team in the competition.

THE BAD
Perth's winning streak through the middle of the regular season came as even more of a surprise after they began the campaign with a 1-4 record that included a 35-point hiding at Bendigo. With top spot sewn up before Round 13, the Lynx then dropped consecutive games heading into the playoffs and unfortunately carried that form into the Semi-Finals as they could not match the Boomers, falling in two games. Their front court toiled against Liz Cambage and they could not find their shooting stroke as a team, hitting 34% overall and 16-51 (31%) from beyond the arc.
STANDOUT PERFORMER
As Perth searched for form and on-court chemistry early in the season, Courtney Williams had her struggles at the defensive end as well as a high turnover rate. However, it did not take Williams long to find her place within the team as she showcased her impressive mid-range game to average 21.7 points per game (second in the league) and a capable three-point shot (hitting 38% from distance). Her supreme athleticism was evident as she rose to reject Cambage in a Round 11 clash and collect a team-high 16 blocks as well as a team-high 6.5 rebounds, four assists (tenth in the competition) and 2.4 steals (third) per game. Prior to the start of the season, there were predictions that she would make for the most damaging back court pairing of all time alongside Whitcomb and while the Lynx's result of a Semi-Final loss may hurt their cause, they can certainly make a case for that title.
Next Year
TEAM NEEDS
The Lynx had a strong international flavour this season with their two American imports as well as Standish and New Zealander Toni Farnworth. Expect that trend to continue into 2018/19 even with Whitcomb now an Australian citizen but the Lynx must aim to bulk up their front court to negate the best forwards in the competition. If they retain the services of Williams, there will not be any teething issues in terms of chemistry which could prove to be the difference next season.
LIKELY IMPROVEMENT
Perth will continue to shore up their bench next season and after two years as a development player, Tahlia Fejo will be looking to step up her role. Prior to her WNBL career, she was named to the SA Premier League All-Star Five at just 17 years of age and has come into the team with big wraps. This season, she featured in five games which included a December 23 clash against Melbourne when she tallied two points, two steals and a block which gave Lynx fans a glimpse of her abilities at both ends of the floor.